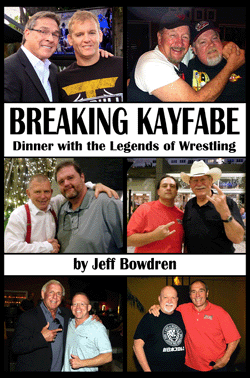 BOOK DETAILS
Kindle edition: 301 pages
Publisher: Crowbar Press
Item #: cbp27-kf-kindle
Price: $9.99
Get information about
the print edition
HERE.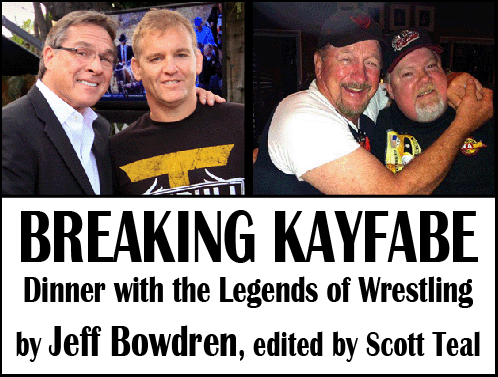 ---

Get information about the print edition HERE.
---
---
"Breaking Kayfabe"
Dinner with the Legends of Wrestling
by Jeff Bowdren, edited by Scott Teal
One day, Dave Meltzer and I were in a hotel lobby in Japan. Kevin Von Erich says, "Let me ask you something ... any of you guys know that dirtsheet writer from California?"
Meltzer pipes up, "Nope. Don't know him."
I swear to God, Kevin Von Erich holds his hands up, puts his hands in position of the Von Erich claw, and says, "I'd love to meet that guy one day."
— Jeff Bowdren, from the interview "My Dinner with Jeff"
In 2012, three friends — Dan Lambert, Robert Mitchell and John Menhennet — decided to invite one of the legends of professional wrestling to dinner, where they could talk to him about his experiences both inside and out of the squared circle. They enjoyed themselves so much that they invited other friends — Jeff Bowdren, Bob McKeon, Greg Goode, and Duane Long — to join them for what would turn out to be a series of dinners with the wrestlers they idolized during the '70s and '80s. The group members, all of whom lived in South Florida and came from all walks of life, began referring to themselves as "The South Florida Marks."
One of the members, Jeff Bowdren, had been a wrestling fan since the early '70s. His fascination with the wrestling business led him to visit arenas all over the Southeast, and in 1987, across the Pacific Ocean to Tokyo, Japan, where the wrestling bug bit him hard.
In 1991, Jeff became the first (and only) person to write a regular column for the "Wrestling Observer Newsletter," one of the first publications to pull back the curtain that hid the behind-the-scenes manipulations of the professional wrestling business. Since then, Jeff has been known by everyone as "The Booker."
Since the first dinner he attended, he has taken notes and recorded 24 interviews filled with anecdotes, tales of the road, and wrestling history. This book is the product of his efforts.
Interviews with: Arn Anderson, Barry Windham, Bob Backlund, Dutch Mantell, Gerry Brisco, J.J. Dillon, Jerry Lawler, Kevin Sullivan, Larry Zbyszko, Masked Superstar, Paul Jones, Paul Orndorff, Ric Flair, Ricky Steamboat, Ron Bass, Stan Hansen, Steve Keirn, Ted DiBiase, Terry (Magnum TA) Allen, Terry Funk, Terry Taylor, Tommy Rich, Tully Blanchard.
Also included are interviews with Karl Gotch, Great Malenko & Tom Nash
---

Get information about the print edition HERE.
---
Excerpt from the interview with Terry Funk
Copyright © Jeff Bowdren
I remember we had this big show in Houston, or San Antonio. And we booked Tommy Rich to come out of Atlanta and be on our show. And we were pulling up to the building and I saw this group of young girls, just going crazy. And they came running towards me. And I was thinking, "Wow, these girls really want to see me." And they got close ... and ran right past me and towards Tommy Rich! (laughs)
---
Excerpt from the interview with Jerry Brisco
Copyright © Jeff Bowdren
A tough guy? I'll tell you what Buzz was. He was a &amp#*%@. He thought he was tough. He'd work out with me and Jack and go throw up. I saw it. He wasn't tough. He thought he was tough and acted it, but he wasn't tough.
---
Excerpt from the interview with Ted DiBiase
Copyright © Jeff Bowdren
I go up to Vince Sr. before the match and I ask him what he wanted, since I understood they were going to be giving Hogan a big push. He looked at me and said, "Ted, I trust that you'll know what to do," which was a big compliment, ya know? So, I go out and put Hogan over. I get back to the dressing room and Hogan walks up to me and says, "I owe you one." And I'll tell you what. He never, ever, forgot that I did that for him.
---
Excerpt from the interview with Steve Keirn
Copyright © Jeff Bowdren
I get a call from Vince McMahon Sr. He tells me he wants me to go to Japan and drop the junior heavyweight title to [Tatsumi] Fujinami. I said, "I don't have a belt," and he says, "That's okay. I'm having one made."
---
Excerpt from the interview with Terry Taylor
Copyright © Jeff Bowdren
One thing I knew was that you never fell asleep in a car with Steve (Keirn). I would be in the backseat, and after I fell asleep, Steve would very quietly pull the front seat up as far as he could, and then he would slam on the brakes, scream as loud as he could, and I would go flying forward, usually onto the floor of the backseat. And while I was laying there, thinking I was in a car accident, Steve would start pushing the button for the seat to go back ... with me laying there.
---
Excerpt from the interview with Barry Windham
Copyright © Jeff Bowdren
If you ask Dusty, he would say it was him. I always rode with Dusty and we would listen to cassettes and talk about the business, but I came up with the Yellow Dog idea. He had an Allman Brothers cassette that we wore out and he loved the Midnight Rider song. He said, "How can we work this into an angle?" That's how the Midnight Rider came about.
---
Excerpt from the interview with Jerry Lawler
Copyright © Jeff Bowdren
The table ... and you know, it was kind of my own fault. I reached out right before he tossed me and grabbed the top rope. That's why I landed on the side of the table, so when I hit the floor, I knew right away that I was hurt. Now I was supposed to get up and go back into the ring for my big comeback, but I knew that wasn't gonna happen. As I'm laying there, Eddie Marlin comes running up to me and says, "Hey, Jerry, that looked really good. Maybe you should just stay down," and I kinda turned my head and said, "Yeah, that's not gonna be a problem, Eddie."
---
Excerpt from the interview with Larry Zbyszko
Copyright © Jeff Bowdren
I mean, that guy was scary. I saw him and Billy Robinson one night ... and they were really just screwing around. Billy throws Maivia, and is on top of him, but you know, face to face. All of a sudden, Robinson starts screaming, and we can't figure out what's wrong, and then we notice the blood forming on Billy's shirt. Maivia had begun biting his chest ... and I don't mean a little bit. I mean, he was chewing off chunks of his chest like he was an animal. It was scary.
---
Excerpt from the interview with Tommy Rich
Copyright © Jeff Bowdren
Pfffft. Big wannabe tough guy. Acts like he's so tough, like he was Steve Dr. Death. I went down and worked a Superdome show for him and I was like third from the top. You know how much he paid me? One hundred fifty dollars.
---
Excerpt from the interview with Arn Anderson
Copyright © Jeff Bowdren
Right after we had done the angle with Dusty, we were up there and we were in a six-man tag against Dusty and the Road Warriors. Dusty heads down the aisle and he's wearing their face paint. As they are coming down the aisle, this (pause) ... I don't know, roar starts emerging from the back of the arena and follows them up to the ring. It was the loudest thing I think I ever heard. I looked at Tully and said, "Whattaya think?" He says, "I think I'm getting' the hell out of here," and drops out of the ring. It was great.
---
Excerpt from the interview with Bill Eadie
Copyright © Jeff Bowdren
I'm zipping along and I see the red lights behind me and I pull over. The cop walks up and asks where I was going in such a hurry. Well, I had bladed in my match with Slater and had a bandage over it. When he came walking up, I took it off. When he asked me about my speed, I pointed to my head, which was still bleeding. I told him I was looking for a hospital and that's why I was going so fast. The cop looks at me and says, "That's a pretty good story, but unfortunately, Slater told me the same one about five minutes ago when I pulled him over."
---
Excerpt from the interview with Magnum TA
Copyright © Jeff Bowdren
They actually paid me through the entire contract. They eventually brought me in as an announcer, but when Dusty left and Jim Herd came in, he calls me in and tells me that he wants me to go to sort of a broadcasting school. I was like, "Okay, whatever", and then a couple of days later, they called me up and fired me over the phone.
---
Excerpt from the interview with Terry Funk
Copyright © Jeff Bowdren
---
Excerpt from the interview with Paul Jones
Copyright © Jeff Bowdren
One night we were at a bar and Andre asks me to introduce him to a girl, so I do, and he is off talking with her most of the night. At the end of the night, he goes to leave with her, except she's driving a VW bug. I'm watching Andre try and squeeze into the car, and all I'm thinking is, "Man, he really wants to get laid!"
---
Excerpt from the interview with Ricky Steamboat
Copyright © Jeff Bowdren
Ric and I had the return match on TV. During the match, he gave me a hardway shot to the eyebrow. I remember right before he hit me, he said, "Sorry, kid," and then he potatoed me. I rolled out of the ring and they threw a towel over my head and led me back to the dressing room. They had sent David Crockett to the hardware store to get some sandpaper. Harley told me to sit in the chair and then told a couple of guys to hold my arms. He then came behind me, grabbed my hair, and started rubbing the skin around my eye until it was raw. A couple minutes later, I went out and cut my promo in front of the cameras.
---

Get information about the print edition HERE.
---
Acknowledgements
Bowdren the Booker
OUR FAVORITE INTERVIEWS
Dan Lambert
Greg Goode
Robert Mitchell
Bob McKeon
INTERVIEWS
Ivan Koloff
Kevin Sullivan
Terry Funk
JJ Dillon
Gerry Brisco
Paul Orndorff
Ted DiBiase
Steve Keirn
Ric Flair
Terry Taylor
Barry Windham
Jerry Lawler
Larry Zbyszko
Tommy Rich
Arn Anderson
Masked Superstar
Tully Blanchard
Stan Hansen
Ron Bass
Terry (Magnum TA) Allen
Paul Jones
Ricky Steamboat
Dutch Mantell
Bob Backlund
My Dinner with Jeff, by Scott Teal
BONUS INTERVIEWS
Karl Gotch
The Great Malenko
Tom Nash
Index


---

Get information about the print edition HERE.
---

605 Podcast
Adams, Chris
Adonis, Adrian
Albano, Lou
All Japan Pro Wrestling
All Japan Women
Allen, Ted
American Wrestling Association (AWA)
Anderson, Arn
Anderson, Gene
Anderson, Ole
Andre the Giant
Andrea the Lady Giant
Angle, Kurt
Apter, Bill
Arena Report
Armstrong, Bob
Armstrong, Brad
Ash, Bill
Assassin
Assassins
Assirati, Bert
Asuka, Lioness
Atlanta City Auditorium
Atlas, Tony
Austin, Steve
Baba, Shohei
Baby Doll
Backlund, Bob
Baker, Ox
Baltimore Colts
Barbarian, The
Barnett, Jim
Barretta, Jumbo
Bart, Black
Bash in Baltimore
Bass, Don
Bass, Ma
Bass, Ron
Bass, Sam
Bassarab, Ben
Battle of the Belts
Baum, Howard
Baumgartner, Bruce
Becker, George
Beefcake, Brutus
Bellator
Benoit, Chris
Benoit, Chris
Billington, Tom (see Dynamite Kid)
Bischoff, Eric
Black Bart
Blackhearts
Blackwell, Crusher
Blanchard, Joe
Blanchard, Tully
Blood, Richard
Bockwinkel, Nick
Boesch, Paul
Bogni, Aldo
Borne, Matt
Bottoms, Verne
Bowdren, Andy
Bowdren, Chip
Bowdren, Jeff
Bowdren, Kellie
Bowdren, Kim
Bowdren, Rene
Boyd, Jonathan
Brazil, Bobo
Brisco, Gerry,
Brisco, Jack
Brody, Bruiser
Brooks, Rusty
Brooks, Tim
Brown, Bulldog Bob
Brown, Kerry
Bruggers, Bob
Bruiser, Dick the
Brunzell, Jim
Budokan Hall
Bundy, King Kong
Butcher, Abdullah the
Butkus, Dick
Calhoun, Haystack
Carlton, Darryl
Carney, Bob
Carson, Don
Casey, Scott
Cash, Porkchop
Caudle, Bob
Cavalcade of Sports
Championship Wrestling from Florida (CWF)
Charles, Tony
Charleston Armory
Chokehold
Choshu, Riki
Clayton, Jay
CNN Center
Colon, Carlos
Colt, Buddy
Condrey, Dennis
Continental Wrestling Federation
Cornette, Jim
Cowan, Wayne (see Mantell, Dutch)
Crockett, David
Crockett, Jr., Jim
Crockett, Sr., Jim
Crusher, The
Culley, Randy
Curtis, Don
Curtis, King
Daigle, Gabriel
Dark Journey
Davis, Danny
Death Row
Demolition
DiBiase, Iron Mike
DiBiase, Ted
Dillinger, Doug
Dillon, James J.
Dolman, Chris
Donovan, Dandy Jack
Douglas, Shane
DREAM
Duggan, Jim
Dundee, Bill
Dundee, Chris
Dupree, Emil
Duran, Roberto
Dusek, Emil
Dusek, Ernie
Dusek, Joe
Dykes, J.C.
Dynamite Kid
Eadie, Bill
Eaton, Bobby
ECW
Eddie Graham Sports Complex
Ellering, Paul
Ellis, Cowboy Bob
Embry, Eric
Etchison, Ronnie
Fargo, Jackie
Fernandez, Manny
Finley, Fit
Flaherty, Dave
Flair, Ric
Florida Championship Wrestling
Foley, John
Foley, Mick
Fort Homer Hesterly Armory
Four Horsemen
Frazier, Stan
Freebirds
Fuji, Mr.
Fuji, Yasu
Fujinami, Tatsumi
Fujiwara, Yoshiaki
Fuller, Robert
Fuller, Ron
Funk, Jr., Dory
Funk, Sr., Dory
Funk, Terry,
Gable, Dan
Gagne, Greg
Gagne, Verne,
Galento, Mario
Gallagher, Jon
Gantner, Ed
Gardner, Jeff
Garibaldi, Leo
Garvin, Jim
Geigel, Bob
George, Jr., Gorgeous
Gibson, Robert
Gilbert, Doug (The Pro)
Gilbert, Eddie
Gladiator, The
Global Wrestling Federation
Goldfinger
Gomez, Pepper
Gonzales, Jose
Goode, Greg
Goodish, Frank
Gordon, Guillotine
Gordy, Terry
Gotch, Karl
Gouldie, Archie
Goulet, Rene
Graham, Eddie,
Graham, Mike
Graham, Superstar Billy
Great American Bash
Great Muta
Greene, Don
Guerrero, Chavo
Guerrero, Hector
Gulas, Nick
Gunkel, Ann
Gunkel, Ray
Gunter, Mike
Haku
Hall, Scott
Hallick, Craig
Hamilton, Jody (Joe)
Hammer, Mike
Hampton, Phil
Hansen, Stan,
Hanson, Swede
Harris, Rick
Hart, Bret
Hart, Bruce
Hart, Gary
Hart, Owen
Hart, Stu
Hattori, Masao
Hawk, Rip
Hayes, Michael
Heath, Coach John
Heath, Dave
Heenan, Bobby
Hendricks, Johnny
Hennig, Curt
Hennig, Larry
Herd, Jim
Hernandez, Gino
Hernandez, Hercules
Hickerson, Phil
Higuchi, Dean
Hitchcock, John
Ho, Dean
Hodge, Danny
Hogan, Hulk
Holliday, Jonathan
Hollywood Blondes
Hollywood Sportatorium
Horner, Tim
Houston, Sam
Hudson, Scott
Humperdink, Sir Oliver
Hunter, Rick
Hyatt, Missy
Idol, Austin
Igor, Mighty
Infernos, The
Inoki, Antonio
International Wrestling Association
Iron Sheik
Irwin, Scott
Jackson, Mike
Jaggers, Bobby
Jannetty, Marty
Japan Pro Wrestling
Jardine, Don
Jarrett, Jerry
Jericho, Chris
Jim Crockett Memorial Cup
John, Big Bad
Johnson, Dave
Johnson, Obin
Johnson, Rocky
Jones, Paul (promoter)
Jones, Paul
Jones, Rufus R.
Joplin, Janis
Joyce, Billy
Junkyard Dog
K-1
Kaissey, Adnon
Kaufman, Andy
Kawada, Toshiaki
Kay, Bobby
Kay, Rudy
Keirn, Steve
Kernodle, Don
Kido, Osamu
Kimura, Kengo
King, Sonny
Kitao, Koji
Kobashi, Kenta
Kobayashi, Shozo
Koloff, Ivan
Koloff, Nikita
Korakuen Hall
Kowalski, Killer
Kox, Killer Karl
Ladd, Ernie
Lambert, Dan
Landel, Buddy
Lane, Cowboy Frankie
Lane, Stan
Lano, Dr. Mike
Lanza, Black Jack
Last, Brian
Lawler, Jerry
Lawler, Robbie
Lederberg, Pete
Leduc, Joe
Lemieux, Ron
Leone, Baron
Lewin, Mark
Liborio, Ricardo
Locos, Vasqueros
Long, Duane
Lothario, Jose
Louisville Gardens
Lubich, Bronco
Lucifer
Luger, Lex
Lunde, Marty
Madison Square Garden
Maeda, Akira
Magnum
Maivia, Peter
Malenko, Dean
Malenko, Joe
Malenko, The Great (Larry Simon),
Mansfield, Eddy
Manson, Cactus Jack
Mantell, Dutch
Maritimes
Markoff, Chris
Marlin, Eddie
Martel, Rick
Martimes
Marvez, Alex
Masami, Devil
Mascaras, Mil
Masked Superstar
Matsuda, Hiro
Matsumoto, Dump
Matuszak, John
Mauler, Missouri
Mayne, Lonnie
McAdam, John
McCauley, Don
McCord, Mike
McDaniel, Wahoo
McGhee, Scott
McGraw, Bugsy
McGuirk, LeRoy
McKenzie, Tex
McKeon, Bob
McMahon, Jr., Vince
McMahon, Sr., Vince
McMahon, Stephanie
McQuay, Leon
Meltzer, Dave
Meng
Menhennet, John
Miami Beach Convention Center
Michaels, Shawn
Midnight Express
Midnight Rider
Mid-South Coliseum
Mighty Igor
Miller, Bill
Misawa, Mitsuhara
Mitchell, Bruce
Mitchell, Robert
MMA
Mongols, The
Monsoon, Gorilla
Moolah, Fabulous
Morales, Pedro
Morgan, Rip
Morrow, Gerry
Morton, Paul
Morton, Ricky
Mosca, Angelo
Mr. Florida
Mr. Wrestling 2 (Johnny Walker)
Mr. Wrestling (Tim Woods)
Muchnick, Sam
Mulligan, Blackjack
Muraco, Don
Murdoch, Dick
Muslin, Steve
Nagasaki, Kendo
Nagayo, Chigusa
Nash, Kevin
Nash, Tom
Nasty Boys
Nelson, Jan
New Japan Pro Wrestling
NWA
O'Connor, Pat
Oliver, Greg
Omni
Orndorff, Paul,
Orton, Jr., Bob
Owen, Don
Page, Dallas
Paidousis, Mike
Parsons, Iceman
Patera, Ken
Patterson, Pat
Patterson, Thunderbolt
Perez, Alex
Pillman, Brian
Piper, Roddy
Poffo, Angelo
Poffo, Lanny
Poffo, Randy (see Savage, Randy)
Prazak, Steve
Prichard, Bruce
PRIDE
Pride, Tyree
Pro Wrestling Illustrated
Pro Wrestling Torch
Race, Harley
Reed, Butch
Reed, Ron (Buddy Colt)
Renesto, Tom
Rhodes, Dusty
Rich, Johnny
Rich, Tommy,
Ring Wrestling
Road Warriors, The
Roberts, Buddy
Roberts, Dr. Red
Roberts, Jake
Roberts, Nickla
Robinson, Billy
Rock 'n' Roll Express
Rock, The
Rodriguez, Alex
Rodz, Johnny
Rogers, Buddy
Rogers, Jessie
Rogers, Rip
Roop, Bob
Rose, Barry
Ross, Jim
Rotunda, Mike
Rougeau, Jacques
Rousey, Ronda
Royal, Nelson
Russell, Lance
Ryan, Ben
Sakaguchi, Seiji
Sam Houston Coliseum
Sammartino, Bruno
Samoans
San Diego Chargers
Santana, Tito
Sargent, Lenis
Savage, Dutch
Savage, Randy
Sawyer, Buzz
Sayama, Satoru
Scherer, Dave
Scott, George
Shamrock, Ken
Shane, Bobby
Sharkey, Eddie
Shea Stadium
Sheik, The (Ed Farhat)
Shinma, Hisashi
Shire, Roy
Sigel, Morris
Simmons, Ron
Singh, Gama
Slater, Dick,
Slaughter, Sgt.
Slinger, Richard
Smiley, Norman
Smith, Grizzly
Smoky Mountain Wrestling
Snuka, Jimmy
Solie, Gordon
Solis, Merced
Solomon, Freddie
South Florida Marks
Spoiler, The (Don Jardine)
St. Petersburg Bayfront Center
Stamp, Dennis
Starr, Ron
Starrcade
Stasiak, Stan
Steamboat, Ricky,
Steamboat, Sam
Steele, David
Steele, George
Steele, Jeff
Steiner, Rick
Steiner, Scott
Stevens, Ray
Sting
Stomper, Mongolian (see Gouldie, Archie)
Strikeforce
Strongbow, Jay
Stubbs, Jerry
Studd, John
Sullivan, Kevin,
Super Destroyer
Super Olympia
Superstars, The
Sweetan, Bob
T.A., Magnum
Takada, Nobuhiko
Tampa Sportatorium
Tattrie, Newton
Taylor, Terry
Taylor, Tio Tio
Teal, Scott
Tenryu, Genichiro
Thesz, Lou
Thornton, Les
Tiger Mask
Tillet, Louie
TNA
Togo, Tosh
Tokyo Dome
Tokyo Pro Wrestling
Travis, Steve
Triple H
Tsuruta, Jumbo
Turner, Ted
Tyler, Buzz
Tyler, Tarzan
Ultimate Fighting Championship (UFC)
Ultimate Warrior
Undertaker, The
Unitas, Johnny
Universal Wrestling Federation (UWF)
Vader, Van
Vail, Bart
Valentine, Greg
Valentine, Johnny
Valiant, Jimmy
Valiant, Johnny
Vaziri, Khosrow (see Iron Sheik)
Ventura, Jesse
Vicious, Sid
Victoria, Princess
Volkoff, Nicolai
Von Brauner, Karl
Von Erich, David
Von Erich, Fritz
Von Erich, Kerry
Von Erich, Kevin
Von Raschke, Baron
Von Steiger, Karl
Wajima
Wakamatsu
Walker, Johnny
Wanz, Otto
Warrior, Ultimate
Watts, Bill,
Watts, Erik
Wayne, Ken
Weaver, Johnny
Weston, Mae
White, Harry
White, Jim
Williams, Luke
Williams, Steve
Wilson, Jim
Windham, Barry
Windham, Kendall
Woods, Tim
World Championship Wrestling (WCW)
World Class Championship Wrestling (WCCW)
World Wide Wrestling Federation (WWWF)
World Wrestling Entertainment (WWE)
World Wrestling Federation (WWF)
Wrestlemania 3
WrestleReunion
Wrestling Forum
Wrestling Observer Newsletter
Wrestling World
Wright, Bearcat
Yamamoto, Tojo
Yamazaki, Kazuo
Yatsu, Yoshiaki
Yellow Dog
Youngblood, Jay
Zambuie Express
Zane, Tony
Zbyszko, Larry
Zumhofe, Buck

---

Get information about the print edition HERE.
---
Please send your reviews and/or comments to us at:
---
---
To schedule radio interviews or other media appearances with the authors, please contact Scott Teal at
---