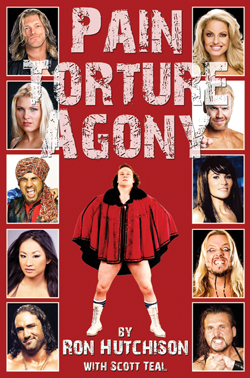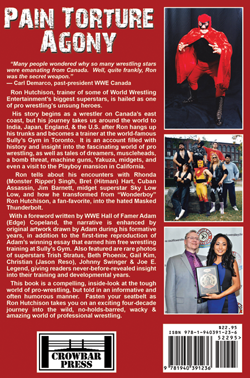 BOOK DETAILS
Kindle edition: 236 pages
Publisher: Crowbar Press
Item #: cbp44-rh-kindle
Price: $9.99
Get information about
the print edition
HERE.
---
---

Get information about the print edition HERE.
---
"Pain Torture Agony"
by Ron Hutchison, with Scott Teal
"Many people wondered why so many wrestling stars were emanating from Canada. Well, quite frankly, Ron was the secret weapon."
— Carl Demarco, past-president WWE Canada
Ron Hutchison, trainer of some of World Wrestling Entertainmentís biggest superstars, is hailed as one of pro wrestlingís unsung heroes.
His story begins as a wrestler on Canadaís east coast, but his journey takes us around the world to India, Japan, and the U.S. after Ron hangs up his trunks and becomes a trainer at the world-famous Sullyís Gym in Toronto. It is an account filled with history and insight into the fascinating world of pro wrestling, as well as tales of dreamers, muscleheads, a bomb threat, machine guns, Yakuza, midgets, and even a visit to the Playboy mansion in California.
Ron tells about his encounters with Rhonda (Monster Ripper) Singh, Bret (Hitman) Hart, Cuban Assassin, Jim Barnett, midget superstar Sky Low Low, and how he transformed from ďWonderboyĒ Ron Hutchison, a fan-favorite, into the hated Masked Thunderbolt.
With a foreword written by WWE Hall of Famer Adam (Edge) Copeland, the narrative is enhanced by original artwork drawn by Adam during his formative years, in addition to the first-time reproduction of Adamís winning essay that earned him free wrestling training at Sullyís Gym. Also featured are rare photos of superstars Trish Stratus, Beth Phoenix, Gail Kim, Christian (Jason Reso), Johnny Swinger & Joe E. Legend, giving readers never-before-revealed insight into their training and developmental years.
This book is a compelling, inside-look at the tough world of pro-wrestling, but told in an informative and often humorous manner. Fasten your seatbelt as Ron Hutchison takes you on an exciting four-decade journey into the wild, no-holds-barred, wacky & amazing world of professional wrestling.
---

Get information about the print edition HERE.
---
Excerpt from Chapter 1
Copyright © Ron Hutchison
The title change was tipped off somewhat ahead of time when we realized the great Whipper Billy Watson and renowned St. Louis promoter/NWA president Sam Muchnik were calling the action from a riser at the north end of MLG with the CHCH-TV cameras present. The only time the cameras were present was when something special was going to happen.
---
Excerpt from Chapter 2
Copyright © Ron Hutchison
On occasion, however, I had to defend my infatuation with the sport. One such "defence" was the incident in which I threw a fellow student out a window. I grew tired of always having to defend my choice of "sport" to him. One day, as he was leaning out the open window of our classroom, I decided to pick him up by the heels and push him outside. It wasnít as horrifying or dangerous as it sounds, except for the fact that the gentleman who took the bump happened to be the captain of Northernís soccer team and the son of Lois Lilienstein, of the well-known Sharon, Lois & Bramís Elephant Show.
---
Excerpt from Chapter 3
Copyright © Ron Hutchison
As my mom and I ascended the steps to the gym, the thuds and screams coming from behind the door at the top of the stairs were blood-curdling. We watched for only a short time before we were hustled into the gym office, which was on the left side of the room and beyond the makeshift snack bar and fridge, where many a kid made cheese sandwiches and where hot dogs were served during Sullyís monthly amateur fight nights. Inside that office, we met a gentleman by the name of Johnny Powers.
---
Excerpt from Chapter 4
Copyright © Ron Hutchison
An interesting point to be made is, I learned more about the inner-workings of the wrestling business from the Observer than I did from my training with Powers and Siki. When we were training, we learned by "doing." Neither Powers nor Siki ever discussed "working" and they never smartened us up. The only thing close to that would have been their instructions to "try not to hurt each other because these are just training matches." Johnny came close to crossing the line one day when he told us, "If I ever hear about any of you telling people that wrestling is Ďfake,í Iíll beat the &*#@ out of you."
---
Excerpt from Chapter 5
Copyright © Ron Hutchison
In a scenario familiar to many young wrestlers, despite having personally sold $600 worth of tickets to my debut match and, unknowingly, coming within seconds of being sliced up or, at the very least scarred for life, if not killed, I got stiffed on the payoff and received exactly $0 for my efforts on the night. I waited around long after the show was over for my payoff. I waited patiently because I knew Dave was busy, but when the arena was almost deserted, I asked him about my payoff. He told me it was my first match, so I wouldnít be getting any money. Disappointed, I left for home, thankful for the experience, but surprised that there was no money to be had. When I told my mother, she was stunned and said, "They didnít even give you streetcar fare home?"
---
Excerpt from Chapter 6
Copyright © Ron Hutchison
A funny thing happened earlier that night. I drove to the tapings with a couple of my high school buddies, one of which was Nick Gougoumis, the only other member of the "Northern wrestling team." We spotted Kamala, the Ugandan Giant Kamala, as he made his way to the building. Kamala was easy to spot. He was sitting shotgun in a car and wearing his huge carved wooden jungle mask. My buddies rolled down the windows and heckled and jeered him. I told them, "Knock it off! I could be wrestling him tonight." I wish I could have seen the looks on their faces when Kamalaís music cranked up and he made his way to the ring — spear in hand and jungle mask on face — to face a pasty-white "Wonder Boy."
---
Excerpt from Chapter 7
Copyright © Ron Hutchison
I spent some time with Ron when I was working as the "Masked Thunderbolt." He was always fun to hang with and he was full of wrestling knowledge. I listened intently as he spun tales of his days in Puerto Rico working as "Rambo" Ron Starr — a direct rip-off of the popular Rambo movie character. Puerto Rico fans were crazy. They would throw rocks, batteries, and anything they could lay their hands on. One night, a knife whistled past Ronís head as he left the ring. Another time, he had to fight his way back to the dressing room. The worst may have been the time he and several other heels were leaving the stadium by car. A crowd of volatile Latin fans attacked them and tried to tear the doors off the hinges. The heels had to fight their way back to the safety of the stadium.
---
Excerpt from Chapter 8
Copyright © Ron Hutchison
When we arrived at television one early weekday morning, "No Class" Bobby Bass was presented with a letter from promoter Dupre. Fan mail was sent to the wrestlers care of the ATV Moncton studios. That particular letter, however, was not legitimate fan mail. It was a letter with a United States government postmark. The senator for the state of Maine watched our shows and he was displeased with Bassí treatment of the American flag. Bass, a heel manager, appeared on TV wearing a gaudy tuxedo with an American flag tied to a broom handle. He twirled the flag around and usually wound up poking the broom handle into the babyfacesí stomachs. In the letter, the senator expressed his great displeasure towards Bassí treatment of the American flag.
---
Excerpt from Chapter 9
Copyright © Ron Hutchison
During a trip to Halifax, this time in 1988, I was about a block away from the arena parking lot when I suddenly realized I wasnít wearing my mask. Reaching over, I took off my glasses, grabbed the mask, and pulled it over my head. With my attention diverted, I ran into the rear-end of the car in front of me. There was no real damage and the motorist shrugged it off, but I was quite embarrassed.
---
Excerpt from Chapter 10
Copyright © Ron Hutchison
We spent a lot of time going through sequencing of moves and holds. We didnít have to discuss it or explain why we put certain moves and holds together. The smart ones, over time, were able to figure out "the magic." Those who couldnít Ö well, those matches were rough, and those people eventually quit. Sullyís wasnít all about brawn and toughness. Students had to have the "smarts" to figure things out for themselves. After all, when they got into the ring, they wouldnít have a script to follow.
---
Excerpt from Chapter 11
Copyright © Ron Hutchison
It took Adam [Copeland] a while to make friends at the gym. Some of the boys were a bit jealous, bitter even, that this youngster could waltz in and get trained for free; something for which they had paid $3,000. Understandably, they didnít warm up to him right away. Adam won them over, though. He had a way of doing that. He stuck with it, showed them that he belonged; that he could hang. Before too long, lifelong friendships were formed.
---
Excerpt from Chapter 13
Copyright © Ron Hutchison
Tajindar (Paul) Sangha opened the show against an Abdullah the Butcher-like clone. The match was a short, bloody, violent affair that, upon conclusion, saw St. Johnís ambulance attendants come to the ring to tend to a very bloody Sangha. I remember the female medical attendant being horrified at all the blood on Paul and telling me that she couldnít stomach it. I almost laughed when she asked me, "Is the whole show going to be like this?" I told her that she had just witnessed the opening match, and the best, and the bloodiest, was yet to come! I didnít see her again after they bandaged Paul and escorted him from the ring.
---
Excerpt from Chapter 14
Copyright © Ron Hutchison
However, thatís not to say that I didnít try to discourage [Trish Stratus]. I did. She was a tad on the short side and far from what you would imagine when you picture what a lady wrestler would look like. I shuddered when I thought about what some of the girls in the business would do to her if they thought she had gotten into the business through any means other than talent.
---
Excerpt from Chapter 15
Copyright © Ron Hutchison
As much as I hated to do it, I decided to put Gail under a mask. The mask would stay on only until we could find a new heel girl for the AWF. I knew from the start that Gail would easily pull off the heel role. I also knew that when we unmasked her and turned her babyface, she would get over like a million dollars.
---
Excerpt from Chapter 16
Copyright © Ron Hutchison
During a meeting with the NWWL owners, we decided to tell the girls so they didnít panic if they heard the news. A short time after we told them, the Toronto bomb squad arrived. The scene was surreal. Apparently, somebody did phone in a bomb threat and the police had to search the entire building.
---
Excerpt from Chapter 17
Copyright © Ron Hutchison
We thought the press conference had been a rousing success; at least, until we heard news of the criminal charges being filed by the media against Nikita. Less than an hour after the press conference ended, every media outlet in Ludhiana was talking about the incident. They didnít miss a thing Ö the table being turned over, raised voices, challenges of fights to the death, and all the mayhem that ensued when the media made their hasty exit. Several news anchors reported live from the hotel, with media vehicles surrounding the building.
---
Excerpt from Chapter 20
Copyright © Ron Hutchison
During that tour, I refereed a match in Cocagne, NB, between Seiya Sanada and Rene Dupre. I counted Dupre down with a three-count, which was the planned finish. Unfortunately, they forgot to tell me they had changed the finish in the back and Dupre was supposed to go over. However, even if I had known that, I still would have counted Dupre down. I always told my referees, if a wrestler was too slow, lazy or stupid to lift up their shoulder or kick out, then they deserved to be counted out. That happened on several occasions and I never gave the referee heat for doing that. I told the wrestlers, as well, "Donít make the ref look like an idiot out there. Get that shoulder up! Itís supposed to be a contest!"
---

Get information about the print edition HERE.
---
Acknowledgements
Foreword by Adam (Edge) Copeland
1. A Boy with a Dream
2. The Elephant Show
3. Sullyís
4. The Hungarian Wolfman
5. Old-Fashioned Ass Whooping
6. Little Fish in a Big Pond
7. Monster Ripper
8. World Urination Record
9. Mr Magoo
10. My Best Friendís Mom was a Whore
11. Training with an Edge
12. Noodle-Mania
13. Wrestlers on Strike
14. Apocalypse Now
15. La Felina, Queen of the Cats
16. Saddam Hussein & Santa Claus
17. Stray Donkeys
18. Pinky the Naked Clown
19. Resurrection!
20. 12-ounce Bicep Curls
21. Shaking Up the Old-Boys Club
22. Three-count
Ronís Photo Gallery
Index

---

Get information about the print edition HERE.
---

Abdullah the Butcher
Acevedo, Angel
Adonis, Adrian
Akbar, General Scandor
Albert, Prince
All American Wrestling
All Japan Pro Wrestling
All Knighters
All Star Wrestling (Vancouver)
All Star Wrestling
Allen, Deacon
Amano, Carlos
American Wrestling Association
Andre the Giant
Angel, Erin
Apocalypse Wrestling Federation [AWF]
Assassin, Cuban
Assoun, Keith
Asuka, Lioness
Asylum (see Foti, Nick)
Atlantic Grand Prix Wrestling [AGPW]
Atlas, Tony
Ayala, Hercules
Backlund, Bob
Banks, Sasha
Barnett, Jim
Bartone, Frank
Bass, Bobby
Battle, Todd
Bearman, The (see McKigney, Dave)
Beast, The (Yvon Cormier)
Beaver, Little
Belushi, Bluto
Benmergui, Ralph
Beyer, Wilma
Big Bear Sports Promotions
Bigelow, Bam Bam
Blackman, Steve
Blair, B Brian
Blake, Jennifer
Bland Brothers, The
Blassie, Freddie
Bloom, Matt
Bodhi, Sinn
Bomb, Cherry
Bonello, John
Booger, Bastion
Booty, Mo
Boudreau, Rod
Boynton, Ted
Brady, Becky
Brantford Civic Centre
Brazil, Bobo
Brisco, Jerry
Brody, Buster
Brooks, Farmer
Brooks, Killer Tim
Brooks, Leroy
Brooks, Traci
Brookshaw, Tracy
Brown, Bad News
Brown, Bulldog Bob
Brown, Kerry
Brunzell, Jim
Bubba, Lumberjack
Bullen, Matt
Bundy, King Kong
Burke, Al
Burke, Leo
Burke, Markus
Burns, Matt
Bush, Harriet
Buxton, Patricia
Cabbagetown Boxing Club
Cage, Christian
Callis, Don
Canadian Championship Wrestling
Canadian Kodiaks
Canadian Wrestling Report
Carelli, Anthony
Carolan, Joey
Carolan, Patrick
Carpentier, Edouard
Casablancas, Don
Casanova, Kenny
Casey, Steve
Cauliflower Alley Club [CAC]
Chambers, Doug
Chan, Bono
Chang, Kwan
CHCH-TV
Chono, Masahiro
Chops, Ninja
Christian
Chuvalo, George
Ciupik, Joe
Clark, David
Clark, Ted
Cleveland Stadium
Coates, Melissa
Codfather, The
Colon, Carlos
Connolly, Jim
Copeland, Adam (see Edge)
Corino, Steve
Costain, Cody
Creatchman, Floyd
Crockett, Jim
Crowbar Press
Crusader, The
Crusaders, The
Cruz, Chi Chi
Curran, Dave
Cvjetkovich, Nick
DaCosta, Norm
Davodsin, Harley
DeCarlo, Nick
Decker, Channing
DeMarco, Carl
DeMonte, Joey
Dennis, Eddie
Denton, Dirty Danny
Destiny, Johnny
Destroyer, The
Diamond, David
Diamond, Kacey
Dillenger, Tye
Dillon, Jim
Dog, Junkyard
Dollar, Morgan
Dorgan, Joe
Dreamer, Tommy
Dunn, Darlene
Dunn, Marlene
Dupre, Emile
Dupre, Renť
Dutt, Sonjay
Dynamic, Danny
Eddington, James
Edge
El Fuego Kid
Electra, Carmen
Electra, Kylie
Engler, Chris
Essar, Terry (Sabu)
Etcheverria, Rob
Etobicoke Olympium
Extreme Championship Wrestling [ECW]
F.A.M.E.
Farkas, Willie
Faye, Bertha
Felina, Fuego
Flair, Ric
Flame, Violet
Flynn, Billy
Force, Brittany
Ford, Doug
Ford, Krista
Ford, Rob
Foti, Nick
Foxx, Fierra
Fraser, Clifford
Fraternity, The
Funk Jr., Dory
Funk, Terry
GAEA Boyz
GAEA
Gagne, Verne
Gallant, Shane
Gangrel (see Heath, David)
Garea, Tony
Georgia Championship Wrestling
Ghantous, Paul
Gibson, Trent
Gilbert, Eddie
Gilbert, Tommy
Goguen, Ron
Goldberg, Sheldon
Goodman, LeeAnn
Goodyear, Carl
Gordon, Flesh
Gougoumis, Nick
Gouldie, Archie
Graham, Eddie
Graham, Mike
Grand Prix Wrestling (Montreal)
Grapevine
Great Togo
Halifax Forum
Hamilton Convention Centre
Hans, Rob
Hardcastle, Sexton
Hart Foundation
Hart, Bobby
Hart, Bret
Hart, Jimmy
Hart, Ross
Haven, Misty
Haven, Ms B
Heartland Wrestling Association
Heath, David (Gangrel)
Heavy T.O.
Heenan, Bobby
Hernandez, Hercules
Hernandez, Jesse
Highlanders
Hitchen, Joe
Hodgkisson, Charles
Hogan, Hulk
Hungarian Wolfman (Willie Farkas)
Hunter, April
Hussein, Lala
Hutchison, Cassandra
Hutchison, George
Hutchison, Laura
Hutchison, Natalie
Hyatt, Missy
Igor, Mighty
Impact, Adam
Inaba, Daiki
Iron Sheik
Jackal
Jodoin, Serge
Johnson, Ben
Johnson, Billy
Johnson, Cowboy Billy
Johnson, Ricky
Johnson, Rocky
Jones, Chuck (Spider)
Josianne the Pussycat
Joyce, Jim
Just Joe
Justice, Terry
Kalmikoff, Nikita
Kamala
Karl & Hildegarde
Karl, Ed
Kay, Bobby
Kay, Rudy
Kedilerli
Keitzer, Norman
Kelly Twins, The
Kelly, Kevin
Kelly, Mike
Kelly, Pat
Khali, The Great
Kim, Gail
King, Athena
King, Jim
Kitchener Memorial Auditorium
Kizarny
Kladich, Stephen
Knight, Joey
Knightwing, Robin
Korderas, Jimmy
Kowalski, Killer
Koziar, Paul
Krupp, Killer Karl
Kurrgan
La Felina
Ladd, Ernie
Lady Lumberjack
Lamport Stadium
Lane, Buddy
Lane, Cowboy Frankie
Lang, Cowboy
Langille, Dan
Langille, Laura
LaPlante, Chris
Lauer, Karl
Leduc, Joe
Lee, Alex
Legend, Joe E.
Legend, Mia
Leonard, Bob
Levinski, Mike
Lexi, Flexi
Libre, Lucy
Little Bear, Danny
Little Fabio
Little Nasty
Little Poppa Pump
Lococo, Doug
Lococo, Rick
Loder, Mike
Logan, Steve
London Gardens
Louis Levesque Arena
Low Low, Sky
Lynn, Jerry
Lyons, Billy Red
Machalek, Terrance
Mack, Tony
Mackney, Brian
Madison Square Garden
Maillet, Robert
Malawski, Shantelle
Mann, Howard
Manteiga, Joey
Maple Leaf Gardens
Maple Leaf Wrestling
Marcus, Bob
Marsh, Dan
Marshall, Teddy
Martel, Rick
Martel, Sherri
Martin, Andrew (Test)
Martin, Frenchy
Martin, Laurie (Gidget)
Martinez, Luis
Martins, Luis
Masked Thunderbolt
Mason, Carter
Maxwell, Gair
Mazurki, Mike
McAllister, Robbie
McAllister, Rory
McCullough, Bill
Mcdonald, Ernie
McDonald, Sgt.
McKeigan, Ken
McKigney, Dave
McLean, Stuart
McMahon Jr., Vince
McMahon Sr., Vince
Menezes, George
Mercedes, Macella
Michaels, Trina
Miller, Jerrick
Miller, Rob
Miss AWF
Mitchell, Heather
Moffatt, Carl (Butch)
Momberg, George (see Krupp, Killer Karl)
Monday Night RAW
Monday Nitro
Monsoon, Gorilla
Montana, Len
Moondogs, The
Morella, Santino
Moretti, Moondog
Mosca, Angelo
Mr. India
Mrakas, Anthony
Muchnick, Sam
Mulchinok, Chris
Murdoch, Dick
Mustafa, Sheik
Muta, The Great
Nagasaki, Kendo
Nagashima, Chikayo
Nagayo, Chigusa
Naked Revolution
Naked Women's Wrestling League [NWWL]
Nasty Boy, Little
National Wrestling Alliance [NWA]
Neidhart, Jim
Neidhart, Natalya
New England Championship Wrestling
New Japan Pro Wrestling [NJPW]
Nikita
North Sydney Forum
Ocal, Arda
Oliver, Greg
Orndorff, Paul
O'Shocker, Danno
Ottaway, Glenn
Paradise, Johnny
Parisi, Johnny
Parisi, Tony
Parks, Pepper
Pee Wee
Peller, Stompin' Paul
Perez, Portia
Phoenix, Beth
Pinch, Kenny
Pinky the Naked Clown
Piper, Roddy
Pogo, Great
Pogo, Mr.
Potocki, Derek
Pound, Richard
Powers, Johnny
Price, Alex
Prophet, Jeremy
Puder, Daniel
Puma, Johnny
Queensbury Athletic Club
Race, Harley
Rana, Dalip Singh
Ranallo, Mauro
Raven
Renaud, Steve
Reso, Jason (see Christian)
Rex, Mad Dog (see Carr, Neil)
Rhyno
Richard, Bernie
Riddle, Rock
RikidŰzan
Ritchie, Ron
Road Warriors
Robbins, Gary
Roberts, Jake (The Snake)
Robertson, Dewey
Rogers, Rip
Ron Hutchison Pro Wrestling School
Roode, Bobby
Ross, Jim
Rougeau, Michel
Sabrina
Sabu
Sakai, Sumie
Sammartino, Bruno
Sammy, Sunshine
Sampson, Psycho Joe
Sanada, Seiya
Sangha, Tajindar
Santana, Tito
Satomura, Meiko
Savage, Randy
Scarborough Arena Gardens
Scarpa, Joe
Scott, Pat (Moose)
Scranton, Scrap Iron
Sensation, Jason
Serpentine, lady
Sharp, Bobby
Sharpe, Larry
Shaw, Mike
Shaw, Ron
She Nay Nay
Sheik, The [Ed Farhat]
Sheppard, Everett
Shultz, David
Siebert, Vicious Verne
Sihra, Gurvinder
Sihra, Harvinder
Siki, Sweet Daddy
Simms, Chuck (Pretty Boy)
Simms, Pretty Boy
Simpson, Hercules
Simpson, Super
Singh Brothers, The
Singh Jr., Tiger Jeet
Singh, Jaguar Vijay
Singh, Rhonda
Singh, Tiger Ali (see Singh Jr., Tiger Jeet)
Singh, Tiger Jeet
Sinn, Original
SKAL
Smackdown
Smith, Charlie
Smith, James
Smyth, Kandi
Snuka, Jimmy
Social, Annie
Soul, Sista
Springate III, Zaquary
Squeegee Kid
Stampede Wrestling (Calgary)
Starr, Michelle
Starr, Ron
Starr, Tony
Steel, Robin
Steele, George
Steiner, Scott
Stokes, Fabian
Stone, James
Storm, Master Joe
Stratus, Trish
Strongbow, Chief Jay
Suave, Sebastian
Sullivan, Earl (Sully)
Sully's Gym
Summertime Bruise II
Sunday Night Heat
Superstars of Wrestling (George Cannon)
Sutter, Braxton
Swinger, Johnny
Tavares, Jason
Taylor, Terry
Teal, Scott
Thatcher, Les
The Ring's Wrestling
Thompson, Todd
Thurston, Brandon
Tierney, Dave
TNT Times
Tobin, Sean
Tokyo, Little
Tolos, Chris
Tolos, John
Toronto Star
Toronto Sun
Torrens, Jonathan
Total Nonstop Action [TNA]
Tough Enough
Tunney, Eddie
Tunney, Frank
Tunney, Jack
Turner, Ted
Twin Peaks
Tykoliz, Jim
Undertaker, The
Universal Wrestling Federation
Urkov, Vladimir
Vachon, Butcher
Valentine, Greg
Valentine, Johnny
Valentine, Rick
Vampiro
Vegas Stripped
Ventura, Dino
Ventura, Jesse
Walker, Chris
War Cloud, Sunny
War Eagle, Joey
Watson, Phil
Watson, Whipper Billy
Watts, Bill
Weaver, Mandy
Weiss, Bryan
Wellington, Biff
White, Sailor
Wight, Lavern
Wilde, Taylor
Windham, Kendall
Wittich, Brian
Wolfgang
World Championship Wrestling [WCW]
World Wide Wrestling Federation [WWWF]
World Wrestling Entertainment [WWE]
World Wrestling Federation [WWF]
WrestleMania 33
WrestleMania VI
WrestleMania XXIV
WrestleMania
Wrestling News
Wrestling Observer Newsletter
WWE Hall of Fame
WWE-Canada
Wylde, Zakk
Yamaguchi, Shunsuke
Yarborough, Emmanuel (Tiny)
Zarlenda, Elio
---

Get information about the print edition HERE.
---

Ron Hutchison's 'Pain Torture Agony' made me a fan, by John Cosper
SLAM Sports!
---
Ron Hutchison: Pain Torture Agony!
Maple Leaf Wrestling
---
To schedule radio interviews or other media appearances with one of the authors, please contact Scott Teal at
---