The Annotated Fall Guys
by Marcus Griffin, annotated by Steve Yohe & Scott Teal
In this annotated version of the most famous book on pro wrestling written in the 1930s, Yohe & Teal challenge Griffin's statements about events and correct errors that have been repeated through the years in other books and writings. They also add additional detail to the stories and the lives of the book's personalities. It all makes absorbing reading and a lively tale for those people afflicted with the disease which Griffin terms "wrestler-itis."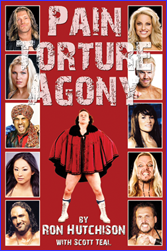 Pain Torture Agony
by Ron Hutchison, with Scott Teal
This book is a compelling, inside-look at the tough world of pro-wrestling, but told in an informative and often humorous manner. Fasten your seatbelt as Ron Hutchison, trainer of some of World Wrestling Entertainment's biggest superstars, takes you on an exciting four-decade journey into the wild, no-holds-barred, wacky & amazing world of professional wrestling.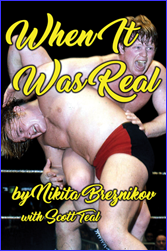 When It Was Real
by Nikita Breznikov, with Scott Teal
If you want to take a trip back to your childhood, your younger, less-stressful days, then journey with us back into the magical world of professional wrestling during the years 1970 to 1979 … a time "when it was real" … a time before Hulkamania took the world by storm. Author Nikita Breznikov tells the story from two perspectives — that of a starry-eyed fan, and as the manager and tag team partner of the legendary Nikolai Volkoff. Nikita details the matches and feuds that took place during the '70s and gives his insightful, often-hilarious perspective of the events that took place.
The Great Wrestling Venues: Alabama 1931-1935
by Jason Presley
Decades before the Fullers and Southeastern Championship Wrestling ... before the Fields brothers and Gulf Coast Wrestling, before Nick Gulas & Roy Welch, and a lifetime before the likes of WrestleBirmingham & New South, the modern age of professional wrestling took hold in 1930s Alabama. While most of the United States was in the throes of the Great Depression, the wrestling business was experiencing the biggest expansion in its history as shows were being promoted in both small towns and big cities for crowds eager to put the hardship of the daily grind behind them. Travel down Alabama highways and enjoy the memories of more than 2,000 wrestling shows, 4,000 matches, and more than 550 illustrations and images — program covers, newspaper headlines and articles, advertisements, and memorabilia.