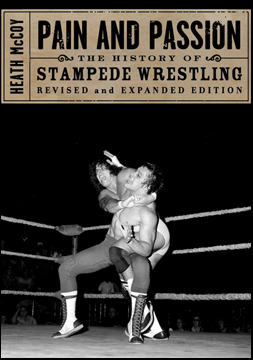 BOOK DETAILS

Publisher: ECW Press

6x9 Perfect Bound

Pages: 336

Cover: Full color

Item #: hm-pp

Price: $19.95
Pain and Passion
by Heath McCoy
All books will be shipped via Media Mail (U.S.), Priority Mail, or International Priority Mail (Canada/overseas).
---
Calgary's Stampede Wrestling spawned some of the biggest wrestling stars in history, from mat kings of the past like Gene Kiniski and Superstar Billy Graham to modern idols like Bret "Hitman" Hart, the British Bulldogs, and Chris Benoit.

Pain and Passion tells how a small, family-run wrestling business profoundly influenced the world of professional wrestling as we know it today, and takes readers on a rowdy ride through the evolution of Stu Hart's Calgary promotion, from its meagre beginnings in the 1940s, its peak in the 1980s, and its fall as Vince McMahon's World Wrestling Entertainment changed the face of wrestling forever.

But this is more than a wrestling story — it's a tale of family and of human tragedy. The Hart family lived for the wrestling business and, like Starbucks mowing down a mom-and-pop coffee shop, the emergence of McMahon's media colossus ran Stampede into the ground. The wrestling game lost its innocence and western Canada lost a staple of its pop culture. As for the Hart family, the once-mighty clan was nearly destroyed by the business it loved.

The Stampede Wrestling story is a wild blood-on-the-mat saga over fifty years in the making. It's sure to captivate not only wrestling fans, but anyone who appreciates a powerful drama.

---

Copyright © 2020 by Scott Teal
Pages designed by Scott Teal