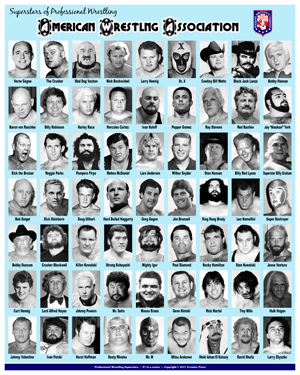 — DETAILS —
Publisher: Crowbar Press
Full color glossy photo
Item #: sspw-01
— VOTING PANEL —
Andy Oren, David Pelto, George Schire,
Greg Oliver, Howard Klueter, Jim Dauer,
Jim Scianna, Jim Zordani, Joyce Paustian,
Larry Young, Rich Tito, Ron Sapochak
— PRICES —
8x10 – $8.00
12x16 – $12.00
16x20 – $16.00


Poster #1:
American Wrestling Association
The wrestlers featured on this poster are —
• Verne Gagne
• The Crusher
• Mad Dog Vachon
• Nick Bockwinkel
• Larry Hennig
• Dr. X
• Cowboy Bill Watts
• Black Jack Lanza
• Bobby Heenan
• Baron von Raschke
• Billy Robinson
• Harley Race
• Hercules Cortez
• Ivan Koloff
• Pepper Gomez
• Ray Stevens
• Red Bastien
• Jay "Alaskan" York
• Dick the Bruiser
• Reggie Parks
• Pampero Firpo
• Wahoo McDaniel
• Lars Anderson
• Wilbur Snyder
• Stan Hansen
• Billy Red Lyons
• Superstar Billy Graham
• Bob Geigel
• Dick Steinborn
• Doug Gilbert
• Hard Boiled Haggerty
• Greg Gagne
• Jim Brunzell
• King Kong Brody
• Leo Nomellini
• Super Destroyer
• Bobby Duncum
• Crusher Blackwell
• Killer Kowalski
• Strong Kobayashi
• Mighty Igor
• Paul Diamond
• Rocky Hamilton
• Stan Kowalski
• Jesse Ventura
• Curt Hennig
• Lord Alfred Hayes
• Johnny Powers
• Mr. Saito
• Moose Evans
• Gene Kiniski
• Rick Martel
• Tiny Mills
• Hulk Hogan
• Johnny Valentine
• Ivan Putski
• Horst Hoffman
• Dusty Rhodes
• Mr. M
• Mitsu Arakawa
• Sheik Adnan El Kaissey
• David Shultz
• Larry Zbyszko

GREAT DISCUSSION!
A great discussion about the wrestlers on this poster can be found HERE on the Kayfabe Memories message board.
---
— POSTAGE —
Postage for all poster orders in the U.S. is a flat $3.50 regardless of the number or size of posters ordered.
Click the button below (one time only per order) to add postage to your order.