---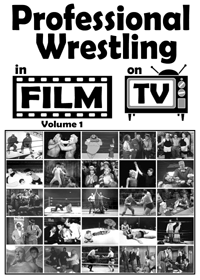 501 WM-01

---

DVD with case/custom artwork
$5.00
— Professional Wrestling in Film & on TV —
Volume 1
The Rasslin' Match (1934)
[Amos 'n' Andy cartoon, 1934]
Produced by the Van Beuren Studios. Kingfish walks into the Fresh Air taxi cab company to tell Andy about his latest scheme. Andy will wrestle Bullneck Mooseface for the championship of the world. Andy immediately agrees, despite Amos trying to dissuade him. In the gym, Kingfish introduces Andy to his trainer, Brother Hercules, a small guy who seems to be as strong as his namesake as he effortlessly tosses Andy around.
10 minutes, 42 seconds
The Abbott and Costello Show: The Wrestling Story
[TV show, aired January 1, 1952, season 7, episode 1]
Lou [Lou Costello] and Stinky [Joe Besser] agree to settle their differences with a wrestling match. When Stinky becomes ill, his little brother, Ivan the Terrible, takes his place.
25 minutes, 57 seconds
Alias the Champ
[Feature film, 1949]
New York gangsters trying to muscle in on the California wrestling scene come up against a wrestler [Gorgeous George] who won't knuckle under. When they frame him for the murder of a fellow wrestler [Sam Menacker], his manager and a cop set out to clear his name, catch the real killers, and save the reputation of the sport of wrestling. Wrestlers Henry (Bomber) Kulky [Kulkovich], Billy Varga, Jack "Sockeye" MacDonald, and the Super Swedish Angel are also in the movie.
68 minutes, 50 seconds
Official Films Present: Sport Beams
Scrambled Legs
Narration by Dan Seymour. Documentary look at the Dusek Brothers in training.
Run time: 1 hour, 44 minutes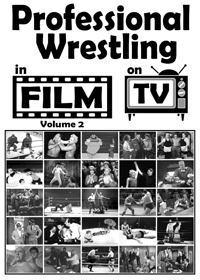 502 WM-02

---

DVD with case/custom artwork
$5.00
— Professional Wrestling in Film & on TV —
Volume 2
Bunny Hugged
[Warner Brothers cartoon, 1951]
A wrestling match pits professional wrestler Ravishing Ronald, "a de-natured boy" (a parody of Gorgeous George and "Nature Boy" Buddy Rogers) against current champion The Crusher. Bugs Bunny, the mascot of Ravishing Ronald ("it's a living"), watches from a corner as The Crusher uses Ronald, tied up in his own hairnet, as a punching bag. Worried that he's losing his "bread and butter," Bugs enters the match as "The Masked Terror," wearing a mask over his face. The Crusher sees the new opponent as "fresh meat," disposes of Ronald (whose signs "HELP," "SOS" and "FOUL" go unanswered), and goes after Bugs.
7 minutes, 14 seconds
Grips, Grunts and Groans
[Three Stooges comedy short, 1937]
The stooges become trainers of "Bustoff," a champion wrestler. The big boss has a lot of money bet on Bustoff and orders the boys to take good care of him. Instead, they accidentally knock him out and Curly must disguise himself as Bustoff and wrestle in his place. The match doesn't go very well until Curly smells "Wild Hyacinth" perfume on a lady fan at ringside. This drives him crazy and he knocks out his opponent and half the people in the stadium.
18 minutes, 51 seconds
Flesh
[Feature film, 1932]
Polakai [Wallace Beery], an affable waiter who is also a wrestler, meets Laura Nash [Karen Morley], an ex-con, and falls in love. Even though Polakai is kind to her, she pines for Nick, her old partner in crime, and convinces Polakai to bail him out of jail. When she tells Nick she's pregnant, he moves to America. She then convinces Polakai the baby is his and they also move to America, where Polakai pursues the wrestling title of the world and Nick becomes his manager. Nick encourages him to throw fights, which throws Polokai into professional and personal ruin.
Legendary director John Ford brings his clean, visually poetic style to Flesh, guiding Wallace Beery (in the year of his Best Actor Oscar win for The Champ) and Karen Morley (Scarface) to some of the finest work of their careers. As touching as it is uncompromising, Flesh takes its characters to the dark regions of their souls … and ends with a quiet, unforgettable scene that offers a hope for redemption.
Includes appearances by wrestlers Nat Pendleton and Wladek Zbyszko.
96 minutes
Run time: 2 hours, 2 minutes
---
503 WM-03

---

DVD with case/custom artwork
$5.00
— Professional Wrestling in Film & on TV —
Volume 3
Porky the Wrestler
[Warner Brothers cartoon, 1937]
Porky Pig, along with everyone else, is hitchhiking to the big wrestling match. He gets a ride from the challenger, but at the arena, Porky is mistaken for the challenger and gets thrown into the ring. The champ is making mincemeat of Porky when Porky crawls out and has the champ tying himself in knots, then swallowing a spectator's pipe and doing a steam locomotive impression.
6 minutes, 47 seconds
Came the Brawn
[Little Rascals comedy short, 1938]
Spanky is passing off Alfalfa as a champion wrestler, and the two of them are trying to find an opponent that can't beat him. They eventually decide on Waldo, who is to be disguised as the Masked Marvel. When Butch catches wind of this, he switches places with Waldo and bounces Alfalfa around.
10 minutes, 47 seconds
Catch As Catch Can [1931]
[Short subject]
The second of 16 Thelma Todd-Zasu Pitts comedy shorts for producer Hal Roach, this two-reeler proved to be one of the team's very best. Homesick in the big city, Zasu falls in love with a wrestler named Strangler Sullivan [Guinn "Big Boy" Williams] from her hometown of Joplin, MO. He feels certain that he can win his final match if only she appears in the audience wearing a certain lucky hat. Arriving with girlfriend Thelma, who's dating Williams' fight manager Harry [Reed Howes], Zasu promptly loses her hat in the crowd and pandemonium ensues.
10 minutes, 31 seconds
Racket Girls
[Movie trailer, 1951]
4 minutes, 8 seconds
Racket Girls
[Feature film, 1951]
aka "Blonde Pickup, " aka "Pin Down Girls."
Scalli [Timothy Farrell] is a gangster who manages women wrestlers as a front for his bookmaking, drug, and prostitution rackets. He trusts the wrong people and ends up trying to run away from both the police and mysterious mob boss Mr. Big [Phil Bernard], to whom he owes $35,000. This film features real-life wrestlers Peaches Page, Clara Mortensen (world champion), and Rita Martinez (champion of Mexico).
71 minutes
Run time: 1 hour, 39 minutes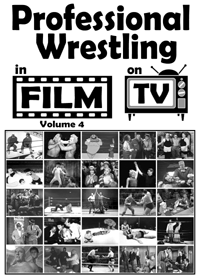 504 WM-04

---

DVD with case/custom artwork
$5.00
— Professional Wrestling in Film & on TV —
Volume 4
Laverne and Shirley: In This Corner
[TV show, aired September 27, 1977, season 2, episode 2]
For the sake of charity, Laverne [Penny Marshall] agrees to participate in a female tag-team wrestling match. When Laverne's partner pulls up injured, Shirley [Cindy Williams] is coaxed into the ring, terrified at the prospect. And with good reason: one of the girls' opponents turns out to be a muscle-bound Amazon whom they had earlier insulted during a traffic altercation.
25 minutes, 9 seconds
The Munsters: Herman the Great
[TV show, aired 1964-11-12, season 1, episode 8]
Herman bends a metal pipe in front of one of Eddie's friends, whose father is a wrestling manager. The father recruits Herman to be a professional wrestler under the name "The Masked Marvel." Herman, however, is a natural loser as he listens to the sob stories of his opponents and lets them win.
Gene LeBell plays Herman's final opponent, "The Strangler." Wrestlers Billy Varga, Jay York, Matt Murphy, and Gene LeBell, along with ring announcer Jimmy Lennon Sr., all make appearances.
25 minutes, 29 seconds
Swing Your Lady
[Feature film, 1938]
Wrestler Joe Skopapolous [Nat Pendleton], together with his manager, Ed [Humphrey Bogart], and his trainers, Popeye and Shiner, arrives in a small town in the Ozarks hoping to promote a wrestling match. Things look hopeless because there is no local candidate for Joe's opponent until Ed meets the blacksmith, a woman named Sadie. Believing it would be a good gimmick for Joe to wrestle with Sadie, Ed offers her $100 to compete. She readily agrees because she needs the money to buy a suite of bedroom furniture. Unfortunately for Ed's plans, Joe meets Sadie on a training run and falls madly in love with the large woman.
Appearances by wrestler Daniel Boone Savage.
77 minutes
Run time: 2 hours, 7 minutes
---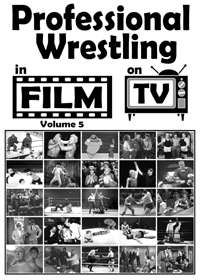 505 WM-05

---

DVD with case/custom artwork
$5.00
— Professional Wrestling in Film & on TV —
Volume 5
The Beverly Hillbillies: The Rass'lin' Clampetts
[TV show, aired January 31, 1968, season 6, episode 22]
Granny has been in a bad mood for a while, so the Clampetts put up the cabin to cheer her up. After singing and rocking, Granny starts getting happier, but Mrs. Drysdale comes over to complain about the shack and gets in a fight with Granny. After Jed hears about this, he tells Granny that city women don't fight like this, but Jethro tells him they do on TV. That night, Granny, as well as the rest of the clan, tune into Ladies Wrestling, watching the Boston Strong Girl fight Rebecca of Donnybrook farm. But, Granny thinks that this whole fight is real, as well as Rebecca's sad story. After watching the Boston Strong Girl beat up Rebecca, Granny decides to take care of things herself. She heads down to the wrestling arena and beats up the Boston Strong Girl. Gene LeBell plays the referee.
22 minutes, 27 seconds
The Beverly Hillbillies: The Great Tag-Team Match
[TV show, aired February 7, 1968, season 6, episode 23]
It's the day after Granny beat up the Boston Strong Girl, making her the new champ, and the Clampetts are celebrating Granny's great victory. But not all is well. The woman who plays the Boston Strong Girl is in trouble for getting beat up. The woman who plays Rebecca of Donnybrook Farm, a former topless waitress, has learned the truth, getting an invitation from Granny to visit. Their manager, Gene Booth, sees this as an opportunity to get Granny to fight, after hearing the huge ratings the fight got, thinking the Clampetts are poor. They later learn that the Clampetts are well off. Granny isn't interested at first, but after hearing that Rebecca and her family have to fight the Boston Strong Girl's family and meeting the Boston Strong Girl's parents, she agrees to a tag team match: The Clampetts, representing Rebecca's family, and the Boston Strong Girl's family. The fight happens, and Granny beats up all three of them, single-handed. Mike Mazurki plays the Boston Strong Girl's father. Gene LeBell plays the referee.
22 minutes, 22 seconds
Sit Tight
[Movie trailer, 1931]
Sit Tight
[Feature film, 1931]
Jojo Mullins [Joe E. Brown] has an eye for the ladies, although his heart belongs to the manager [Winnie Lightner] of the health club where he works. Brown learns to wrestle by correspondence and is matched against a muscle-bound masked opponent named Olaf [Frank Hagney]. To make matters worse, the masked marauder is convinced that his wife has been fooling around with JoJo. JoJo is knocked out early in the proceedings, whereupon he dreams he's a sultan surrounded by harem girls. A romantic subplot involves Paul Gregory and Claudia Dell. Gregory works for Dell's father and Dell asks her father to give Gregory a promotion so that she can spend more time with him. When Gregory refuses to be promoted without earning the position, she threatens to have him fired and Gregory quits his job. Gregory attempts to start a new career as a championship wrestler and is trained by Lightner and Brown. When Dell finds out about this, she attempts to stop him and asks for his forgiveness. She pleads with him to not fight, but he has already promised. Surprisingly, this was filmed as a musical, but with the public growing weary of musicals, most of the tunes were jettisoned prior to release. What remains is a wrestling comedy filled with plenty of pre-Code friskiness.
76 minutes, 19 seconds
Run time: 2 hours, 3 minutes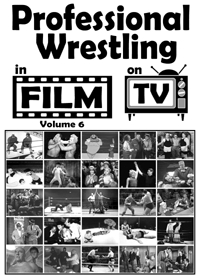 506 WM-06

---

DVD with case/custom artwork
$5.00
— Professional Wrestling in Film & on TV —
Volume 6
Big Show-Off, The
[Feature film, 1945]
Joe Bagley [Lionel Stander], owner of the Blue Heaven Club, tries to foster a romance between shy pianist Sandy Elliott [Arthur Lake] and band vocalist June Mayfield [Dale Evans]. Joe tells June that Sandy is really a professional, masked wrestler known as "The Devil." Wally Porter [George Meeker], also in love with June, doesn't believe the story. The real wrestler breaks a leg in a match and Sandy, in order to keep up the ruse, now has to wear a cast on his leg. June attends a match and hears the real Devil announce his engagement to another girl. Sammy Stein as wrestler Boris the Bulgar.
59 minutes, 56 seconds
No Holds Barred
[Feature film, 1952]
This "Bowery Boys" entry is an on-target satire of TV wrestling (which, if anything, is even sillier in the 1990s than it was in 1952). Through a freak of nature, Sach Jones [Huntz Hall] develops a cranium so hard that it is impervious to pain. Capitalizing on this phenomenon, Sach's pal Slip Mahoney [Leo Gorcey] enters Sach in a wrestling match, during which his great strength re-manifests itself in his fingers. With each subsequent wrestling bout, Sach's super strength shifts to another part of his body. When slated to take on real-life wrestler Hombre Montana in the ring, Sach nearly meets his Waterloo until the last moment, when he develops extra-human strength in his backside.
Never believable for a single moment, No Holds Barred is one of the best and funniest of the 48 "Bowery Boys" films.
Wrestlers making guest appearances include Henry Kulky (as Mike the Mauler), Pat Fraley (as himself), Brother Frank Jares (as himself), John Smith (as himself), Hombre Montana (as himself), Ted Christy (as himself), and Mike Ruby (referee).
65 minutes, 32 seconds
Run time: 2 hours, 5 minutes
---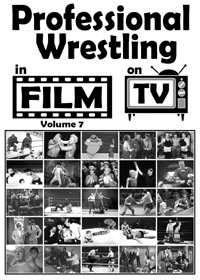 507 WM-07

---

DVD with case/custom artwork
$5.00
— Professional Wrestling in Film & on TV —
Volume 7
Wrestling Wrecks
[Walter Lantz cartoon, release date July 20, 1953]
Woody Woodpecker is watching a wrestling match on TV. It's "Precious Percy" (Woody's favorite) versus his opponent, "Bull Dozer". Eventually, Woody's dog gets overexcited and inadvertently breaks his TV set, forcing Woody to watch the match in person at the arena. While in the audience, he tries to help Percy win the match through underhanded tactics. However, when Bull still defeats Percy, Woody decides to take on Bull all by himself.
6 minutes, 8 seconds
The Adventures of Superman: No Holds Barred
[TV show, aired November 21, 1952, season 1, episode 11]
Bad Luck Brannigan, a wrestler working for a crooked promoter, uses "the paralyzer" to cripple opponents. Clark Kent discovers the promoter has imprisoned an immigrant dubbed "the swami," who has extensive knowledge of the body's pressure points. In his Superman identity, Clark sees the immigrant. "The swami" instructs Superman in his techniques. As Clark, he then teaches a college wrestler — who has publicly challenged Brannigan — how to counter "the paralyzer."
Wrestlers include Gino Garibaldi, Krippler Karl Davis, and Hans Schnabel, who plays "Salt Simmons." (Schroeder hits Superman over the head with a chair).
25 minutes, 26 seconds
Requiem for a Heavyweight
[TV show, aired on Playhouse 90, October 11, 1956]
Harlan "Mountain" McClintock [Jack Palance], a once-promising, but now washed-up boxer, faces the end of his career after he is savagely defeated by a younger boxer. A fight doctor refuses to certify McClintock for further boxing, saying that another rough match could blind or even kill him. Boxing is all McClintock has ever known. His manager persuades him to turn to professional wrestling, although McClintock is proud that he never had a fixed fight and is uncomfortable with the staged, predetermined wrestling match.
Appearances by boxers Max Baer and Max Rosenbloom and wrestlers Ted Christy, Karl "Killer" Davis, and Ivan Rasputin.
90 minutes
Run time: 2 hours, 1 minute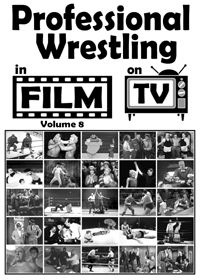 508 WM-08

---

DVD with case/custom artwork
$5.00
— Professional Wrestling in Film & on TV —
Volume 8
Rasslin' Round
[Ub Iwerks cartoon, 1930]
Shoeshine boy Willie recalls to one of his customers how he had once beaten the wrestling champ (the dreaded Masked Marvel) in the ring, totally oblivious to the fact that his customers is the world's wrestling champ. The story then unfolds, with Willie getting ready for the match, then going in to face the big brute.
7 minutes, 4 seconds
Burke's Law: Who Killed the Strangler?
[TV show, aired January 6, 1965, season 2, episode 16]
The Strangler [Gene LeBell], a famous wrestler, is slain during a charity match and the killer is one of five people seated in the "Gold Row" — the victim's sister [Annette Funicello] (who has a split personality), his wrestling rival [Billy Varga], a fashionable socialite, a "method" sportswriter [Frankie Avalon], and a very wealthy old lady with a strong affinity for wrestling violence. The weapon? A poisoned dart. How was the murder committed without the killer being seen? After watching a tape of the event, over and over, he's not sure if he hasn't seen footage of the actual killing. Millionaire detective Amos Burke ultimately traps the killer into confessing by claiming to have found the murderer's "lip prints" on the murder "weapon."
47 minutes, 38 seconds
The Sport Parade
[Feature film, 1932]
Dartmouth football stars Sandy Brown and Johnny Baker follow different paths after college: Baker becomes a sports reporter, while pal Brown chases the money of the pro wrestling game, but ends up as a wrestler with big debts after becoming involved with crooked promoters. Irene Stewart is the woman that comes between them, and a bored radio announcer adds the few light moments as he follows their careers. The best moments belong to Robert Benchley as a sublimely inaccurate radio sportscaster.
Sport Parade was co-written by the prolific Corey Ford, who later cheerfully admitted he knew nothing about the subject of wrestling, but was just following studio orders by churning out this indifferent little charade. The film includes location shots of New York City in 1932.
The film has become famous for certain Pre-Code scenes, including William Gargan [Baker] snapping a wet towel at Joel McCrea [Brown] in a scene where football players can be seen taking a shower in the background.
64 minutes, 11 seconds
Run time: 1 hour, 58 minutes
---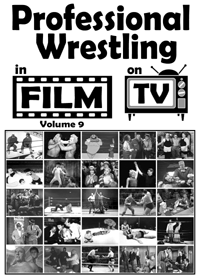 509 WM-09

---
DVD with case/custom artwork
$5.00
— Professional Wrestling in Film & on TV —
Volume 9
Palooka from Paducah
[Comedy short, release date January 11, 1935]
Buster Keaton began his career in vaudeville as a child, starring with his father Joe and mother Myra as The Three Keatons. This clever Educational two-reeler reunites the trio and adds Buster's sister, Louise, in the bargain. They play a family of hill folk that make moonshine, but who pin their hopes on turning their oversized son Elmer [Dewey Robinson] into a champion wrestler. The big tournament held in Paducah finds Elmer in the ring with the lethal Bullfrog Kraus [Bull Montana]. When Kraus starts getting too rough with Elmer, the entire family throws itself at the wrestler and annihilates him, winning the bout.
20 minutes, 4 seconds
British Pathe
[Wrestling newsreel, 1935]
Hans Schnabel vs unknown wrestler.
2 minutes, 19 seconds
Night and the City
[Feature film, 1950]
Harry Fabian [Richard Widmark] is a London hustler with ambitious plans that never work out. One day, when he encounters the most famous Greco-Roman wrestler in the world, Gregorius the Great [Stanislaus Zbyszko], at a London wrestling arena run by his son Kristo [Herbert Lom], he dreams up a scheme that he thinks will finally be his ticket to financial independence. Of course, as Fabian attempts to con everyone around him to get his scheme to work, he only ends up conning himself.
This is an interesting tale of blind ambition, self-deception, broken dreams, and how a man, who always thinks he's ahead of the game, ends up tripping himself very badly. Mike Mazurki plays The Strangler.
96 minutes
Run time: 1 hour, 58 minutes
510 WM-10

---

DVD with case/custom artwork
$5.00
— Professional Wrestling in Film & on TV —
Volume 10
Heartbeat: Thanks to Alfred
[TV show, aired November 17, 1996, season 6, episode 12]
The famous wrestler, the Masked Marvel, is coming to Aidensfield and, as usual, he challenges all locals to a match with a prize to anyone who can unmask him. But he's staying with Claude Greengrass [Bill Maynard], and Claude's dog, Alfred, takes exception to his mask and bites him in the leg. Since nobody knows what he looks like without the mask, Greengrass and his manager [Pat Starr], make him train one of the local rugby players. When nobody notices the switch, the Masked Marvel's manager is thrilled and realizes there's no limit to the amount of times he can interchange players. The original "Masked Marvel" is upset about being replaced and decides to do something about it. He ends up coming out on top when he wrestles without the mask.
Wrestlers include Pat Roach as the Masked Marvel and Dave Hipkiss (billed simply as a wrestler). Hipkiss was injured during the filming of the episode and sued Yorkshire TV for 30,000 pounds, claiming it ended his career as a professional wrestler.
51 minutes, 9 seconds
Straight Place and Show
[Feature film, 1938]
In this musical comedy, the Ritz Brothers inherit a racehorse but are unable to make money from him because they cannot come up with the $1,000 needed to enter him in the big race. The two get involved with the race, anyway, when they overhear a group of Russian jockeys conspiring to ruin the race. Harry Ritz talks a wrestling promoter into paying him $1,000 to wrestle "Terrible Turk" (played by wrestler Tiny Roebuck) and they use it to help a young man train the horse of his fiancée. The brothers then masquerade as the crooked riders and mayhem ensues.
1 hour, 8 minutes
Run time: 1 hour, 59 minutes
---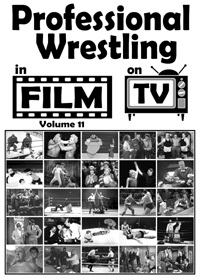 511 WM-11

---

DVD with case/custom artwork
$5.00
— Professional Wrestling in Film & on TV —
Volume 11
La Lotta (Wrestling)
[Documentary, 1961]
"Wrestling" (original French title: La Lotta) is a 1961 documentary film about professional wrestling in Montreal, co-directed by Michel Brault, Marcel Carrière, Claude Fournier and Claude Jutra. No narration, only direct sound and silent-film-style inter-titles.
"Wrestling" was shot in the Montreal Forum, where major bouts were staged, as well as wrestling parlors where would be wrestlers learned and practiced their craft. The film shows the wrestling arena to be a sort of modern day shrine, with wrestling and its rituals taking the place of religion in the then-recently secularized Quebec.
The filmmakers had intended to make a film exposing, in slow motion, the fakery of professional wrestling, until a chance encounter with French philosopher Roland Barthes changed their minds. Barthes was appalled by what they were planning to do, and spoke urgently about the beauty and social role of pro wrestling in the lives of ordinary people. Persuaded by Barthes, the filmmakers set out to make a film that captured the spectacle of the sport, without judging it.
A behind-the-scenes look is shown at the staging and choreography of the spectacular shows, and the preparation of the wrestling stars who perform them. During the show the filmmakers are just as interested in the spectators, who identify with the heroes of the ring, as the match itself. Their emotions mimic the drama unfolding on the stage, which they know is fake, but allow themselves to be swept away with the showmanship, regardless. The main event features fan-favorite wrestler Edouard Carpentier. Also in the film are the after-show locker room reactions of the performers and the back-street wrestling parlors where the craft is learned and practiced.
Wrestling was produced by Jacques Bobet for the French program branch of the National Film Board of Canada.
27 minutes, 46 seconds
Mr. Ed: The Wrestler
[TV show, aired January 7, 1962, season 2, episode 12]
Wilbur and Addison go half and half into backing a wrestler who eats them out of house and home, and takes ballet lessons with the girls. Ricki Starr stars as Tiger Davis and Matt Murphy (K.O. Murphy) plays Big Boy Malone.
25 minutes, 31 seconds
Bodyhold
[Feature film, 1949]
The TV-generated popularity of professional wrestling in 1950 inspired a brief cycle of inexpensive films on the subject. Columbia's C-plus "Bodyhold" borrows the old Kid Galahad formula of a naive young man becoming a wrestler by accident, only to be exploited by crooked promoters. Willard Parker plays a plumber named Tommy Jones, who gets roped into the world of professional wrestling and manages to remain true to his morals in spite of his seedy surroundings. He is brought in by Charlie Webster [Roy Roberts], a manager of some questionable character, as a replacement for an injured wrestler challenging for the world title. To his surprise, he finds out that the wrestling business is not exactly on the level, and he refuses to throw his match. As Webster plans to incapacitate Jones, the plumber-turned-wrestler's girlfriend tries to expose the pernicious manager's intentions — and uncovers the fact that Webster had taken out Jones' predecessor in a similar fashion.
The film features performances by wrestlers Henry Kulky (as Mike Kalumbo), Wee Willie Davis (as Harold Hocksteader, aka Azusa Assassin), Billy Varga (as Marvelous Milton), Ken Ackles (as Terre Haute Terror), Sammy Menacker (as Red Roman), and Ed "Strangler" Lewis (referee).
1 hour, 3 minutes
Run time: 1 hour, 56 minutes
512 WM-12

---

DVD with case/custom artwork
$5.00
— Professional Wrestling in Film & on TV —
Volume 12
Route 66: A Feat of Strength
[TV show, aired May 18, 1962, season 2, episode 30]
A refugee Hungarian wrestling champion [Jack Warden] finds that American wrestling has its own set of rules when he is offered a position as a "good guy" wrestler. Enrique Torres was a technical advisor for the film.
50 minutes, 31 seconds
Mister Universe
[Feature film, 1951]
A gullible and honest "Mr. Universe" winner, Tommy Tomkins [Vince Edwards] gets added to the stable of a con-man and a wrestling prompter. He wins match after match, legitimately, and then balks when he is told he must lose a match. A complication arises when Tommy cannot be taught to be dishonest. Complications also arise when a gangster tries to buy in on the setup.
A "comedy" film based on the tragic career of prizefighter Primo Carnera.
88 minutes, 34 seconds minutes
Run time: 2 hours, 19 minutes
---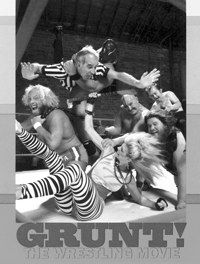 513 GRUNT

---
DVD with case/custom artwork
$5.00
— Grunt! The Wrestling Movie —
[Feature film, 1985]
A documentary crew sets out to unravel one of professional wrestling's most closely guarded secrets: is former champion "Mad Dog" Joe DeCurso, the baddest man in wrestling and the hottest heel in the biz. Things are looking up for the Mad Dog as he takes on Skull Crusher Johnson for the world heavyweight championship until a freak incident occurs during the brutal fight for the gold. Skull Crusher gets his head caught in the ring ropes as Mad Dog goes for a dropkick and is decapitated (sending his head flying into the crowd). Shocked by his actions and upset for being disqualified in his biggest match, Mad Dog goes missing. Rumors of him hitting rock bottom and eventually killing himself by jumping off the Bay Bridge in Oakland California begin to surface.
Flash forward six years later. The title is vacant and a new champion will be decided in a battle royal. Enter Leslie Uhgums, who is making a documentary on a new wrestling phenomenon named the Mask, whom many people speculate may be Mad Dog Decurso under a new moniker. One of these believers is Dr. Tweed, president of the Mad Dog is The Mask Fan Club. Leslie and Tweed hit the road to investigate and get to the bottom of the speculation. After interviewing many fans, doctors, wrestlers and trainers, they question Lola, Joe's ex-manager and girlfriend who wants nothing to do with the film. After hitting a dead end, the film makers go to a wrestling show where Mask is taking on The Grunt brothers in a handicap match. Afterwards, the two meet up with Joe's old high-school wrestling coach, where they see a young Decurso donning a mask that bears a strong resemblance to the one worn by the Mask.
Cheesy? Campy? Silly? Absolutely! But a whole lot of fun and great wrestling action that will take you back to a long-gone era.
Wrestlers making appearances include Magic Schwarz (as Mad Dog Joe DeCurso), Steve Strong, Dick Murdoch, Dick Beyer, Adrian Street, Miss Linda, Victor Rivera, Pat Barrett, Billy Anderson, John Tolos, Billy Varga, Ken Farber (referee), Juan Hernández, Pistol Pete Marquez, Buddha Khan, Armando Guerrero, Ray Stern, Salvador Lothario, Dan Spivey, Woody Farmer, Jack (Wildman) Armstrong, Steve DeSalvo & Steve Pardee. Fight sequences were put together by Mando Guerrero.
Run time: 1 hour, 30 minutes
514

---
DVD with case/custom artwork
$5.00
— Roaring Fire —

[Feature film, 1985]

Alternate titles: Hoero! Tekken, Ve Znamení Draka

The hero, Joji (Hiroyuki Sanada), was raised in America in the western style of his stepfather and practiced martial arts from childhood. Upon learning that he has a twin brother and a sister, he travels to find them, only to learn his brother has been murdered in mysterious circumstances. After returning to his native land, he meets his blind sister Chihiro and faithful wrestler Samson (Abdullah the Butcher). With the help of a mysterious "illusionist" (in the performance of the Japanese legend of action movies, Sonny Chiha), Joji enters the bloody path of vengeance when he fights a powerful mobster in a battle with multiple opponents.

Japanese language with sub-titles.

Run time: 1 hour, 38 minutes
---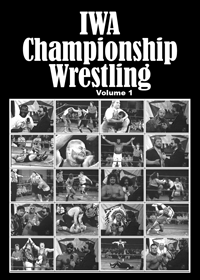 521 IWA_1-2

---

DVD with case/custom artwork
$5.00
— IWA Championship Wrestling —
Volume 1
Promoter Rob Russen, Host Lee Marshall
Show #1
Sarasota, Florida: June 6, 1990
Junior heavyweight tournament begins!
"Hitman" Tommy Stetson vs. David Isley
Interview: Jerry Lawler
Titan Taz Apollo vs. Yukon Jack
(Diamond Dallas Page at ringside)
Interview: Diamond Dallas Page
Preston Steele w/mgr. Nicole
vs.
Dirty Dick Flannigan
Interview: Chief Jules Strongbow
Ivan Koloff vs. Cousin Luke
Sonny Beach vs. Chris (The Edge) Evans
Frank (The Heavenly) Angel and Mitch Rhyder
vs.
The Wild Samoans (Samu & Afa) w/Kokina Maximus
Show #2
Sarasota, Florida: June 13, 1990
Al "The Sledge" Hammer w/Dr. Mark Curtis
vs.
Derek Dukes
Interview: Jerry Lawler
Kokina Maximus vs. Big Hoss w/Doc Diamond
Interview: Preston Steele w/mgr. Nicole
Johnny Hotbody vs. Larry Winters
Junkyard Dog vs. Man Mountain Mike Moore
Interview: Kerry Von Erich
Lethal Larry Cameron vs. Kerry Von Erich
Interview: Cousin Luke
Interview: Bambi
Chief Jules Strongbow vs. Afa the Samoan
Run time: 1 hour, 28 minutes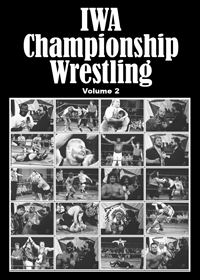 522 IWA_3-4

---

DVD with case/custom artwork
$5.00
— IWA Championship Wrestling —
Volume 2
Promoter Rob Russen
Host Lee Marshall
Show #3
Sarasota, Florida: June 20, 1990
— South Philly Grudge Match —
Johnny Hot Body vs. Tony Stetson
Sonny Beach w/mgr. The Kreator
vs.
Bobby Sulza
Cousin Luke vs. New Jersey Nightmare
Pitbull Express vs. Ray Odyssey & Chris Evans
Ivan Koloff vs. Derek Dukes
Show #4
Sarasota, Florida: June 27, 1990
Larry Cameron vs. Montana Mauler
Preston Steel w/valet Noel vs. Bobby Sulza
Junkyard Dog vs. Taz Apollo
Chief Jules Strongbow vs. Boy Gone Bad
Kerry Von Erich vs. "Man Mountain" Mike Moore
Pitbull Express
vs.
Samoan Swat Team (Samu & Kokina Maximus)
— INTERVIEWS —
Junkyard Dog, Chief Jules Strongbow,
Lethal Larry Cameron, Pitbull Express Int.,
Ivan Koloff, Derek Dukes,
Cousin Luke, Sonny Beach & The Kreator
Run time: 1 hour, 32 minutes
---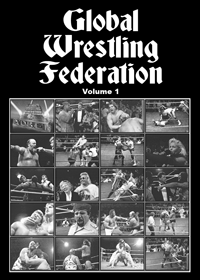 533 GWF 1993-v1

---
DVD with case/custom artwork
$5.00
— Global Wrestling Federation —
Volume 1
Taped May 28, 1993
— North American title match —
Stevie Ray* vs. Killer Tim Brooks
Action Jackson vs. Bullman Downs
Crazy Mike Davis & Cousin Elmus
vs.
Johnny Hawk & Black Bart
Chris Adams vs. Iceman King Parsons
Taped June 11, 1993
Hollywood John Tatum vs. Plowboy Wilbur
Al Perez vs. Killer Tim Brooks
Stevie Ray & Booker T
vs.
Vito Mussolini & Guido Falcone
Chris Adams vs. Iceman King Parsons
(Toni Adams slaps Chris, Rod Price cuts Chris' hair)
Taped June 25, 1993
Black Bart vs. Chad Starr
Action Jackson vs. Francis Buxton
John Hawk vs. Randy Lewis
Vito Mussolini & Guido Falcone
vs.
Cousin Wilbur & Captain Ron
Run time: 2 hours, 3 minutes
534 IPW_AR-90

---

DVD with case/custom artwork
$5.00
— International Pro Wrestling —
Arkansas, 1990
Host: Buddy Lee
Show #1
Motley Cruz vs. Jumpin' Jeff Farmer
Odell Buckingham vs. Johnny Rodgers
— 6-man tag team match —
Wild Bill Ash, Tony the Spider
& Robert Sebrin
vs.
Mighty Nation (Red Eagle & Standing Bear)
& Rockin' Randy Bryant
(carried over onto show #2)
Show #2
Bulldozer vs. Johnny Malibu
Johnny Rodgers vs. Odell Buckingham
Motley Cruz vs. Keith Watkins
(carried over onto show #3)
Show #3
New York Nightmare vs. Johnny Malibu
Doc Savage & Bill Ash vs. Mighty Nation
(carried over onto show #4)
Show #4
Bulldozer vs. Rockin' Randy
Tony the Spider vs. Johnny Malibu
INTERVIEWS
Motley Cruz, Bill Ash, Tony the Spider,
Jumpin' Jim Farmer, Randy Bryant,
Doc Savage, Bulldozer & Gypsy,
Ritchie Rou, New York Nightmare
Run time: 1 hour, 16 minutes
---
535 USA_1988-05-09

---

DVD with case/custom artwork
$5.00
— USA Championship Wrestling —
Hector Guerrero vs. Doug Furnas
Cousin Junior vs. The Bandit #2
Buddy Landel vs. The Bullet
— 8-man tag team match —
The Dog (Larry Latham),
Rock 'n' Roll RPMs,
Mongolian Stomper
vs.
Scott Armstrong, Doug Furnas,
Johnny Rich & Davey Rich
— USA Cyclone Stampede —
$28,000 purse!
Run time: 1 hour, 16 minutes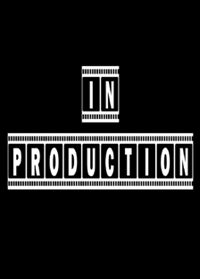 536

---

DVD with case/custom artwork
$5.00
— IN PRODUCTION —
MATCH LISTINGS
Run time:
---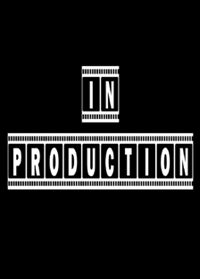 539

---

DVD with case/custom artwork
$5.00
— IN PRODUCTION —
MATCH LISTINGS
Run time: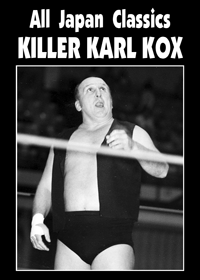 540 AJC_KKK

---

DVD with case/custom artwork
$5.00
— All Japan Classics: Killer Karl Kox —
Killer Karl Kox & Dick Slater
vs.
Giant Baba & The Destroyer
August 29, 1974
— United States Title Match —
The Destroyer
vs.
The Spirit (Killer Karl Kox)
July 25, 1975
— PWF Title Match —
Killer Karl Kox
vs.
Giant Baba
Killer Karl Kox
vs.
Dick Murdoch
December 9, 1976
Run time: 1 hour, 46 minutes
---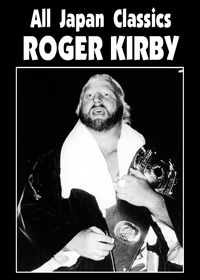 541 AJC_RK

---

DVD with case/custom artwork
$5.00
— All Japan Classics: Roger Kirby —
Roger Kirby & Guy Mitchell
vs.
Jumbo Tsuruta & Genichiro Tenryu
February 10, 1979
Roger Kirby & Steve Regal
vs.
Giant Baba & Tenryu
March 10, 1984
Roger Kirby & Alexis Smirnoff
vs.
Giant Baba & Great Kabuki
July 7, 1984
Roger Kirby vs. Giant Baba
July 14, 1984
Roger Kirby vs. Atsushi Onita
July 21, 1984
Roger Kirby & Dick Slater
vs.
Great Kabuki & Magic Dragon
Aug. 11, 1984
Roger Kirby & Stan Hansen
vs.
Giant Baba & Great Kojika
Aug. 18, 1984
Run time: 56 minutes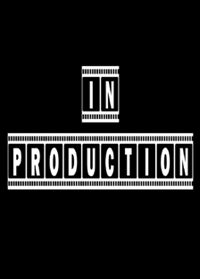 542

---

DVD with case/custom artwork
$5.00
— IN PRODUCTION —
MATCH LISTINGS
Run time: