Classic Wrestling Programs #2
SLAM-O-GRAM, volume 2
by Scott Teal
Once again, Scott Teal opens his archives, this time to present the second volume of his SLAM-O-GRAM arena program. As the official program for the Nashville-based Gulas-Welch Enterprises wrestling promotion, these programs were sold in Nashville, Bowling Green, Huntsville, and Chattanooga.
This volume chronicles an amazing amount of wrestling history, including classic feuds like Tommy Rich vs. The Russian Stomper, Ken Lucas vs. The Masked Superstar, King Ripper Collins & Crazy Luke Graham vs. Abdullah the Butcher & The Sheik, Jackie Fargo vs. The Executioner, father-son teams Angela & Lanny Poffo vs. Len & Joey Rossi, Cowboy Frankie Lane vs. Gypsy Joe, and many more. Each issue contained stories, interviews, and photos, both posed and action.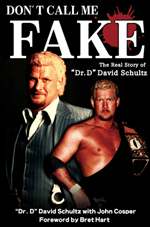 Don't Call Me Fake
The Real Story of "Dr. D" David Schultz
by "Dr. D" David Shultz, with John Cosper
"Dr. D" David Schultz is a folk hero to professional wrestlers. He is the man who slapped John Stossel on 20/20 for suggesting professional wrestling is fake. At a time when the walls of kayfabe were beginning to leak, he was the man with the nerve to do what had to be done. He was as real as it gets.
This is not a tell-all or an expose. It's the autobiography of a man who has lived an extraordinary life. You'll get the story of his wrestling career, from his early education with the legendary Herb Welch through his final days in the ring, but you'll also get the incredible story of a man who would stop at nothing to bring a crook to justice.
Please note: This book was self-published by John Cosper through his "Eat Sleep Wrestle" imprint, not Crowbar Press.