Wrestling in the Garden
The Battle for New York: Works, Shoots & Double-Crosses
by Scott Teal & J Michael Kenyon
The one place wrestling fans would rather see wrestling than any other was Madison Square Garden. This book, containing every wrestling event that took place in the Garden between Nov. 24, 1875, and Dec. 26, 2016, is the definitive, exhaustive record of professional wrestling in Madison Square Garden ... The World's Most Famous Arena!
BRUISER
by Richard Vicek
edited by Scott Teal
There have been several "Bruisers" in pro wrestling, but the name synonymous with the sport was "Dick the Bruiser." Bruiser cracked heads and pounded flesh in main events from coast to coast and overseas. His in-ring style was believability, belligerence, domination, unpredictability, explosiveness, intensity, and rampage.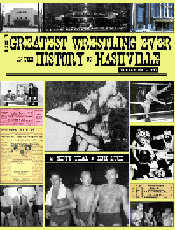 The Greatest Wrestling Ever in the History of Nashville
Volume 1
by Scott Teal & Don Luce
This comprehensive work covers the matches in the ring and the events that took place behind the scenes from 1907, when big-time pro wrestling first made an appearance in Nashville, through 1960.
More than 2,000 wrestling shows and 9,688 matches from a day long gone with more than 550 illustrations and images. All this, plus TV match listings, attendance and gate figures, match stipulations, and much more.
The Mat, the Mob & Music
by Tom Hankins, with Scott Teal
To most people, Tom Hankins is not a recognizable name in the world of professional wrestling, but he parlayed his talents into three careers: wrestling, music, and working for a mobster named Fat Eddie. The stories he tells of all three occupations are wild and filled with incidents involving women, alcohol, drugs and violence, many of which involve the infamous Dr. Jerry Graham, one of pro wrestling's most colorful characters.