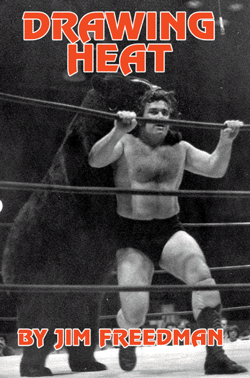 BOOK DETAILS
Kindle edition: 209 pages
Publisher: Crowbar Press
Item #: cbp10-dh-kindle
Price: $9.99
Get information about
the print edition
HERE.
---

Get information about the print edition HERE.
---
---

Get information about the print edition HERE.
---
First published in 1988, Drawing Heat was one of the first books to really give the public a glimpse behind the scenes of the world of professional wrestling. Jim Freedman, a Professor Emeritus at the University of Western Ontario who also consults on international development for the United Nations, CIDA, and international NGOs, seems an unlikely candidate to write a book on such a subject, but he paints a captivating portrait of the sport.

Freedman's primary goal was to chronicle the drama of the sport from the viewpoint of a wrestling fan, but in the process, got much more than he ever expected. During the course of interviewing several participants, he was invited to become a part of Big Bear Promotions, and the book become the story about the demise of a local wrestling promotion being swallowed up by multi-national business interests.

Welcomed into the inner circle by nearly everyone associated with the promotion, Jim presents an insiders look at what it took to promote a small, independent wrestling show ... putting the show together, setting up the ring, counting the money and balancing the books, ring announcing, dealing with sports commissioners who are in the pocket of the big wrestling companies, and what it is that lures wrestling fans into the arenas.

Filled with wonderful characters, the action in this book far outweighs anything seen in the ring today. Dave "The Wildman" McKigney, the main character, is the owner of the Big Bear company, and the struggles and tragedies he faces become the focus of the narrative. Known for traveling with his wrestling bears, one of the most heartbreaking stories in the entire book details the account of McKigney's girlfriend when she is mauled to death by one of them.

In addition to the original text, this reprinting features two additions:

An interview with the author: Jim Freedman
Conducted in 2009, the interview takes readers behind the scenes of the writing of the book and brings them up to date with the events which followed the book's publication in 1988.

The Final, Fateful Bearman Tour by Greg Oliver
Told by his fellow wrestlers, this is the story about the final days and tragic death of the Wildman and several others wrestlers in July 1988. The story includes interviews with several wrestlers who were in the territory at the time: Phil Watson (the son of Whipper Watson), Hartford Love, Willie "Wolfman" Farkuks, Rocky Della Serra, Ricky Johnson, Steve Ocean, and Sweet Daddy Siki.

You don't have to know, or even care, about wrestling to enjoy this book. This is more than just a book about wrestling. It is a glimpse into a secret world unknown to most people ... a world filled with larger-than-life characters and captivating events.
---

Get information about the print edition HERE.
---



Excerpt from Chapter 3: The Wildman
Copyright © Jim Freedman

Frank's face changed. The two squared, upper edges of his countenance folded down into a three-cornered scorn. Slowly, he blocked back his composure with a touch of condescension, and he said, "He's no professional." He wanted to know what I knew about him. I said nothing, which at that time was true. He said he never used him on the card, just a couple of times he called him to put up his ring in smaller towns. Tunney hadn't anymore to say. He worked his face around to say he didn't care, and likewise to say, why should he, which locked him into meeting one more question: Where does he live? What's there to hide about a man who doesn't matter? Tunney had to say, or else give the lie to what he really wanted me to know about the man which was, why bother with the small-time. "Call him if you want. He's in the book," Tunney added to complete the ruse. "King. He lives in King. Big Bear Sports Production."
The next day, I called the Wildman, and met a booming voice on the telephone saying come on up, no hesitation whatsoever. Who told me to call, he asked, and I said Tunney. No comment. "Makes no difference. Wait," he said, as if an inspiration. He had some shows that spring, so better call again before coming to the house. Likely he'd be gone some. Best thing would be, he said, to catch his show, he had a half-a-dozen in between Toronto and Detroit. "Who's this?" He asked my name and paused, but I knew it was to register, not to write it down, and he never asked me what I wanted. The phone call made me smile. It's funny how sometimes, someone only mentioned by the way — as I naively dropped the Wildman's name in Tunney's presence — fills a waiting space. After that, everywhere I went, the Wildman occupied the conversation. The fans all knew him and laughed at Tunney's scorn.
They filled me with the Wildman's antics. They easily remembered things that happened in his shows. I recognized the flippant disregard Tunney tooled for me with his false composure as a deflection. But why? That took some time to learn. While Tunney ran his shows at the Gardens before 10,000 fans, the Wildman borrowed sandlot houses for his shows circling around Toronto's periphery down toward Detroit, up to Sudbury and North Bay, then back around Toronto's suburbs, a different town every night, showing home-grown wrestling shows on the edges of Tunney's turf. He has never had a show on television. If you want to see the Wildman's shows, you have to see them live. Tunney knew all that, that he's a maverick, an outlaw, that he'll likely never have the capital to pay for big-time stars, and still, small promoters and pretenders to Tunney's hold on wrestling have come and gone, all of them in fact have gone almost as fast as they have come ... except the Wildman.
He's been around for twenty years, and more years than not, he has made good money. In Tunney's territory. He has no contract with big city coliseums, no offices, no picture on the Garden walls. What he has is stamina, the art of never slowing down, moving constantly from one town to the next. His office is his truck, his phone, the pay phone in arena offices. He rarely sleeps. Two weeks before a show, he plots the ads for newspapers, delivers and pays for them himself, lays out the posters for the show, has them printed, tacks them on to empty construction boards, and highway poles, and storefront windows like campaign throwaways, and all the frenzied while he runs his shows like a juggler on a unicycle tossing pots and pans and frying eggs and bacon at a banquet of his fans. He keeps a precious chest of beer in the front seat of his truck so as not to get too dry, to chase away the hum of his truck and the drum of his rapid body's regimen late at night after counting up the till.
---
Excerpt from Chapter 3: The Wildman
Copyright © Jim Freedman

He looked more sports writer than Commissioner to me. Sports writers have to worship idols, elevate crass gags of inflated athletes to heroic proclamations, and talk eloquently about team spirit and the secret weapons of fourth-placed teams. It's a boyhood religion that they believe, and to really believe it in the way they do, they need a positive exuberance that belongs to high school batboys in the springtime. The Commissioner had it. That made him much less of an official. It made me like him, too. It made him talk a streak about his friendship with the Tunneys, whom he hailed as fellow sportsmen, good men, and competitors. The story trickled out, on the tail of his sales pitch on the Tunneys, about how Jack had made sure the Commissioner knew about the Wildman's Battle Royals, and how, friends are friends after all, he began to make life difficult for the Wildman.
---
Excerpt from Chapter 4: Night Bears
Copyright © Jim Freedman

Wednesday after Monday's show in Wheatley, McKigney called about the promotion trip to Sudbury, Timmins and North Bay. He had a show that night, Wednesday, and again on Saturday, which left two days in between, Thursday and Friday, free for the promotion trip. Was I interested? You being the professor, he said, you write the articles for the papers and he would take the bear through the streets of the towns, telling people how he would get in the ring with a live bear.
I fumbled for a question about the bear. What bear? Whose bear? "I got a bear for the trip," Dave said abruptly. "He'll ride with us." Bear.
---
Excerpt from Chapter 4: Night Bears
Copyright © Jim Freedman

July 2. Canadians had just celebrated their patrimony with eyeball flashes of Roman candles. Dave had gotten up on Sunday morning to prepare for the evening show. Tony Parisi called and Lynn answered and passed the phone through the window to a patio where Dave could reach it outside. He was cleaning bear cages. Ted customarily climbed up a tree during the cleaning ritual and Smokey wandered around, but for some reason, this time, Smokey wandered into the house. He went through the ever-open front door, up the stairs, and into Dave and Lynn's bedroom. Was he in heat, or puberty, or jealous ... or is there not an explanation? As Dave spoke on the phone, he saw the bear amble into the bedroom and attack his girlfriend, Lynn. Instantly, he threw aside the phone and bolted inside. He picked up a chesterfield and broke it over Smokey's head. The bear turned on Dave, tearing into his hand and back, while Dave fought back in a fight for survival, with a bear he had ironically fought countless times for fun and profit. The bear kept coming. Smokey had been such a good bear that they had never bothered to remove the claws and teeth, even though some people who knew Dave said it ... if that bear ever got mad or crazy, he sure as hell would kill someone. Lynn Orser died in the hospital that afternoon. BLACK BEAR KILLS WOMAN. OWNER SAYS BEAR IN HEAT AT TIME OF FATAL ATTACK. For two days, the papers wrote sensational stories. The police came and held Dave up against the side of his home, frisked him, talking about holding him for manslaughter. Dave could hardly stand up for the injuries he himself had suffered. Lawyers, hospitals, no sleep. The omnipresent shameless press.
---
Excerpt from Chapter 5: Working Towns, Looking for a Pay Day
Copyright © Jim Freedman

"Is that so?," observed the host as the Wolfman reached for his tie. "Hey, wait a minute. That's my tie." But half of it by now was down the Wolfman's throat. The camera man choked with glee as he got in closer. The crowd in the studio tried in vain to muffle their amusement. A soundman thrashed his arms about to keep everybody quiet. The host reeled backwards and the Wolfman hung on, bringing the two of them to the floor with the tie still between his teeth. The sound, the sight of the host's tie tearing in two, and the Wolfman with loose threads between his teeth — it had a sizzling touch. The Wolfman went for a loose wire attached to the microphone and put a foot of wire in his mouth, his eyes popping out, a steady stream of saliva trickling down his chin, before the young man thought to call a station break. The boys cracked up. Hey, this was fun. Who's next? Where's Watson? Phil, you and Luis get on there.
---
Excerpt from Chapter 6: The Sheik's Dream
Copyright © Jim Freedman

With Al around the Sheik and us, they'd have an inside man to tell them what McKigney did and how well he drew. The Sheik cared less. Dave knew Campbell was a spy. We all knew the bastard phoned his boss in Montreal after every show, and for that, we called him the Weasel. The Sheik drove the road to Cochrane: the two promoters up in front and "their boys," Al and I in back. At one point, Dave turned around to Al to ask him how Montreal had done in Timmins the year before. We had a show in Timmins the next day.
"Hey Al, how'd the Giant do in Timmins last year?" Andre the Giant, the gargantuan wrestler, owned a piece of Montreal and ran the northern towns.
"Alright." True to form, Al avoided sharing information.
"I know how you did. You drew seven hundred fans and your promotion wasn't worth a shit." Dave had heard it from the arena manager in Timmins a month ago.
No answer. Al told Dave instead that the motel screwed us on our rates. The atmosphere turned sour in the car.
I repeated Dave's question. Still no answer.
The Sheik took his turn. "You still didn't tell the Professor what you drew. How can you run a town and not know what you drew, less you a shady cocksucker. Hey, Professor. Like the way I talk?"
"Uh-huh."
"Come right out and ask him, don't I. That's what I do. No hee haw." He let go a hearty roll of laughter for his own enjoyment.
"Hey Al," said the Sheik again. "Ask me how Detroit is?"
---
Excerpt from Chapter 9: Postscript
Copyright © Jim Freedman

In Toronto, a new athletic Commissioner took office. He was like his predecessor in the way he handled Dave, except he was even more intent on ending Dave's career. In mid-season, 1985, he took Dave to court on the charge that the wrestling bear was a menace to the public. Dave could not afford the litigation, and the Commissioner knew it. Even the judge suggested to the Commissioner that since the charges were insubstantial, and the cost to McKigney for his own defense would be high, perhaps the Commissioner should drop the case. It looked to me like the Commissioner was taking orders from Tunney. He carried on with the case against McKigney and the bear. The judge did not agree. He said McKigney had been wrestling with the bear for thirty years, no reason to stop him now. The Commissioner lost the case.
---

Get information about the print edition HERE.
---
Acknowledgements
Secrets and Cigars
2 I-Ran Sucks
3 The Wildman
4 Night Bears
5 Working Towns, Looking for a Pay Day
6 The Sheik's Dream
7 What Fans Know
8 Receipts of a Season's Pain
9 Postscripot
10 Fixing the Ring (and the promoter
An Interview with the author: Jim Freedman
The Final, Fateful Bearman Tour
Index
---

Get information about the print edition HERE.
---

Ali, Muhammad, 20
Andre the Giant, 9, 23
Athletic commission, 40-43, 45, 145-146
Barnett, Jim 45, 89, 99, 101
Battle Royals, 40, 42-43, 45
Blassie, Freddie, 124
Boesch, Paul, 29
Bolus, Steve 79
Brazil, Bobo, 91, 144
Brower, Bulldog, 101, 142
Campbell, Al, 100-101, 107-108
Canadian Football League, 18
Cannon, George, 90
Capital Sports, 29
Caponi, Bruno, 72-73, 78-79, 85, 90-91, 95-96, 107, 119-120, 137
Cashman, Wayne, 69-77, 82, 84, 102-104, 111, 119, 137
Chene, Larry, 98
Cobo Hall, 99
Colt, Chris, 144
Gargus, Conrad, 133, 137
Crocket, Dave, 31, 93
Crockett, Jim, 31, 142-143
Dart, Terry, 13, 34-35, 122-123, 128-132
Denucci, Dominic, 89
Diamond, Sweet Ebony, 17
Doyle, Johnny, 98-99
Duncum, Bobby, 26-27
Fargo, Jackie, 131
Firpo, Pampero, 66, 91
Flair, Ric, 14, 74, 124
Flanagan, Pat, 53
Fuji, Mr., 25-26
Gagne, Verne, 28, 115-116
George, Gorgeous, 14, 31
Ginger (bear), 73, 80, 105, 118-119
Globe and Mail, 41
Gotch, Frank, 9-10, 39
Grubmeier, Fred, 39-40
Gulas, Nick, 29, 89, 130
Hansen, Swede, 26-27
Herman, Hans, 53
Igor, Mighty, 35, 66
Iron Sheik, 13-20, 23
James, Robbie, 70-77, 80-81, 84, 102, 107, 116, 133
Jarrett, Jerry, 29, 89
Johnson, Bull, 34, 83
Johnson, Danny, 34, 44-46, 70, 73, 76, 78-79, 83, 85, 92, 96, 119-120, 132, 134-136
Jonathan, Don Leo, 53
Jones, Paul, 17
Justice, Terry, 122
Kasaboski, Larry, 90
Kent, Don "Bulldog", 47-48, 66, 79
Kiniski, Gene, 25
Kitchener Coliseum, 10
Klein, Lou, 98
Koloff, Ivan, 17
Korman, Al, 53
Kowalski, Killer, 53
Lane, Cowboy Frankie, 25, 45, 129-130
Lawler, Jerry, 89, 130-132
Layton, Lord, 142
Lefebvre, Gilles, 113
Lewis, Strangler, 39
London Gardens, 23
Love Brothers, The, 142
Lyons, Billy Red, 25, 83, 142
Madison Square Garden, 29
Malcewicz, Joe, 84
Maple Leaf Gardens, 13,16-17, 19, 30, 53
Maple Leaf Wrestling, 12
Martinez, Luis, 46-48, 73, 78-79, 86-89, 92, 91, 96, 107, 119-120, 131, 132-133, 137, 140, 145
Martinez, Pedro, 83
Maynard, Bob, 66
McKigney, Dave (see Wildman, The)
McMahon Sr., Vince, 89
McMahon, Jr., Vince, 29, 31, 45, 142, 145
Melby, Bill, 55
Mills, Tiny, 53
Mondt, Toots, 39
Mongol, Geto, 54, 73-74
Mosca, Angelo, 14-19, 23, 39, 57
Muchnick, Sam, 28
Mulligan, Blackjack, 66
Parisi, Tony, 10-12, 17, 19, 25, 43, 58, 142-143
Patterson, Thunderbolt, 66
Pete, Little Farmer, 69
Pickles, Ma, 21-28, 31, 122
Poffo, Lanny, 89
Powers, Johnny, 34
Robertson, Dewey, 13-14, 17, 19, 26, 43, 70, 83
Rogers, Buddy, 14, 55
Rositanni, Vic, 34, 70, 76, 78-79, 84-86, 92, 96, 112-113, 133-134
Ruby, Bert, 98-99
Sammartino, Bruno, 89, 91
Sandow, Billy, 39
Schmidt, Hans, 32
Scicluna, Mike, 54
Scott, Sandy, 66
Segal, Morris, 84
Sharpe, Ben, 53
Sharpe, Frank, 53
Sheik, The (Ed Farhat), 28, 30-32, 34, 36, 44-45, 86, 88-89, 92-93, 97-108, 113-114, 116, 119, 122, 128-129, 132-133, 137, 140, 142
Simms, Chopper, 130
Singh, Nanjjo, 32
Singh, Tiger Jeet, 101, 130, 140
Smokey (bear), 58-60, 62, 75
Spittles, Al, 83
Spooky (bear), 58-59, 61-63, 66, 68
Steele, George "The Animal", 129, 140
Stevens, Ray, 17
Tasker, Tiger, 53
Terrible Ted (bear), 56, 58, 63, 66-67
Togo, The Great, 55
Tolos, Chris, 34, 70, 76, 78-79, 82-84, 92, 96-97, 112-113, 132-136, 142
Tolos, John, 83, 142
Tunney, Frank, 8-12, 23, 28, 30-34, 37, 39, 41-43, 53, 90, 93, 99, 101, 142
Tunney, Jack, 10, 28, 31, 39, 42-43, 45, 90, 101, 146
Tyler, Rip (aka The Bearman), 73, 80, 96, 105, 109-110, 118-119
Vachon, Mad Dog, 26-27
Victor (bear), 68
Von Erich, Waldo, 54
Watson, Phil, 44, 53, 70, 73, 76, 78, 81, 85-88, 91, 93, 103-104, 107-108, 110, 116-117, 119, 128, 133-136, 140, 144
Watson, Whipper Billy, 25, 30-31, 81, 86, 88, 101, 124, 130, 142
Welch, Roy, 89
Wells, George, 17
Wildman, The (aka Dave McKigney), 28, 32-46, 49-82, 84-122, 128, 130, 132-146
Wolfman, The (aka Willie Farkas) 46, 70-71, 76-79, 86-87, 96, 107, 122, 133-134, 137
Wrestlemania, 145
Wrestling bear, 49-52
Yorkston, Terry, 80
Zarlenga, Elio, 122
---

Get information about the print edition HERE.
---

Drawing Heat is one of the best books ever written on pro wrestling. If there was a battle royal for wrestling books, Drawing Heat would be the winner.
Adrian Adonis was booked to appear for Walter "Killer" Kowalski after his tour for Bearman's Promotions. The tragic accident causing the death of Adrian was a shock to everyone. Kowalski had no problem finding someone to take Adrian's place on the shows, however, he sent the payoff Adrian would have been paid for the three shows to Adrian's widow.
Tom Burke
Global Wrestling Newsletter

---

Get information about the print edition HERE.
---
To schedule radio interviews or other media appearances with the author, please contact Scott Teal at
---