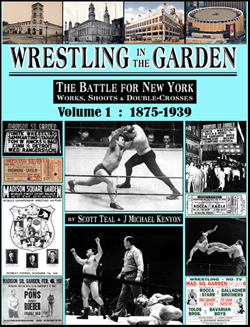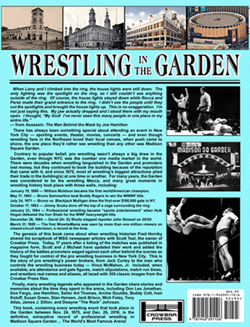 BOOK DETAILS
Kindle edition: 310 pages

Publisher: Crowbar Press

Item #: cbp24a-msg-kindle

Price: $7.95
---
---



"How about that hot rasslin' war featuring Jack Curley's 71st Regt. Show and Jack Pfefer's Hippodrome circus tonite? … the two shows are less than a mile apart, which indicates that somebody is stepping on the commission's tootsies … only a week ago, Pfefer and Curley were partners … and today they're not talking to each other!"

---
There has always been something special about attending an event in New York City — sporting events, theater, movies, concerts — and even though wrestling fans in the Northeast loved their local venues, when push came to shove, the one place they'd rather see wrestling than any other was Madison Square Garden.

Contrary to popular belief, pro wrestling wasn't always a big draw in the Garden, even though NYC was the number one media market in the world. There were decades when wrestling languished in the Garden and promoters lost money, but they continued to book the building because of the reputation that came with it, and since 1875, most of wrestling's biggest attractions plied their trade in the building(s) at one time or another. For many years, the Garden was considered to be the wrestling Mecca, and many great moments in wrestling history took place with those walls, including:

January 19, 1880 — William Muldoon beat Thiebaud Bauer to become the first world/American Greco-Roman heavyweight champion.
May 17, 1963 — Bruno Sammartino beat Buddy Rogers to win the WWWF heavyweight title.
July 24, 1971 — Bruno headlined a card against Blackjack Mulligan and drew the first-ever $100,000 gate in New York.
October 17, 1983 — Jimmy Snuka dove off the top of a cage surrounding the ring and splashed onto a prone Don Muraco.
January 23, 1984 — Professional wrestling became "sports entertainment" when Hulk Hogan defeated the Iron Sheik for the WWF heavyweight title.
December 28, 1984 — David (Dr. D) Shultz slapped reporter John Stossel during a segment of 20/20.
March 31, 1985 — The first WrestleMania drew 19,121 fans, about 3,000 less than what was considered a sellout in the '60s and '70s, but the event was seen by more than one million viewers on closed-circuit television, a record at the time.

The genesis of this book came about when wrestling historian Fred Hornby shared his scrapbook of MSG newspaper articles with Scott Teal, the owner of Crowbar Press. Today, 17 years after a listing of the matches was published in magazine form, Scott and J Michael have updated their work and added the history of the battles promoters waged against each other behind the scenes as they fought for control of the pro wrestling business in New York City. This is the story of pro wrestling's power brokers, from Jack Curley to the man who controls the wrestling business today — Vince McMahon, Jr. Included, when available, are attendance and gate figures, match stipulations, match run times, wrestlers real names and aliases, and statistics, all laced with fascinating information from the Crowbar Press files.


---

---

Just wanted to congratulate you on the Wrestling at the Garden book. I flipped through it a couple of times before going into work and just began reading it from the begining about an hour ago. Phenomenal work.
It's things like your books that are so critical to preserving the history of pro wrestling. Without the efforts of people like yourself, Mark James, Jim Cornette, and all the other historians, results junkies, and documentary producers, the history of professional wrestling is lost. Nobody else is going to do it. Giving the Devil his due, the WWE has done a lot in preserving actual footage and, at least occasionally, give a nod to the history of the business in recent years, but they arent going to see that the things you and these others people cover are preserved. The mainstream sports media certainly isn't, either. Whatever is going to be kept alive and carried on is solely up to people like you and books like this one.
Sorry for babbling on. I just have a deep passion for seeing that the history of pro wrestling is carried on as too much has already been lost.
Also, I read one of your comments regarding a second addition of your Wrestling Archive Project series. Any idea when it would be complete? Loved the first one, can't wait for this new one.
David Hileman, Slippery Rock PA
---
I haven't read it through yet, just a cursory glance, but I'm already blown away by the size of the book. I did recently finish the last book I ordered from you, J.J Dillon's book, and I really enjoyed it.
Glenn Kimble, Jr., Tampa FL
---

---