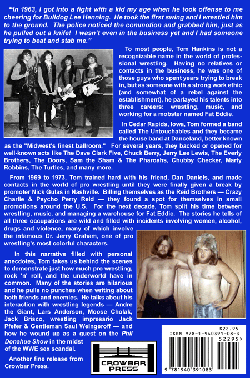 BOOK DETAILS
Kindle edition: 294 pages

Publisher: Crowbar Press

Item #: cbp26-th-kindle

Price: $9.99
Get information about
the print edition
HERE.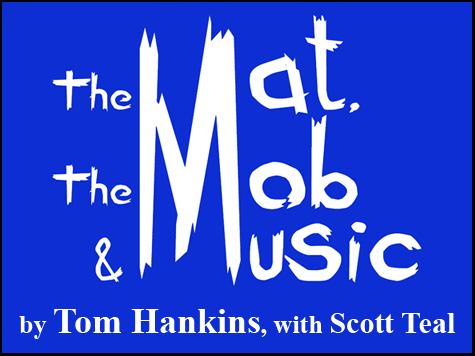 ---

Get information about the printed edition HERE.
---
---
"The Mat, the Mob & Music"
by Tom Hankins, edited by Scott Teal
---
In 1963, I got into a fight with a kid my age when he took offense to me cheering for Bulldog Lee Henning. He took the first swing and I wrestled him to the ground. The police noticed the commotion and grabbed him, just as he pulled out a knife! I wasn't even in the business yet and I had someone trying to beat and stab me.
Excerpt from "The Mat, the Mob & Music"

To most people, Tom Hankins is not a recognizable name in the world of professional wrestling. Having no relatives or contacts in the business, he was one of those guys who spent years trying to break in, but as someone with a strong work ethic (and somewhat of a rebel against the establishment), he parlayed his talents into three careers: wrestling, music, and working for a mobster named Fat Eddie.

In Cedar Rapids, Iowa, Tom formed a band called The Untouchables and they became the house band at Danceland, better known as the "Midwest's finest ballroom." For several years, they backed or opened for well-known acts like The Dave Clark Five, Chuck Berry, Jerry Lee Lewis, The Everly Brothers, The Doors, Sam the Sham & The Pharoahs, Chubby Checker, Marty Robbins, The Turtles, and many more.

From 1965 to 1973, Tom trained hard with his friend, Dan Daniels, and made contacts in the world of pro wrestling until they were finally given a break by promoter Nick Gulas in Nashville. Billing themselves as the Reid Brothers — Crazy Charlie & Psycho Perry Reid — they found a spot for themselves in small promotions around the U.S. For the next decade, Tom split his time between wrestling, music, and managing a warehouse for Fat Eddie. The stories he tells of all three occupations are wild and filled with incidents involving women, alcohol, drugs and violence, many of which involve the infamous Dr. Jerry Graham, one of pro wrestling's most colorful characters.

In this narrative filled with personal anecdotes, Tom takes us behind the scenes to demonstrate just how much pro wrestling, rock 'n' roll, and the underworld have in common. Many of the stories are hilarious and he pulls no punches when writing about both friends and enemies. He talks about his interaction with wrestling legends — Andre the Giant, Lars Anderson, wrestling impresario Jack Pfefer, Moose Cholak, Jack Brisco, Gentleman Saul Weingeroff — and how he wound up as a guest on The Phil Donahue Show in the midst of the WWE sex scandal.

Crowbar Press is proud to present the story of one of the unsung characters of pro wrestling as he follows his dream.


---

Get information about the printed edition HERE.
---




Excerpt from Chapter 1
Copyright © Tom Hankins


On their first live card in Cedar Rapids, Bruiser wrestled Bobo Brazil in a two-out-of-three-falls match. Between falls, Bruiser roamed the aisles and stormed up into the bleachers, inciting fans to near riot. While he was up there, one fan decided to stick a lit cigar into Dick's back. It was a bad move for the fan, but for me, it was great fun.
Bruiser chased the perpetrator out into the parking lot — with me following closely behind with my trusty camera — and beat him "half to death" with a piece of heavy wood he had ripped off the stadium wall. It took six policemen to pull Bruiser off the hapless sap. Bruiser must have been in a feel-good, fluffy mood that night because he didn't even bother to fight the police, something he did regularly through the years.


---
Excerpt from Chapter 2
Copyright © Tom Hankins


In 1964, we traveled for three weeks with Darlowe's tour of The Dave Clark Five. The tour went through the Midwest (pretty much through the Central States and AWA territories if you were to compare it to wrestling) and we were advertised as being from London, England. Just the MC telling that to the girls in the audience drove them absolutely nuts. After playing Pershing Auditorium in Lincoln, Nebraska, we walked outside the auditorium. Girls mobbed us and began ripping our clothes off — and I liked it! I couldn't believe it, though. We were on the ground with girls on top of us, ripping away at our clothes, all because they thought we really were from England. We never told anyone any different. We just talked with the best fake British accents we could.


---
Excerpt from Chapter 3
Copyright © Tom Hankins


Ron Muller proved to be a good manager for us from the beginning. One day in September 1966, he loaded the band into his Cadillac and told us he wanted to show us something. He drove us to The Hullabaloo, a minors-welcome rock 'n' roll club on Sunset Blvd. that previously had been the elegant Moulin Rouge nightclub prior to becoming Hollywood's fanciest hippie haven. They had a huge marquee facing Sunset. I was stunned, and in total awe, when I saw we were playing with The Doors — and we were headlining!
I was both excited and scared at the same time. Excited that we were headlining, but scared because I had heard how incredibly great The Doors were and we had to follow them. I didn't think we would ever sound as incredible and mesmerizing as they did. They were one of a kind and, without question, the greatest band I had ever seen to that point. I might even go so far as to say they probably were the greatest. At the time, though, they hadn't been signed to a record label and they weren't too well known outside California.


---
Excerpt from Chapter 4
Copyright © Tom Hankins


In 1968, I started watching TV wrestling again. At that time, they were showing tapes on Saturday afternoons from Kansas City with announcer Bill Kersten calling out "Hello-oo-oo wrestling fans. Are you ready?" When I saw a newspaper ad for a card, I decided to attend my first live show in Cedar Rapids in more than a year. I sat alone in the back section of empty ringside seats, away from the other fans. I don't really remember who was wrestling, but "Big Daddy" Dick Murdoch came up from the basement dressing room and sat down next to me.
I didn't know what to think. I knew who he was right away. Dick was dressed to wrestle and wore a T-shirt. He even introduced himself to me. That was certainly different from his later character, but he was green [new to the business] enough that I think he felt like talking to someone, and since I was sitting there quietly by myself — not cheering and yelling, just studying the action in the ring — he may have felt like I was a safe person to talk with. He had been in the Kansas City territory for a couple of months and it was going to be one of his first main events, but he didn't seem nervous in the least.


---
Excerpt from Chapter 5
Copyright © Tom Hankins


Frosty did us the favor of taking us into the ring in the empty McElroy Auditorium to work out for the very first time in Waterloo. I'll always remember how hard it was snowing that day. The 60-mile trip was horrible, but nothing was going to stop us from getting to the auditorium and into the ring. As it turned out Frosty knew very little — or possibly less than us — about how to work any kind of a match, but we were just excited about being in a real, honest-to-goodness wrestling ring. Frosty brought his girlfriend with him, so he had to show off and put the sleeper hold on me. He whispered to me, "Act like you're passing out." I complied and didn't "come to" until he gave me the old "wake-up" from the sleeper hold by slapping between my shoulder blades with the flat of his hand.
We didn't learn anything from Frosty than we already knew, except to not get back into the ring with him for training. He knew absolutely nothing about working or constructing a match.


---
Excerpt from Chapter 6
Copyright © Tom Hankins


Just before we went to the ring, Ball asked us to avoid hitting the large bandages he had on his forehead. They held the gashes in his forehead together, which came from the blading he had done a few nights previously. Wrestlers carried small slivers of a razor blade wrapped in tape on their wrist bandages, in their kneepads, on the ends of their fingers, or in their trunks. When it was time to bleed, they would use the blade to slice open their forehead. Some wrestlers carried the blade in their mouth, but I never tried that. I always was afraid I'd swallow it and slit my throat open. Instead, I carried one in each boot and one in each wrist wrap.
Ball and I started the match and the very first thing I did was accidentally head-butt Joe hard on his forehead. The blood immediately gushed from the wounds. I thought, "What the hell," and ripped off the bandages with my teeth, making it look like I was gnawing on his forehead. I probably overdid things, but the match was a gorefest from the very beginning, and I loved every minute of it.


---
Excerpt from Chapter 9
Copyright © Tom Hankins


In early 1974, my mother-in-law was working as a nanny and housekeeper for a wise-guy named Fat Eddie. Eddie, who was of German descent, acted and looked exactly like Rod Steiger playing Al Capone in the movie of the same name. He had convinced the so-called "Jewish Mafia" in Cleveland to finance him in opening a chain of adult bookstores that stretched from Indiana to Utah and all points between. He also opened up massage parlors in most of the major cities. He called his shady operations "International Amusements," which seems family-friendly, but they were anything but that. Before I left for Mississippi, my mother-in-law told Eddie that I was a pro wrestler, and when he saw me, he asked me if I would like to run his warehouse. I told him my mind was set on going to Mississippi to wrestle. "You can make more money with me," he said. As I would later find out, he was right.


---
Excerpt from Chapter 10
Copyright © Tom Hankins


I waited patiently for someone to tell me when and who I would be wrestling. All of a sudden, O'Connor and Race walked in and said, "Brisco! Reid! Come over here." Holy crap! I was going to wrestle the NWA world heavyweight champion!
They didn't tell us what to do, other than one certain spot that would involve Harley's interference. Jack told me we would trade holds and mat wrestle for about three minutes (the day I could mat wrestle and keep up with Jack Brisco for three minutes never came for me, or most anyone else, but Jack was willing to give me an opportunity to try). For the finish, he was going to dropkick me twice and I would take a bump out through the ropes on the second one. Race would then come out and act like he was plotting with me. Brisco would jump out of the ring, argue with Harley, and I would Pearl Harbor him from behind. I would beat him down to the floor, jump back into the ring, while Brisco made a comeback on Race. Jack would then get back into the ring, hit me with another dropkick, and apply the figure-four leg lock to make me submit.


---
Excerpt from Chapter 11
Copyright © Tom Hankins


At the end of that first meeting, they set up another. By that time, Eddie had fired everyone I had hired, except Butch. Butch and I remained close friends. He thought what I did to Eddie was funny. Eddie fired Meade, too, but what I didn't know was that Meade had been wearing a wire for months and had lots of incriminating evidence against the fat man.
When Dan and I met with the FBI, they taped our conversation. Unfortunately for them, the heads on the reel-to-reel recorder malfunctioned and they didn't get any of it. They also put a four-inch stack of photos in front of us and asked us to look through them. I believe it was more of an attempt to intimidate me because every fourth photo was of me, but I looked through them nonchalantly and acted as if I didn't notice or care.


---
Excerpt from Chapter 12
Copyright © Tom Hankins


They brought two of their best legitimate wrestlers to the ring with them — Terry Sawyer and Johnny Mantell. Johnny was working the territory under a mask as The Hood. He was a great worker. He had classic matches with Chavo Guerrero and carried a lot of bums to good matches. Referee Bobby Bockwinkel, Nick's brother, was with them. Bobby had always been nice to me and had gone to bat for me with Garibaldi, but to no avail.
Matt became a prime example of, no matter how big you are, if you can't shoot, you can't hold your own against a seasoned wrestler. Leo told Matt to get into the ring with Sawyer. Matt and I thought they were giving him a tryout, but Garibaldi and LeBell had other plans. I made matters worse when I told Matt to stay calm and feed Sawyer body parts to work on.
When they got into the ring, Matt went to tie up. He fed Terry his arm and Sawyer (an accomplished amateur wrestler) put him in a side headlock. Matt then took a good bump for Terry. To reward him for doing such a good job, Sawyer went for an ankle-lock and tried to break Matt's ankle. Matt screamed that he had enough, but the prick Sawyer kept applying the pressure until LeBell stopped him. LeBell then looked at me and said, "You're next. Get in the ring with him," and pointed to Johnny.


---
Excerpt from Chapter 13
Copyright © Tom Hankins


Kurt knew John Tolos, who was working in the main event that night. When John came out of the dressing room, he called Kurt over and asked him if we would give Dr. Jerry Graham a ride back to Los Angeles. Tolos had brought Jerry to Bakersfield. Not knowing of Graham's reputation (and, no doubt, the reason why Tolos wanted to pass him off onto us), I agreed to take him with us. I had heard the stories about Graham's crazy behavior, but I assumed they were either fabricated or embellished.
I soon discovered that everything I had heard about Dr. Jerry Graham probably was true. Of course, I was just as crazy as the good doctor, so we struck up a friendship that night that would last for many years. Jerry, who must have weighed 400 pounds at the time, squeezed into the passenger seat, while everyone else crammed themselves into the back. Dan and I told Jerry we were wrestlers who had been out of the business for a while, but were working out so we might get a shot with LeBell. No sooner were the words out of my mouth when he said he wanted to manage us and have us work for Leone, instead.


---
Excerpt from Chapter 15
Copyright © Tom Hankins


Andre's match with Big John Studd was billed as "The Battle of the Giants," but it was a snoozefest. Andre was practically crippled by that time and Studd, even though he was a nice guy, wasn't a very good worker. By the time Andre returned to the dressing room, Jerry had emptied the second bottle. Andre searched for it and, in his loud voice, asked where it was.
Jerry's arch-enemy, Pat Patterson, immediately ratted out The Doc. Sensing trouble, Jerry stood up and began to walk to the door, but Andre went after him. I followed in the hopes of keeping them from getting into a real fight, even though that would have been a true "battle of giants" and quite a spectacle. Andre could barely move, but he ran as fast as he could down the circular hallway that surrounded the catacombs of the arena. What a sight that was to behold! Andre was barely moving behind the 400-plus-pound Jerry Graham, who wasn't moving much faster.


---
Excerpt from Chapter 16
Copyright © Tom Hankins


The Grand Olympic Auditorium, unlike a lot of venues, actually had many small dressing rooms. Old massage tables remained in some, tables on which world-famous boxers laid, bleeding and with scrambled brains, while the crowds called out for more blood. Jerry and I were sitting in rooms with a history of violence. At the time, it seemed like the right place to be.
Shortly after we got there, Dr. Bernard Schwartz came in to give Jerry his physical. When he told Jerry to hop on one foot for 60 seconds, Jerry told him he couldn't do it because he had just eaten two pounds of rice. That was good enough for Dr. Schwartz. Jerry drank his alcohol and smoked his cigar while the doctor did his work. When he finished, he said Jerry was the picture of health. "Of course, I am," said Jerry. I have to give Jerry credit. I trained with both the Hindu and Sumo regimens, and Jerry actually did the Hindu workout, albeit with less than the 500 reps he made me suffer through daily.


---
Excerpt from Chapter 17
Copyright © Tom Hankins


An hour later at the hotel, I had to go through the same payoff scenario with Lars. I didn't mind Lars arguing and yelling because I could get louder, and much more obnoxious, than he ever dreamed of being. Our arguments always resulted in a good payoff, so I just chalked them up to a part of doing business with Lars Anderson.
Honolulu was our main venue, but we also worked once in a city on the other side of Oahu. Lars kept saying he wanted to set up a tour of the Pacific Rim. That was a tall order, but when he said he had lined up a Polynesian airline to sponsor the tour, I thought he might just be able to pull it off. That thought didn't last long as my mind began to conjure up a vision of Moondog Moretti and me stranded on a beach in New Zealand with our suitcases in the sand by our sides. I told him I'd think about going, but I didn't. He went ahead and used Fui Manaia as Mr. Z II and drew off the promos I had cut for him.
As Lia and Lars were driving me to the airport, they became embroiled in the loudest and most heated argument I'd even heard or seen to this day, and as loud as Lars was, Lia was louder. She was more vicious, too. Lars didn't stand a chance. At one point, she even pulled the car onto the side of the road so she could concentrate on screaming at him. We were already running extremely late for my flight, but I wasn't going to step into the middle of that battle.


---
Excerpt from Chapter 18
Copyright © Tom Hankins


Opening the match with Magic Schwartz, I mistakenly let him put me in a standing side headlock. He began squeezing my head for all he was worth. "Loosen up," I whispered, but he squeezed even harder. I told him to loosen up a second time, and when he didn't, I picked him up in a side drop, making sure I slammed his head with my elbow when we landed. I picked him up and did it again, driving his head into the mat.
I went over to our corner and, as I tagged Toby in, I told him, "Forget everything I told you. This is a shoot. It's for real." That threw him off. He didn't know what he was supposed to do. We had never discussed a situation like the one facing us. When he went in, Magic tried the same thing with him. For whatever reason, referee Jesse Hernandez didn't say anything and let it go.


---
Excerpt from Chapter 19
Copyright © Tom Hankins

During that time, Barry Orton made national news when he accused Pat Patterson and Terry Garvin of sexual harassment. Of course, Vince Junior denied it and said Pat would never do anything like that. Of course, before the sex scandal went down, Bobby Heenan and Gorilla Monsoon made regular innuendos about insider references to Patterson being gay. They had a slew of one-liners about Pat working with the younger guys from behind and teaching them the moves. The average humanoid (to quote Heenan) took this to mean wrestling and wrestling moves. No, I'm afraid it didn't. I took exception to McMahon's statement because it was pure bullcrap. Dave Meltzer reported the story in Wrestling Observer Newsletter, so I wrote and told him my story. I detailed the incident with Patterson and a similar experience with Terry Garvin in Tennessee in 1973. Apparently, Dave had heard about it before, so with my blessings, he printed my letter in his newsletter and sent it to the people who produced the Phil Donahue Show.


---

Get information about the printed edition HERE.
---
Acknowledgements
Foreword by Kurt Brown
Introduction
1. Hooked on Pepper
2. The Hook
3. The Acid Test
4. Continental Steam Laundry
5. The Reid Brothers
6. Peaches, Maxine & Cokely
7. Truman Capote
8. Ben-Gay
9. Fat Eddie

10. Sequences
11. "Stop hurting my daddy!"
12. The Shoot
13. The Ripper
14. The Perfect Handshake
15. Nirvana
16. The Picture of Health
17. The Fraternity of Z
18. Hollywood Hitmen
19. Chicago Mad Dog
Photo Gallery
Index
---

Get information about the printed edition HERE.
---

Abrams, Herb, 141
Acuff, Roy, 88
Adams, Chris, 144-145, 147
Adams, Judo Mike, 133
Adonis, Adrian, 158, 186
Aguayo, Perro, 214
Al's Untouchables, 37-38, 41, 49, 52-55, 209
Albert, Herb, 64-65
Allen, Mark, 71
All-Star Wrestling, 98-99
Anderson, Billy, 174
Anderson, Lars, 179-181, 183-184, 186-188, 190, 193, 196
Andre the Giant, 13, 159, 164
Andrews, Tom, 203
Angel, French, 33
Angel, Swedish, 33
Angus, Black, 122
Animals, The, 18-19
Arousers 135, 160
Asner, Ed, 86
Assassins, The, 14
Atlas, Mighty, 23
Atlas, Omar, 74, 86
Austin, Buddy, 14-15
Avi, Siva, 189
AWA (American Wrestling Association), 24, 43, 49, 81, 85-86, 209
Babb, Ken, 59
Backlund, Bob, 83-84, 158
Backus, Jim, 57
Baker, Doug (Ox), 21
Ball, Joe, 99, 101-102
Band Box, The (comedy club), 67-68
Banner, Penny, 216
Barber, Jerry, 108
Barnett, Jim, 23, 26
Bascomb, Scott, 36-37
Bass, Sam, 94, 98
Bassman, Rick, 194
Bastien, Red, 84, 163, 194
Beach Boys, The, 47
Beast, The, 23
Beatles, The, 40, 64, 73-74
Beck, Jeff, 37
Becker, Steve (Butch), 135
Belushi, John, 25
Belvederes, The, 18, 36-37
Benoit, Chris, 204
Benson, Buzz, 99-100
Berry, Chuck, 17, 45-49, 55
Big Time Wrestling (magazine), 32
Big Time Wrestling, 7, 34
Bill Haley & The Comets, 38
Bingenheimer, Rodney, 64
Birch, John, 213
Black, Stu, 51
Blanchard, Tully, 137, 181, 183, 186-187, 209
Blanco, Angel, 167-168, 170-172
Blears, Lord, 196
Bob, Corsica, 106
Bockwinkel, Bobby, 134
Bockwinkel, Nick, 81, 203, 209
Boesch, Paul, 136, 138
Bold Eagle, Bobby, 20
Bolus, Steve, 74
Borden, Steve, 194-195
Bounty Hunters, 94
Bowels, Greg, 24
Bowman, Mike, 158
Boxing & Wrestling (magazine), 19
Boyer, Bob, 20
Brazil, Bobo, 22
Brazil, Hobo, 33
Bressler, Ron, 18, 37, 41, 49-50, 60, 63, 69
Brisco, Jack, 81, 121-122, 124, 205, 216
Brody, Bruiser, 157, 167, 189-190
Brooks, Tim, 12
Brower, Bulldog, 23
Brown, Bulldog Bob, 153-155
Brown, Kurt, 6-9, 75, 136, 138-140, 145, 148-149,155, 159-162, 173, 186, 193, 203, 205, 212, 216
Brown, Luke, 75
Brownstone, Aaron, 69-70
Bruiser, Dick the, 16, 22-23, 31, 33-34, 50, 77-78, 82, 96
Brunetti, Joe, 223
Bruns, Bobby, 82-83
Brunzell, Jim, 85
Bukasta, Gary, 65, 72
Bullinski, Bull, 81
Burdon, Eric, 18, 53
Burke, Tom, 15, 203
Burroughs, William S., 59
Byrds, The, 72
Cafe Metropole, 35-36
California Championship Wrestling, 175, 177
Cantu, Rik, 188
Carroll, Jimmy, 49, 55, 60
Casey, Scott, 186-187
Castro, Lionel, 165, 171-172, 193
Cauliflower Alley Club (CAC), 15, 202
Caulkin, George, 113
CBS Reports, 64
Cedar Rapids Gazette, 55
Chain Gang, The, 77, 81, 93, 204-205
Championship Wrestling, 7
Charles, Ray, 16
Charlie Daniels Band, 110-111
Chase Park Plaza Hotel, 121, 154
Checkerboard Lounge, 53
Checkerdome, 82
Chicago Mad Dog, 207
Cholak, Moose, 16, 21, 25-26, 77, 203
Christie, Lou, 37
Christy, Paul, 26, 104-105
Chuck Berry, 37
Clancy, Mike, 15
Claridge Hotel, 82
Clark, Betty, 32
Coage, Bad News Allen, 144
Col Ballroom (Davenport IA), 56, 72-73
Collins, Ripper, 196
Collins, Steve (The Kid), 181-182, 185-186
Cook, Ron, 73
Cooke, Sam, 17
Cornette, Jim, 33
Costello, Al, 92-93
Crawford, Broderick, 78
Crawford, Dandy Jack, 29, 82
Crews, Art, 155
Crusher, The, 16, 31, 49, 77-78, 86
Curley, Mike, 36-37, 49
Curtis, Don, 23
Cyclone, Jimmy, 173
Danceland Ballrom, 37-40, 46, 48, 71, 73, 209
Daniels, Betty, 136
Daniels, Dan, 6, 39, 75-76, 78-84, 86, 88-106, 110, 120, 136, 142-145, 147, 149-151, 179
Daniels, Matthew, 136
Dart, Terry, 24
Dave Clark Five, 37, 43, 45
Death Angel, 174-175
DeMarco, Paul, 177
Destroyer, The, 15, 77
Devine, Diane, 15
Diddley, Bo, 17
Dillinger, Frank, 77
Dillinger, Jack, 6, 77
DiPaolo, Ilio, 23
Dixon, Willie, 70
Donoho, Garland, 194
Donohue, Phil, 201
Donovan, Dandy Jack, 90-93
Doors, The, 56, 65-66
Dos Caras, 165
Douglas, Dick, 37, 41-42, 45-46, 49-51, 54-55, 57-63, 69-74
Doyle, Mickey, 174
Dr. X, 77
Drummond, Vandall, 159
DuMont Television Network, 11
Dupre, Emile, 15
Dupree, Lumberjack Red, 96-97
Dusek, Danny, 90-91
Dykeman Hotel, 84
Ed Sullivan Show, The, 40
Ellis Hotel (Waterloo), 19, 82
Ellis, Cowboy Bob, 22
Emery, Ralph, 17-18
Eric Burdon & The Animals, 53
Eric, Yukon, 21-22
Etchison, Ronnie, 21, 74, 83-84, 87
Everly Brothers, The, 37
Fan clubs, 15
Fargo, Don, 6, 24, 33, 204-205
Fargo, Jackie, 33, 96, 205
Farhat, Joyce, 155
Fat Eddie, 6, 114-120, 124-129
Fernandez, Manny, 137, 178
Firpo, Pampero, 177
Flair, Ric, 85, 189
Fleischer, Nat, 16
Flowers, Diamond Timothy, 146
Foutz, Casey, 73
Francis, Billy, 78
Francis, Ed, 78, 182
Francis, Russ, 78
Francois Miquet, 104
Freebirds, The Fabulous, 205
Friend, Percival A., 24
Fujinami, Tatsumi, 189
Funk, Jr., Dory, 80-82, 131
Funk, Terry, 81
Gagne, Verne, 14, 21, 34, 85-86, 77, 177, 184
Gaiser, George, 95-96
Gallagher, Doc, 23
Gallagher, Mike, 23
Garibaldi, Leo, 134-135, 137
Garvin, Jimmy, 93, 96
Garvin, Terry, 93-94, 96, 199-200
Geigel, Bob, 12, 23, 83, 87
Gentleman, The Kentucky, 25
George, Gorgeous, 54
George, Mike, 120
Georgia Championship Wrestling, 148-149
Ginsberg, Alan, 59
Goelz, Billy, 26
Golden, Phil, 98, 101
Goldman, Al, 114-115
Gonzalez, Jose, 190
Goodman, Norm, 68
Gordon, Ray, 21
Gotch, Frank, 30
Grable, Toby, 190, 193-197
Graham, Dr. Jerry, 6, 9, 13, 35-36, 122, 137, 139-143, 145, 147-149, 151-152, 155-164, 172-173, 175-178, 184, 189, 194-195, 198-199, 202-203, 205, 209, 212
Graham, Joe, 213
Graham, Mad Dog Steele, 9, 151
Graham, Superstar Billy, 86, 145, 167, 170, 176
Grand Ole Opry, 17
Grand Ole Opry, 88
Grateful Dead, 9
Guerrero, Chavo, 132, 137, 141
Guerrero, Gory, 146
Guerrero, Hector, 141
Guerrero, Mando, 141, 146-147, 150
Gulas, Nick, 6, 87, 89-90, 92-94, 96-99, 145, 205
Hall, Dennis, 32
Hankins, Christine, 9, 64, 70, 85, 130, 209
Hankins, Clifford, 6
Hankins, Irene, 15, 216
Hankins, Suzanne, 6, 61, 72, 77-78, 85, 130, 132, 138, 160, 188, 203, 209
Harrison Hotel, 49-50
Harrison, George, 73-74
Hart, Stu, 155
Harvey, Ted, 76
Hawk, Rip, 14
Heenan, Bobby, 33, 51, 81, 199
Hell, Harry, 173-174, 177, 195-197
Hell's Angels, 205
Hellwig, Jim, 194-195
Helm, Bill, 99, 101-102
Helms, Doris, 32
Hennig, Larry, 86
Henning, Bulldog Lee, 27
Herbst, Larry, 67-69
Herman's Hermits, 37
Hernandez, Gino, 137
Hickey, Spaceman Frank, 75, 137
Hodge, Danny, 122, 203-204
Hodgkinson, Ian, 20
Hogan, Hulk, 158
Holly, Buddy, 38
Honolulu International Center, 181
Hood, Eddy, 37, 49, 56, 60
House of Awareness, 59-60, 64
Howlin' Wolf, 53
Hullabaloos, The, 42, 65-66
Hunter, Rock, 14
Huntzinger, Al, 37, 41-42, 45, 52, 57, 71
Hussian, Arman, 21
Hutto, J.B., 16
Iaukea, King Curtis, 184-185
Ingber, Elliot, 60
Inoki 189-190
Inside Wrestling (magazine), 19
International Amphitheatre, 85
Iron Duke, 184-185
Iron Sheik, 85
Jack, Wolfman, 17
Jackson, Art, 16-17
Jarrett, Jerry, 92-93, 95-97
Jay & The Americans, 37, 48
Jennings, Andy, 39
Joe Pyne Show, The, 62
Joe, Corsica, 104, 106
Johnny Carson Show, The, 40
Johnson, Duff, 203
Johnson, Dwayne, 189
Johnson, Joe, 158
Johnson, Rocky, 188, 193
Jonathan, Don Leo, 22
Jones, Rufus R., 19, 75, 84
Junkman, Joel, 135
Kace, Johnny, 21, 26
Kaiser, Gerhardt, 99
Kalmikoff, Ivan, 33-34
Kamata, Tor, 152, 186
Kangaroos, The Fabulous, 23, 26, 92, 95
Karbo, Wally, 84
Karch, Mick, 85
Karl & Hildegard (K&H), 79, 214
Karras, Gust, 6, 14, 21, 23, 30-31, 81-84, 86, 92, 96, 111
Katayana, Mitsu (Tony Santos), 95-96
Kay, Matt, 134
Keitzer, Norm, 15, 24, 49
Kent, Jimmy, 94
Kerouac, Jack, 59
Kersten, Bill, 74, 87
Khesz, Lou, 33
Kingsmen, The, 52-53
Kirby, Roger, 32, 74, 86-87
Knickerbockers, 68
Kohler, Fred, 23, 26, 34
Koloff, Ivan, 81, 86
Konikoff, Sandy, 69
Kovacs, Krippler Karl, 82
Kowalski, Killer, 82
Kowalski, Stan, 82
KPLR-TV, 121
Krieger, Robby, 66
KWWL TV, Waterloo, 11
Laine, Frankie, 69, 179
Larose, Guy, 11
Lauer, Karl, 173, 178, 203
Lawler, Jerry, 95, 193, 196
Lea, Lloyd, 9, 136, 138, 140, 145, 148
Leaping Lanny, 105
Leary, Dr. Timothy, 59
LeBell, Judo Gene, 134
LeBell, Mike, 132-134, 136-137, 143, 150, 159, 171
Lee, Cowboy Rocky, 12
Lee, Don, 12
Lee, Sara, 104
Left Banke, 39, 72
Leib, Marshall, 58, 65, 69
Leonard, Russ, 32-34
Leone, Antone (The Ripper), 7-8, 137-138, 140-143, 147, 150-152, 154, 162
Lewin, Mark, 23, 188-189
Lewis, Ed (Strangler), 30
Lewis, Jerry Lee, 41
Lewis, Larry, 6, 86
Liberty Records, 56, 62
Limbaugh, Rush, 104-105
Little Bear, Danny, 12, 75, 84, 87
Londos, Jim, 30
Longario, Tiger, 33
Longson, Wild Bill, 30
Lopez, Pepe, 100, 108
Luce, Bob, 19, 83
Lucha Underground, 19-20, 206
Mack, Lonnie, 37
Mad Dog and the Bad Dogs, 207
Madison Square Garden, 35
Mae, Daisie, 103
Mahachek, Jack, 27, 78
Maivia, Lia, 181-183, 187-188
Maivia, Peter, 182
Makropoulos, Georgiann, 32
Managoff, Bobby, 23
Mansfield, Eddie, 137-138
Mantell, Johnny, 134
Manzarek, Ray, 65-66
Marigold Arena, 11
Markoff, Chris, 85
Marlin, Farmer Don, 11
Marquez, Pistol Pete, 133
Martinez, Pedro, 23
Mascaras, Mil, 165, 167-172, 214
Mathis, Johnny, 49-50
Matysik, Larry, 121, 153
McCoys, The, 45
McDaniel, Wahoo, 35-36, 44, 85
McElroy Auditorium, 79
McGuinn, Roger, 17-18
McMahon, Vince, 141, 158-159, 200, 205
Melby, Jim, 32, 85, 203
Melby, Phil, 32
Meltzer, Dave, 197, 200-201
Miles, Buddy, 64
Miller, Big Bill, 22-23, 81, 122
Miller, Danny, 24
Miller, Frosty, 79, 81, 84
Miller, Mark, 194
Mills, Tiny, 22, 25, 28-30
Milo, Mighty, 182-183
Miss Linda, 144
Mitchell, Art, 6, 13, 20-23, 25-28, 44, 79
Mitchell, Jim, 184-186
Mongol, The, 33-34
Monsoon, Gorilla, 199
Montague, David, 75
Moretti, Ed, 148, 181, 187, 216
Morrison, Jim, 6, 56, 65-67, 197
Moss, Jerry, 64-65
Mothers of Invention, 60
Mr. Wrestling #2, 130
Mr. Z II (Fui Manaia), 186-187
Mr. Z, 179-180, 183
Muchnick, Sam, 23, 80, 82-83, 111, 121
Muller 67
Muller, Ron, 62-63
Munn, Wayne, 30
Muraco, Don, 158
Murdoch, Dick, 74, 78, 85, 107, 186
Myers, Duke, 93, 96
Myers, Sonny, 21, 25, 74
National Wrestling Alliance (NWA), 14, 24, 80, 111, 150
Negro, Ciclon, 195, 197
New York World's Fair, 31-32
Nick the greek, 64
Noble, Kay, 82
Novak, Jerry, 94
Nuclear, Fisico, 9
Nunamaker, Bruce, 18, 37, 41, 49
NWA world heavyweight title, 30
O'connor 123
O'Connor, Pat, 20-21, 30-31, 44, 74, 81, 86, 215
Oleson, Darlowe, 38-41, 43-45, 47-48, 52, 71
Olympic Auditorium, 136, 143, 177, 190, 193-194, 196, 198, 214
Omnibus 63
Omnibus coffee house, 61
Orchid, The Black, 33
Orndorff, Terry, 154
Orphans, The, 57, 60-61, 66, 71-73
Orsi, Georgiann, 32
Orton, Barry, 199-200
Orton, Bob, 12, 21-22, 26, 28-29, 44, 205
Orton, Randy, 44
Palumbo, Joe, 178
Pandora's box 64
Pappas, Mike, 106-109
Pardee, Steve, 164
Parsons, Gram, 17
Pat O'Connor Fan Club, 15
Patera, Ken, 85
Patterson, Claude (Thunderbolt), 21
Patterson, Pat, 158-159, 163, 169, 199-200, 202, 204
Paul Revere & The Raiders, 37
Peony Park, 72
Perez, Al, 142, 179
Perry Mason, 64
Pfefer, Jack, 33-34
Phil Donahue Show, The, 201
Phillips, Treach, 96
Pickett, Wilson, 17
Pobanz, Bruce, 143
Poffo, Angelo, 21, 23, 26, 33-34, 77, 104-105
Polynesian Pacific Promotions, 182
Pope, Ron, 178-179
Powerhouse Blues Band, 187-188, 198
Powerteam U.S.A., 194
Price, Alan, 18-19
Prichard, Bruce, 139
Pringle, Percy, 99
Pro Wrestling Fan Club, 15, 24
Pro Wrestling Guerrilla, 205
Pro Wrestling Record Book, 24
Punk Rockers, 173, 213
Race, Harley, 19, 74, 79-81, 84, 122, 129, 178, 189
Ramey, Ken, 205
Raschke, Baron Von, 84
Raven (Scott Levy), 162-163
Ray, Burt, 15, 24
Red Barn, The, 36
Reefer Madness, 65
Reid Brothers, The, 27, 78-81, 87, 90-108, 136
Reid, Chopper, 78-80
Reid, Crazy Charlie, 87, 90-97, 113, 131, 173
Reid, Crazy Perry, 98-108, 122
Reid, Filthy Frank, 81-84, 90, 98-108, 123-124
Reid, Hitman, 145
Reid, Hogg, 78-80
Reid, Psycho Perry, 81-84, 87, 90-97, 179
Reid, Roughhouse, 145
Renesto, Tom, 14, 129-130, 135-136, 143-145, 147, 150
Rhodes, Dusty, 44, 74, 78, 81, 85, 178
Riddle, Rock, 90-91
Ridotto Ballroom, 40-42
Rigby, Ringo, 144-145, 147
Ring (magazine), 13, 19
Ring Wrestling (magazine), 13, 16, 19, 22, 24, 28, 33
Ringsider, The, 15, 23-24, 32
Riot on Sunset Strip, 64
Rivera, Geraldo, 201-202
Rivera, Victor, 152, 177
Roberts, Buddy, 203, 205
Robinson, Billy, 81, 85-86
Robley, Buck, 138
Rocca, Antonino (Argentina), 12, 15
Rodgers, Henry, 106-108
Rodriguez, Pablo (see Sicodelico, El)
Rodriguez, Robert, 20, 206
Roe, Tiny, 31
Rogers, Buddy, 15, 23, 31
Rogers, Bummy, 33
ROH (Ring of Honor), 19
Rolling Stones, The, 49
Romero, Dario, 174
Rooftop Garden, 52
Ross, Don, 157
Rowell, Gary J., 24
Royal Terrace Ballroom, 72
Rubin, Marvin Joel, 15
Ryman Auditorium, 17
Sam Davis Hotel, 89
Sam Houston Coliseum, 138
Sam the Sham, 37
San Bernardino Sports Arena, 143-144
Sanders, Marty, 48
Sanmartino, Bruno, 33
Savage, Ripper, 157
Savage, Spider, 175
Savoldi, Angelo, 204
Savoldi, Mario, 204
Sawyer, Mad Dog Buzz, 149
Sawyer, Terry, 134
Saxon, Sky, 63
Scarpello, Joe, 85
Schire, George, 85
Schmidt, Hans, 11, 21, 26, 31, 63, 122
Schoenberg, Joe, 123
Schwartz, Dr. Bernard, 177, 195
Schwartz, Magic, 191, 195-197
Scott, George, 84
Sexton, Mike, 18, 36-37
Shaft, Tom, 90-92, 95-96, 216
Sharpe, Mike, 159
Sheik, The, 16, 22, 31, 50, 132, 155, 181
Shindig, 18, 50
Sicodelico, El, 165, 167, 171-172
Sito, Sugi, 95-96
Smoker, Melody, 215-216
Smoker, Suzanne, 44
Smokey, Enoch, 73
Snyder, Wilbur, 22-23, 33-34
Solie, Gordon, 124, 130
Solitario, El, 165-170
Soloni, Bill, 148, 156, 172
Southside Armory (Indianapolis), 32
Spector, Phil, 57-58
Starr, Johnny, 172
Starr, Ron, 108, 130, 172, 179, 186, 192
Stevens, Don, 191-192
Stevens, Ray, 15, 81, 86
Sting, 194
Stompers, The, 46-47
Storck, Bernie, 38, 52
Street, Adrian, 144
Studd, John, 163
Stuff, Joan, 32
Sugar, Sweet Brown, 132
Sullivan, Kevin, 162-163, 193
Sundholm, Conrad, 52-53
Sundholm, Norm, 52-53
Sydell, Mike, 54
Taylor, Derek, 64, 73
Taylor, Hound Dog, 76
Taynor, Jay, 48
Teal, Scott, 6, 142
Thatcher, Les, 15, 32
Thesz, Lou, 16, 203, 205
Thompson, Sue, 48
Thornton, Big Momma, 17
Thornton, Trevor, 188
Tillet, Maurice, 33
Times Square, 35
Tolos Brothers, The, 23
Tolos, John, 139, 141, 151-152
Tomko, Al, 155
Tonight Show 57
Torres, Enrique, 165
Tuesday Night Titans, 158
Turner, Ike & Tina, 37
Tyler, Tarzan, 14-15
UFC, 15
Ultimate Warrior, 194
Urbano, Rey, 192
Vachon, Butcher, 216
Vachon, Mad Dog, 216
Valentine, Johnny, 81, 192
Valenzuela, Mario, 213
Vampiro, 20
Ventura, Jesse, 21
Veterans Memorial Coliseum (Cedar Rapids), 22
Viking, The, 75
Volkoff, Nicoli, 23
Von Brauner, Karl, 6
Von Brauner, Kurt, 6
Von Brauners, Kurt & Karl, 103-104
Von Erich, Fritz, 23
Von Raschke, Baron, 81
Walker, Johnny, 130, 204
Walton, Jeff, 143, 147, 164-165
Warren, Bill, 94
Waters, Muddy, 16, 62
Watson, Whipper Billy, 16
Watts, Cowboy Bill, 77
Watts, Sweet Daddy, 103
Weingeroff, Gentleman Saul, 6, 98-106, 109, 111-113
Welch, Roy, 89, 92, 94, 96
Weston, Stanley, 19
Whatley, Pez, 106-107
Whiskey a Go Go (nightclub), 56
Williams, Russell, 29
Wingfield, Sid, 16
WLAC radio, 17
Wolf, Howlin', 16
World Wrestling Entertainment (WWE), 19, 164, 205-206
World Wrestling Federation (WWF), 163, 200, 202
Wrestler, The (film), 86
Wrestler, The (magazine), 19
Wrestling Champions, 23
Wrestling Fan International Association (WFIA), 31-33, 137
Wrestling Fans International Association, 136
Wrestling news 24
Wrestling Observer Newsletter, 197, 200
Wrestling Revue (magazine), 12, 24
Wrestling World (magazine), 13, 19
Wright, Don, 90-91
Wright, Ron, 90
Yardbirds, The, 63, 67, 72
York, Jay (The Alaskan), 26-27, 192
York, Mike, 151
Young Rascals, The, 50
Zappa, Frank, 60, 63
Zoltan, 73
Zulu, Magnificent, 178-179, 188, 216
---

Get information about the printed edition HERE.
---
Please send your reviews and/or comments to us at:
---
---
To schedule radio interviews or other media appearances with the authors, please contact Scott Teal at
---