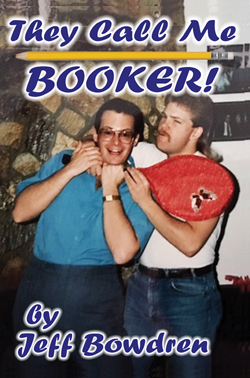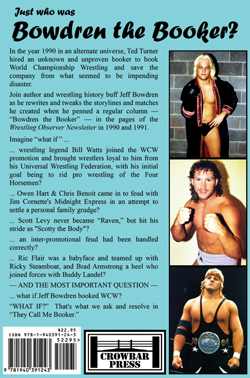 BOOK DETAILS
Kindle edition: 277 pages
Publisher: Crowbar Press
Item #: cbp45-bk-kindle
Price: $9.99
Get information about
the print edition
HERE.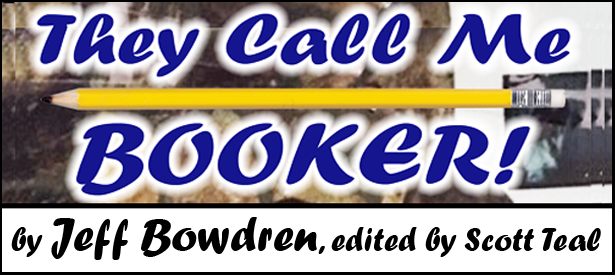 ---
---

Get information about the print edition HERE.
---
"They Call Me Booker"

by Jeff Bowdren, edited by Scott Teal


In the year 1990 in an alternate universe, Ted Turner hired an unknown and unproven booker to book World Championship Wrestling and save the company from what seemed to be impending disaster. Join author and wrestling history buff Jeff Bowdren as he rewrites and tweaks the storylines and matches he created when he penned a regular column — "Bowdren the Booker" — in the pages of the "Wrestling Observer Newsletter" in 1990 and 1991.

Imagine "what if" ...
... wrestling legend Bill Watts joined the WCW promotion and brought wrestlers loyal to him from his Universal Wrestling Federation, with his initial goal being to rid pro wrestling of the Four Horsemen?
... Owen Hart & Chris Benoit came in to feud with Jim Cornette's Midnight Express in an attempt to settle a personal family grudge?
... Scott Levy never became "Raven," but hit his stride as "Scotty the Body"?
... an inter-promotional feud had been handled correctly?
... Ric Flair was a babyface and teamed up with Ricky Steamboat, and Brad Armstrong a heel who joined forces with Buddy Landel?

— AND THE MOST IMPORTANT QUESTION —

... what if Jeff Bowdren booked WCW?

"WHAT IF?" That's what we ask and resolve in "They Call Me Booker."
---

Get information about the print edition HERE.
---
Excerpt from Chapter 1
Copyright © Bowdren the Booker
The other night, I had the strangest dream ... it was two a.m. and my phone was ringing. This was either one of Meltzer's infamous late-night phone calls or someone was in big trouble.
"What?!!?" I screamed into the phone. "Is this Jeff Bowdren?" the voice asked.
"Well, it ain't Jim Hellwig's personal pharmacist!"
"Mr. Bowdren. We've never met before, but my name is Ted Turner. Maybe you've heard of me?"
"Tramel, is this one of your goofy jokes?"
"My name isn't Tramel. Its Turner."
"Yeah, right. Why'd you trade Dale Murphy?"
"I didni't know I'd done that! &nbspWhy wasn't I told? Uh, never mind that. I need to speak to you." "I'd like to talk to you, too. What's the deal with you and Jane Fonda?"
---
Excerpt from Chapter 2
Copyright © Bowdren the Booker
Suddenly Cornette goes crazy and says he knows who they are! The Kids then score a stunning upset. As the crowd erupts from the perceived "upset," Cornette announces that the New Kids are ... Owen Hart & Chris Benoit. He's seen tapes of these guys from all over the world and that the Royal Family has been "hornswoggled." Lance Russell is at ringside quickly interviewing the surprise winners, who announce their intentions to go after titles. The guys are shaking hands with the crowd, etc., while Ross is extolling their virtues. Cornette is going bananas, mumbling that "Mama's attorneys are supposed to have handled this." Ross asks him what he means by that, but Cornette declines. Finally, towards the end of the show, Terry Taylor appears at ringside, apparently ready to wrestle.
---
Excerpt from Chapter 3
Copyright © Bowdren the Booker
Flair and Windham erupt into an argument, with Windham claiming that Flair was supposed to have reviewed the contract. Flair says the contract he reviewed was for one year, and that the contract must have been altered after he read and approved it. He continued by saying he had given the contract to the rest of the group to review and no one else had noticed it. Barry says he's a wrestler, not a lawyer, and that Flair was supposed to have taken care of all the details. Flair and Windham appear to be close to blows, but Arn intervenes and calms them down. Sid sits apart from the group, glaring intently at Sting, who stares right back. The other Dudes seem to enjoy the dissention within the Horsemen. Finally, Arn asks Bill Watts whether the contract that Flair has signed as their representative is "the bottom line." Watts assures him that it is. Arn tells Barry and Ric that they have to play with the cards they've been dealt. He reminds them that the Horsemen have had their backs to the wall before and have always comes through.
---
Excerpt from Chapter 6
Copyright © Bowdren the Booker
The match starts and the Kids are flying all over the place. Suddenly, down the aisle comes Cornette and the Midnight Express. Ross is going crazy wondering what the guys are doing there. Cook is tossed outside of the ring. The Gangster of Love and Cornette go to Benoit's corner and distract Chris and the referee as this is happening. Owen does a hot move and has Barry covered. We didn't see Double B (Beautiful Bobby) go to the top rope and prepare to give the leg drop to the back of Owen's head. Jim Ross is screaming that the Midnight Express are trying to "permanently injure" the New Kids. Bobby comes flying down, but at the last second, Owen sees him and rolls out of the way. Bobby comes down, leg first, right across the throat of would-be opponent ... Barry Horowitz. Owen dropkicks Bobby out of the ring and the Midnight Express leave the ring area. We cut to a commercial with bedlam reigning in the ring and Barry Horowitz seemingly knocked cold.
---
Excerpt from Chapter 7
Copyright © Bowdren the Booker
The guy in the chicken suit is holding up a derogatory sign, which says something like "Rooster," directed towards Taylor. Taylor has noticed that the chicken is leading the crowd in it's boos against him and from time to time says something to the chicken. The finish has a Steamboat flurry send Taylor outside the ring. As Terry is attempting to compose himself, the chicken is standing in front of one of the openings in the gate. Taylor, obviously frustrated, goes over and grabs the sign away from the chicken and tears it up. The chicken takes a cup of soda and throws it in Terry's face. The enraged Taylor wipes his face and has a shocked look. Suddenly, the chicken jumps into the ringside area and attacks Taylor. The two brawl on the floor as Steamboat and the referee show shocked reaction. Finally, the brawl carries into the ring with the chicken having the edge. Taylor eventually gets out of the ring as Steamboat holds back the chicken. Suddenly, the chicken removes the head of the suit to reveal ... Brian Pillman.
---
Excerpt from Chapter 14
Copyright © Bowdren the Booker
The main event features Lex Luger against Sid Vicious. Okay, okay. This isn't going to be Jushin Liger vs. Naoki Sano. We'll try and keep it mercifully short. Before the match (we call it a "non-title" match), Sid tells Lex that the title he's after is the world title and that he considers Lex nothing more than a "tune-up" for Sting. Lex tells Sting to go for it. As the match begins, Jim Ross & Bill Watts mention that this is Lex's first "big" match since his injury at the hands of Stan Hansen. Is his neck one hundred percent?
---
Excerpt from Chapter 26
Copyright © Bowdren the Booker
Terry gets nose-to-nose with Bill. "Don't you dare bring my father's name into this just because you got yourself fired as vice-president. It isn't my problem." "You are so right," Watts says, cutting Funk off. "It isn't your problem … but you are the new vice-president of the NWA. And just to show you that my boys and I don't care about what you or Ted Turner thinks ... boys! (Gordy & Doc grab Funk from behind.) Okay, Mr. Vice-President. Here's what I think of you and your corporate bosses." Watts slaps Funk in the face, and then spits on him. Funk is enraged and lashes out, kicking Watts in the stomach. All the heels lay into Funk … except DiBiase. Finally, Gordy puts Funk in a piledriver. Funk jumps up, neck bent to one side doing his punch-drunk walk. When he turns around, DiBiase hits him with a thunderous clothesline (thus cementing the student/teacher split). Down the aisle comes Flair, Steamboat, Sting & Muta, who begin a brawl with Watts' guys. Watts himself is putting it to Funk down on the floor. The match-up in the ring is beginning to get one-sided when, down the aisle comes — you guessed it — those crazy Canucks, Owen & Chris. They turn the tide for the babyfaces.
---

Get information about the print edition HERE.
---
Acknowledgements
Foreword by Dave Meltzer
Introduction by Jeff Bowdren
1. Aug.25, 1990
2. Sept. 10, 1990
3. Sept. 30, 1990
4. Oct. 6, 1990
5. Oct. 13, 1990
6. Oct. 20, 1990
7. Oct. 27, 1990
8. Nov. 3, 1990
9. Nov. 10, 1990
10. Nov. 17, 1990
11. Nov. 20, 1990
Clash of Champions
12. Nov. 24, 1990
13. Dec. 1, 1990
14. Dec. 8, 1990
15. Dec. 15, 1990
16. Dec. 16, 1990
Starrcade
17. Dec. 22, 1990
18. Dec. 29, 1990
19. Jan. 5, 1991
20. Jan. 12 1991
21. Jan. 19, 1991
22. Jan. 26, 1991
23. Jan. 30, 1991
Clash of Champions
24. Feb. 2, 1991
25. Feb. 9, 1991
26. Feb. 16, 1991
27. Feb. 17, 1991
WrestleWar '91
28. Feb. 23, 1991
29. March 2, 1991
30. March 9, 1991
31. March 16, 1991
32. March 23, 1991
33. March 24, 1991
Clash of Champions, Tokyo
34. March 30, 1991
35. April 6, 1991
36. April 13, 1991
37. April 20, 1991
38. April 27, 1991
39. May 4, 1991
40. May 11, 1991
41. May 12, 1991
SuperBrawl I
42. May 18, 1991
43. May 25, 1991
44. June 1, 1991
45. June 8, 1991
46. June 12, 1991
Clash of Champions
47. June 15, 1991
48. June 22, 1991
49. June 29, 1991
50. July 6, 1991
51. July 13, 1991
52. July 14, 1991
Great American Bash

---

Get information about the print edition HERE.
---
---
To schedule radio interviews or other media appearances with one of the authors, please contact Scott Teal at
---