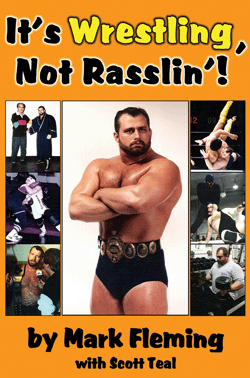 BOOK DETAILS
Paperback: 186 pages

Dimensions: 6x9

Publisher: Crowbar Press

Photos: 201 b&w

Cover: Full color

ISBN: 978-1-9403910-6-9

Item #: cbp23-mf

Price: $19.95
PRIORITY MAIL UPGRADE
ORDER BY MAIL
CLICK HERE
CREDIT CARDS
CLICK HERE

INTERNATIONAL ORDERS
For orders of
more than 3 books
please contact us at


---
---
"It's Wrestling, Not Rasslin'!" is available exclusively from Crowbar Press.
All books will be shipped via Media Mail (U.S.), Priority Mail, or International Priority Mail (Canada/overseas).
---

As a teenager, Mark Fleming was a top-notch high-school football player and amateur wrestler, but from the time he was a child, he had dreamed of becoming a professional wrestler. In this book, Mark takes the reader down the path he followed to achieve that dream.

Mark didnít get his spot in the wrestling business because someone paved the way for him. He got in the hard way. His first test was to make it through the grueling tryouts conducted by Gene and Ole Anderson. As everyone knows, Gene and Ole didnít give any quarter. They showed the 27 wannabes just what they would be facing in the pro rings by rubbing their faces raw on the mat, stretching their limbs to the breaking point, and manhandling them so badly that many of them ran out of the arena without even collecting their street clothes. When the smoke cleared, only one man out of the 27 hopefuls remained standing Ö Mark Fleming.

It didnít get any easier when Mark began wrestling for one of the biggest wrestling promotions in the world Ö Jim Crockett Promotions. During a time when the wrestling business was at an all-time high and record crowds were filling the arenas, Mark wrestled almost every major star that came through the Charlotte territory. The rigor of the road proved every bit as tough as Mark wrestled in 14 different states, Canada, and Japan.

However, Mark wasnít the type of wrestler who would showboat to catch the eye of the fans and promoters. He was a serious wrestler who believed pro wrestling should be conducted as a sport, and not as a show. His pure wrestling style eventually caught the eye of Lou Thesz, a former world champion, who many consider to be one of the greatest pro wrestlers of all time. Louís relationship with Mark began as a training partner, but evolved into that of a coach, mentor, and manager. From that day forward, Markís career changed for the better.

Mark and Lou brought back a respect for the wrestling game that had long since disappeared. Mark worked hard to present a pure style of wrestling every time he stepped into the ring, and like Lou, he had nothing but contempt for those who portrayed pro wrestling as burlesque.

Markís love for the wrestling game is evident in this book as he shares the story of how he and Lou Thesz, together, attempted to change rassliní back to what it had once been ó WRESTLING!


---

Excerpt from Chapter 1
Copyright © Mark Fleming & Scott Teal
Norview High School put a lot of emphasis on athletics and competitiveness. As a result, they produced an abundance of great athletes through the years and attracted several professional athletes to become coaches at the school. One, in particular, was Les Wolff, a pro football player who was playing for the Norfolk Neptunes at the time [a Norfolk-based pro team in the old Continental Football League from 1966 until 1969]. Les, who became a teacher, and a football and wrestling coach at Norview, later would become a pro wrestler under the name Buddy Wolfe.

---
Excerpt from Chapter 3
Copyright © Mark Fleming & Scott Teal
The next time I went to the wrestling matches in Norfolk, I walked up to Ricky Steamboat [Richard Blood], just as I had with Morales, and told him about my amateur wrestling career and how I wanted to become a pro. I believe what I told him about my amateur career got his attention. We talked almost every time he was in town for the next few months. I believe he could sense I wasnít the typical fan, or someone who just wanted to find out what he could about the inner-workings of the wrestling business.
...
Victor either pinned his opponents or scared them so badly they ran off the mat for safety. As I watched them, I noticed the bear would actually tie up with his opponents. He would put his huge paws on their shoulders, wrap one of his rear legs behind their ankle, and push them backwards. They would fall on their backs with his bulky weight on top of them. He would then place his huge head on their chest and press down for the pin. There was a five-minute time limit on each match, but nobody went the distance except Coach Whitley and me. Coach was a strong guy and he handled Victor just as roughly as Victor handled him.

---
Excerpt from Chapter 4
Copyright © Mark Fleming & Scott Teal
Gene was definitely the guy in charge. He trained and controlled the talent for Crockett at the time. For those who donít know who he was, Gene was one-half of the "Minnesota Wrecking Crew" — the other half being his tag-team partner, Ole Anderson. They were considered to be the meanest, toughest, and arguably successful tag team in pro wrestling. They thrived on hurting people; legitimately. They were old-school wrestlers who brooked no nonsense and they wrestled hard. They expected the same from their opponents. If you think pro wrestling is "fake," I challenge you to get into the ring with two guys who wrestled like Gene and Ole. They made believers out of everyone; both wrestlers and fans. They had the reputation of wreaking havoc on their opponents and hitting hard. To their credit, they expected their opponents to give them the same in return.
Well, since the Anderson were running the one-day tryouts, you can imagine how tough it was going to be. It was no cake walk. To this day, the toughest workout I ever went through ó and that includes both amateur and professional — was that tryout at the Charlotte Coliseum.

---
Excerpt from Chapter 5
Copyright © Mark Fleming & Scott Teal
My first opponent was seasoned veteran Jim Dalton [Jim Baugus], who had been in the wrestling business since 1961. I was the first to enter the ring. The gym was packed to the rafters and my family and friends cheered my introduction wildly. A few seconds later, Jim walked to the ring to echoes of boos and hisses, which he helped instigate. Jim was a tough wrestler who knew exactly how to handle an over-eager, young, 20-year-old rookie. My mom, sister, and even my grandmother, all began to cry when they saw how confident and rough Jim Dalton looked and acted as he entered the ring. They just knew he was going to rip me apart!
When the bell rang to start the match, the butterflies in my stomach took off and began to fly around. When we tied up in the center of the ring, I was stiff. I pulled and tugged for position. Normally, the heel leads the match, so Jim, being the heel [bad guy], whispered, "Just relax and listen to what I tell you to do."

---
Excerpt from Chapter 6
Copyright © Mark Fleming & Scott Teal
One night after a match in Richmond, Chief and I were getting in the car when a fan walked up and began spouting off about wrestling being "fake." Wahoo called him over to the car, ripped the bandage off his forehead, and pulled open the cut he received in his match that night. Blood streamed down his face. He said, "Look, cocksucker. You think this is fake?" Wahoo reached out to grab the guy as he said, "Come here, you son-of-a-bitch. Iíll show you fake." The guy took off running.
Another time, I was supposed to pick up Chief at the wrestling office. When I reached the front door, I could hear him yelling and threatening someone. "Letís step outside and settle this," he shouted. I thought, "Oh, my goodness. Here we go again." As I stepped inside, he came walking towards me Ö and he looked really mad. He said, "Come on! Letís go!" When he got in the car, he told me he was having an argument with Ernie Ladd.

---
Excerpt from Chapter 7
Copyright © Mark Fleming & Scott Teal
People often asked, "How do you get hurt and keep wrestling?" All I can tell them is, when youíre young, you recover faster and injuries donít bother you if you stay strong and in shape. Plus, as I already mentioned, when you donít wrestle, you donít get paid. We didnít take time off to go see a doctor. I even wrestled when I was sick, just so I could get paid. I know guys who had the flu and threw up in the ring. I never did that, but I had a stomach virus one night and was throwing up when the bell rang for my match. The bell rang several times before JJ Dillon called into the restroom, "Mark, youíre on!" I gave one last heave, wiped off my mouth, and walked to the ring.

---
Excerpt from Chapter 8
Copyright © Mark Fleming & Scott Teal
In 1983, I came into contact with a boxing superstar in Columbia [SC], when Earnie Shavers, former WBA heavyweight champ, was brought in as special referee for a series of matches between Greg Valentine and Roddy Piper [Roderick Toombs]. The match was hot and the boys were really working stiff. They were laying in the punches. In the dressing room after the match, I had the opportunity to talk with Shavers. I asked him if he planned to get into the wrestling business. He said, "Yeah, right. After being in there with those two guys and in the middle of the action, I wouldnít tangle with any of you guys. No way!"

---
Excerpt from Chapter 9
Copyright © Mark Fleming & Scott Teal
In Kansas City, we were paid about $50 to $75 a show, give or take, or around $300 to $450 a week. Again, as I said earlier, we were getting experience by working every night. That, however, was the only advantage. There was a lot of resentment between the Kansas City boys and the Charlotte crew. The boys in Charlotte were making money, and plenty of it, but the office didnít seem willing to send a fair share of it our way.
The problems inherent in the territory really made me appreciate the Mid-Atlantic territory, but we made the best of it, especially since we were working every night. It was a good experience for us young wrestlers, but the "experience" really was the only good thing about it.

---
Excerpt from Chapter 10
Copyright © Mark Fleming & Scott Teal
Louís intentions were nothing but honest. Cocky attitude notwithstanding, he thought the guy would be a good fit for our school, so he asked me if Iíd be willing to work out with him. I was always up for a challenge, so I agreed without hesitation. From the minute the guy walked in the door, though, I didnít like his attitude, so I was anxious to give him an ďattitude adjustmentĒ on the mat.
We wrestled around for a bit and I learned the guy really could wrestle. He went behind me, waist-locked me, picked me up, and threw me down on all fours, jamming my right kneecap into the mat. My instincts took over immediately. I sat out and sprang to my feet. I was hot! Breaking the wrist control he had on me, I shot in on his left leg and took him to the mat, after which I climbed his body like a ladder and rubbed his face into the mat. For five to six minutes, I stretched him without mercy. I caught him with a cross face, and then let him out, and then caught him in a guillotine.
Afterwards, Lou went to the trouble of getting him a room at the YMCA. The next day, when we went to pick him up at the Y, he was nowhere to be found. We never saw him again. Now Lou was mad.

---
Excerpt from Chapter 11
Copyright © Mark Fleming & Scott Teal
When I finally wrapped my head around the idea of wearing a mask, Lou continued, "Call yourself The Phantom. If you wear long wrestling tights and a nylon shirt, the fans wonít recognize you. In fact, you should be wearing the mask and gear when you get to the arenas and keep it on at all times. I wouldnít even let the boys (fellow wrestlers) know who you are. Kayfabe them. Kayfabe everybody! Donít mingle with anyone. Come to the arena, wrestle, and leave."
A week later, when I approached Leehy with the idea, he loved it. He understood my situation and said a masked wrestler in the main event would be something novel on his cards, and it could give the promotion the shot in the arm it needed. I went home, called K&H, and ordered a blue-and-black mask and a pair of long black wrestling tights. I borrowed a nylon shirt from a fellow wrestler to complete the "Phantom" outfit.

---
Acknowledgements
Foreword by Ivan Koloff
Foreword by Charlie Thesz
1. The Bug Bite
2. Oranges, Hot Tea and a Snickers Bar
3. Too Much Facial Hair
4. Gene Andersonís Favorite ďWrestling MoveĒ
5. ďSell, sell, sell!Ē
6. Nick the Neck
7. The Booker's Ass
8. Hotbed and No Bed
9. Pieces of Meat
10. The Legend

11. The Next Hulk Hogan
12. The Phantom
13. The Wooden Leg
14. Chicken Bones
15. The Virginia Heavyweight Title
16. The Tournament
17. Scream Like a Girl
18. Two Old-Timers: A Weightlifter and a Wrestler
19. United Nations Wrestling
20. Fleming's Gym
Photo gallery
Index


---

---