BOOK DETAILS
Paperback: 281 pages

Dimensions: 6x9

Publisher: Crowbar Press

Photos: 166 b&w

Cover: Full color

ISBN: 978-1-940391-12-0

Item #: cbp28-sb

Price: $22.95 $19.95
PRIORITY MAIL UPGRADE
ORDER BY MAIL
CLICK HERE
CREDIT CARDS
CLICK HERE

INTERNATIONAL ORDERS
For orders of
more than 3 books
please contact us at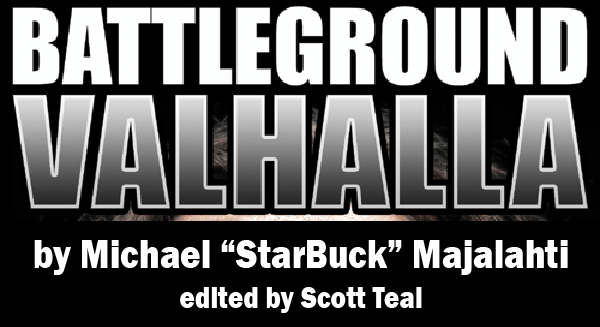 ---
---
"Battleground Valhalla" is available exclusively from Crowbar Press.
All books will be shipped via Media Mail (U.S.), Priority Mail, or International Priority Mail (Canada/overseas).
---

Wrestler, Rocker, Renaissance Man ...

From humble beginnings in Canada, Michael Majalahti, the son of an immigrant preacher, aspired to become somebody from an early age. As an outsider to his peers during his youth, Michael took the path less traveled; the road of the lone wolf.

— As "The Rebel" StarBuck, he became one of the most accomplished European pro wrestlers of the Y2K era and stands, arguably, as the most celebrated wrestler ever from the Nordics. His story is bound to both enthrall and inspire you!


---

"Against all odds, Mike reached for the stars and achieved his dreams of becoming a world-renowned wrestler and musician ... sounds familiar doesn't it? His story is inspiring and sensational and proves you can do anything you set your mind to! I highly recommend this book."
— Chris Jericho


---

Excerpt from chapter 3
Copyright © Michael Majalahti
Still, there were some mighty fine moments of mat action in Thunder Bay on a semi-regular basis. I recall an ultra-bloody brawl one night in the main event between Abdullah and Richard "The Boss" Charland. Both men bled like stuck pigs as they fought their way all through the arena. Like a child possessed and immersed in the action, I screamed my head off. It left an indelible imprint on my mind. Someone said they saw Abdullah taping a razor blade to his finger backstage, but I didn't believe them. Well, to be honest, it did make me wonder, but I argued to myself that Abdullah used the razor to butcher "The Boss."

---
Excerpt from chapter 4
Copyright © Michael Majalahti
Before the start of the event, I saw promoter Gary Juster in the aisle and I approached him with my drawing. When I asked him if it would be possible to present it to Bam Bam, he gave me permission and had security usher me to the dressing room corridor after Bam Bam's match with Mike Rotunda. Bam Bam was very cordial, and for a young lad like myself, it was a magical moment to be let into the sacred confines behind the proverbial curtain for even a moment, although I did not see any violations of kayfabe (protecting the wrestling business) in the process. Nor did I want to, because for me, pro wrestling was sacred.

---
Excerpt from chapter 6
Copyright © Michael Majalahti
Nonetheless, I set up a meeting with Stu [Hart] and headed to the Hart mansion. Much to my surprise, Stu took me in like I was an old friend. He happily offered to show me the proper way to apply a sleeper, and being a total, numbskull punter, (a.k.a. "mark," i.e. a fan of the wrestling industry who doesn't know the inner workings of the business), I let him apply it on me without question. Luckily, I was able to turn my neck to the side just before the legendary shooter slapped on the pressure, as I undoubtedly would have passed out at his kitchen table. All of a sudden, he just let go, sat down, and continued with our chat.

---
Excerpt from chapter 9
Copyright © Michael Majalahti
The final match of the evening was a battle royal (which they called "rumbles"), which were UK staples to close the shows. As I ran to the ring during my entry, some kid tripped me up in the aisle. I was embarrassed to hell, but I turned it into wrestling shtick and got on the kid's case as he just laughed at me. My return to ring action was not going well.

---
Excerpt from chapter 10
Copyright © Michael Majalahti
Patrik had grandiose ideas about becoming the Vince McMahon of Scandinavia and he spared no expense. He paid a professional TV crew to film the show, had pyro and a set of props built for the ring entrance, put the TNA talent into an upper-scale hotel, and even flew some some talent into Helsinki first class. The production manager came to me before the show and said he needed to know where the spotlight should be "during the move sequences of the matches." Can you imagine? He thought I could tell him, move by move, in what section of the ring the guys would be! At that point, I knew it was going to be a long night.

---
Excerpt from chapter 11
Copyright © Michael Majalahti
Bernard (Vandamme) and I cut an angle on the stage of the Expo, setting up our Street Fight at the nightclub later that evening. We beat the living tar out of each other in that unique and unorthodox setting. I went home with some nasty flesh wounds from the broken glass on the dance floor where we brawled. One piece, which lacerated my right shin and left a deep gash, should have been cleaned out and stitched up, but the lines at Lahti's emergency ward in the middle of the night would have kept me waiting for more than three hours, and I didn't want to sit there that long. That one incision took more than six months to close and stop oozing puss. It may sound stupid, but I just looked at it as a badge of honor. To be honest, I was too lazy to get it looked at.

---
Excerpt from chapter 12
Copyright © Michael Majalahti
It quickly became an era of sabotage and backstabbing within the company. In addition to badgering me to drop the FCF title, H&M gave talent misleading information, contrary to the direction I gave them as match booker and creative director. They began to poison the roster by talking badly about me, which set an errant example to the younger talent, especially about respect. What they didn't realize was that there were some amongst the crew who were telling me everything that had been said behind my back. The smarter members of the FCF roster quickly realized that H&M were trying to kill the golden goose.

---
Excerpt from chapter 13
Copyright © Michael Majalahti
I called Jimmy Hart to see if it would be possible to get Hulk Hogan, who then put me in contact with Hogan's personal agent in New York. When I asked what it would take to get Hogan to the event, the fee quoted was astronomical … a half million U.S. dollars! The catch was, Hogan would not even wrestle. He would only do a live promo, autograph signing, some PR work and that was about it.

---
Excerpt from chapter 14
Copyright © Michael Majalahti
The hours and travel schedule were insane on that tour. We would leave the venue every night at two o'clock in the morning, travel until about six o'clock, book into a motel and sleep until eleven (if we could), only to leave at noon, and arrive at our destination around five o'clock. The shows would start around nine o'clock, with a total of ten to twelve matches on each card, so the shows weren't usually over until almost midnight. When we were on the road, the only places we could eat were gas stations and convenience stores. Road life on the French highways did not make for a well-balanced diet, I can assure you.

---
Excerpt from chapter 15
Copyright © Michael Majalahti
SMASH wanted me to look strong, so I unceremoniously trounced Ohara in four minutes, eighteen seconds of a glorified squash match. The fans oohed and aahed with every move and blow I administered, before finally dropping Ohara with my trademark superkick and spike piledriver. I used one index finger to pin poor Hajime. It was weird. They put me over like Godzilla. Ohara was the definitive underdog babyface in that match-up, but the Japanese fans seemed to love StarBuck, which is largely a testament to the promotional efforts of SMASH and the creative genius of Tajiri.

---
Excerpt from chapter 17
Copyright © Michael Majalahti
Matches don't get any bigger than that on any scale in the world of professional wrestling: I was stepping into the ring in the main event of a sold-out show, at one of the most important venues in Japan, with one of the biggest icons and legends ever in the professional wrestling industry. Tenryu even had his own dressing room, separate from the rest of the talent. Yeah, that does kind of bring some added pressure to perform at your highest level, now doesn't it?

---
Excerpt from chapter 19
Copyright © Michael Majalahti
That said, Dave Finlay ate my lunch at SMASH.23. Truth be told, due to the way Tajiri and SMASH had built up Finlay as being the ultimate killer, I knew I was in for a thrashing. I just didn't know how hard of a thrashing. The Tokyo crowd oohed and aahed in tune to Finlay's solid blows. I fought back as much as I could, but Fit cut me off at the pass every time. It was a masterful dissection by a master tactician. All I could do was to hang on for the ride before Fit put me away with his jumping tombstone piledriver. How apropo: I had pinned just about everyone in my Japanese matches with my own jumping spike piledriver, and now, Dave Finlay beats me with his own version of the piledriver after one month as SMASH champion.

---
Excerpt from chapter 20
Copyright © Michael Majalahti
In our second match of the series the following night in Osaka, Akira pinned Tajiri, again with a top rope splash through the barbed wire board. In the third outing the following night in Toyohashi, however, it was time for Synapse to taste their first team defeat (I had previously lost to Tajiri in a singles match in Fukuoka on August 6). Whipwreck and Tajiri sent me hurling back-first into the barbed wire board, this time set up in the ring corner against the buckles, and my hair got caught in the barbs. For a moment, time stood still. I couldn't move or follow-up with anything. I was like King Absalom in the Old Testament, haplessly ensnared by my long locks. I literally had to tear chunks of my hair out to get free from the spiked coil, after which Whipwreck immediately hit a stunner on me for the pinfall win. In the end, I just got by with a few scratches and minor lacerations from the barbed wire bouts, which healed very easily. However, I still must say that I am not a fan of barbed wire matches to this day.

---

Foreword
Introduction by Michael Majalahti
Acknowledgements

Born to Adversity
Humble beginnings in Ontario ... Discovering pro wrestling ... Son of a preacher man ... Sitting on my stomach ... The fighting heritage of my father

"Hulk smash!"
Discovering the world of comic book heroes ... Saturday morning cartoons in the '80s ... The big brother I never had ... Life in Thunder Bay, Ontario ... Ghita of Alizarr ... The Terminator, the Road Warrior and Mötley Crüe ... Heavy metal music ... BMX accident

Chicks, Drugs & Blood
The first girl to steal my heart … The date no one would ever believe ... Adolescence ... Discovering Bill Watts' UWF ... Gino Brito's International Wrestling from Montreal ... Meeting pro wrestlers ... Abdullah the Butcher leaves an indelible imprint

Wrong Side of the Tracks
Moving to the USA ... Bad tension after the mid-´80s race riots in Massachusetts ... My hatred of high school ... "You're driving me to drink!" ... Outcast in the weight room ... A torrid high school crush ... Life on Elm Street in the bad part of town ... Discovering NWA wrestling ... Approaching "Dr. D" David Schultz ... My (very) short-lived wrestling fanzine

Stranded in Limbo
Moving to Sudbury, Ontario ... Last year of high school ... Remorse Horse and The Gym ... Discovering creatine ... The French biloute ... The magic of Manitoulin Island

A Lesson in Politics
My ill-fated enrollment to the Alberta College of Art ... Going hungry ... Scoliosis damage ... Amway flop ... Bottled water man ... Night shifts from Hell ... Mr. Beach and Daddy's Little Princess ... Abu Wizal introduced me into the world of pro wrestling ... Canadian Rocky Mountain Wrestling ... Meeting Stu Hart ... Dr. Bob ... Ice cream before bedtime ... Bleeding ankles ... Mr. Ring Announcer ... Lance Storm and Karl Moffat as coaches ... Chris Jericho pulls a Dynamite Kid

Somewhere in Nowhere
Moving back home ... Meeting Don Callis ... Jericho Jr. And Lance Jr. ... "What's wild about you?" and Mike Wildside ... Emulating Ric Flair ... Spiked on my head ... Scott D'Amore ... Malcolm Monroe, black promoter ... The Original Sheik ... Ultimo Dragon and the biggest regret of my young wrestling life ... Lisa the stripper ... Captain Kurk and Karate class

Ass End of the World
Moving to Finland ... Pandemonium Productions … Becoming an entrepreneur ... Becoming a songwriter ... Dust Eater Dogs ... Chris Jericho's care packages ... Boogie Mustonen and Tony "Ludvig Borga" Halme ... Illustrating children's books ... Finnfight MMA and my integral role at their onset ... The "Rubberman" who felt no pain

StarBuck, Shank, Crash, Wolf & Gonzo
Hallowed, the white metal act and the baritone that believed he could ... End of the Age ... Working for FAST Sports Nutrition ... Stoner Kings and pure ambition ... "Shaky" Stevens, the worst wrestling promoter ever ... "You need to lighten up in there!" ... Miraculous healing ... Brimstone Blues ... Kicked off stage ... Monsterball … The crime and consequences of sobriety

Bootcamp Valhalla
Erik Isaksen of Norway ... Patrik Pesola, the first promoter of Finnish pro wrestling ... Easy Rider and Johnny Merlin ... The Extreme Dudesons ... Vahalla Pro Wrestling ... Broken leg ... Culture Shock and Baltic Brawl ... Near-death experience in the ring ... Patrik goes bankrupt ... Amon, the back-stabbing snake ... Fitness Academy of Finland ... Mondo Bizarro ... Metal Gym ... Timo Kotipelto of Stratovarius ... A strange promotion in Sweden ... El Dinamico ... Pro Wrestling Finlandia ... Steve Corino helps rocket me to the helm ... Call me Mr. Booker ... IWS Intercontinental and World heavyweight champion ... PWF wrestling champion ... Alofa and concussion number five

Fight Club Finland
Up against the Canadian Dream ... The death of PWF and birth of Fight Club Finland ... Brad Pitt and Edward Norton ... Taking back a prodigal son ... Big B and the European championship ... Festering laceration ... "Hellboy" Hansen endorsement ... Stealing from Shawn Michaels ... The ambitiously foolhardy Hellsinki Holocaust event ... French Wrestlemania ... My most talented protégé ... Finnish wrestling lands a TV deal

Pink Scarves
Internal sabotage and petty jealousy ... "Don't shit where you live!" ... A prize protégé's last stand ... Channeling Abdullah the Butcher ... Company overhaul ... Marks running a wrestling business

Silicone Junkies
Maximal Impact ... Breaking into Germany ... Bad advice ... The half-million nobody wanted to spend ... Fall of the Stoner Kings ... And yet another concussion ... The most pathetic big event in Finnish pro wrestling history ... Fighting on enemy ground ... Dethroned by a Native American

Potato Kick to the Head
Jake the Snake v2 ... European champ redux ... The rigid template of the French ... Get a new finish ... "Hooooooo, tough guy!" ... Eurosport comes calling ... Anonymous sponsor ... The WWC champion that could have been ... The scum of the Earth that beguiled an ill man ... Birth of the Angel of Sodom ... Swindled in Egypt ... Camp Fake or Break ... A return to one's roots ... The Florida jobber who became a drummer ... High-fiving Larry Flynt ... Dinosaurs that play Metal ... Concussed yet again

The Japanese Buzzsaw
The king of green mist ... "So desu ne!" ... Southbound ... Polish power ... Vying for the Muta Scale ... The Michael Buffer of Europe ... Harley Days in Hamburg ... Sweet sixteen ... Overnight sensation ... The "Christlike" God of Northern Europe and the Rikidozan of Finland ... Surpassing the trial by fire ... Starbuck's natural enemy ... A new attendance record ... Flirting with disaster

Dr. Jekyll & Mr. Hyde
Over the moon ... SMASH office liaison ... Doing Brody and Hansen proud ... Michael Hayes and the blazing guns of Gakideka ... "It's better to be unique than to be good!" ... The Wildman breaks out ... Big Pink Pig ... Fukushima ... Japanese Stray Cat ... Past regrets

Dropkick from Hell
"Crowbar!" ... Like Harley Race ... Another European championship ... Torn rotator cuff ... Killer Karlsson and the dastardly Swedes ... Selling out with Tenryu

The Starbarian Liplock
The senton that nearly crushed me ... Even grannies love wrestling ... Screwing up an album ... Japanese girls don't like shoot kisses ... Match of the Year ... Becoming the first SMASH champion

A Pig or a Player
The champ's sick as a dog ... A killer named Finlay ... A dream come true against Keiji Muto ... Rock Legends Cruise ... Smelling money in Masato Tanaka ... MVP of the Year ... Life's a Bitch ... The end of SMASH

Bad Buddha
Swedish wonderland ... Synapse and a new beginning ... WNC picks up where SMASH left off ... "Genius" wrestler ... Tiny Iron and the Colosseum ... The Japanese NWO ... Barbed wire ... Iron Horse ... Keeping up appearances ... Ohara's redemption

The King of Pancrase
Unstable ... Less is less ... The demise of WNC ... "See you in Wrestle-1!" ... Shibata's offer ... Staying true, remaining loyal ... Kicked at sixty-percent ... Domo arigato

Hook, Line and Sinker
A hobby versus a job ... Demise of the pay scale ... "The times they are a-changin'" ... Passing knowledge to the next generation ... Realities of the wrestling business ... Landing a gem ... Once-in-a-lifetime proposal ... The Land of Dracula ... My personal valet

Roasted Alive
Heading for tomorrow ... The young man that pie-faced the king ... Herniated disc ... Devil's Daughter ... Voice-over pro ... Harley Rage ... Guest DJ ... Hello Holland! ... Stop being so phoney ... Rocking the Reperbahn ... Starlets of the Jungle ... Stanley Cup winner ... Back to Boogie... There Will Be Blood ... Heat up the roast ... In the middle of the Indian Ocean ... The Red Devil ... Love & Anarchy ... Rocking alongside UFO ... Greetings from Red Square

Frozen Bones
Wrestling with apologetics ... Breathing like a snake ... Pro wrestling versus sports entertainment ... "Every commercial sport is a business enterprise." ... Modern-day gladiators ... "Hey, this ain't ballet!" ... The role of ego ... Going in hurt ... Physical integrity ... Etiquette and reputation ... Tools of the trade ... Life in the shark tank

Wrestlers by Proxy
The need for mentorship ... Spot-fests and choreography ... The context of a real fight ... Old-school spirit ... Cultivating talent ... Old Man's Back ... Flying Okama ... "I'll give you the stage, but it's up to you what you do with the spotlight." ... Whatever brings you to the dance

Spandex Sapiens
It all started with Mickey Rourke ... Jesus in Tokyo ... Bumping in a grocery store ... Babyface ... Disco Ensemble and Eartha Kitt ... Near call with North Korea ... The liberal versus the conservative ... Captain Jack ... The lone wolf ... What makes a Rebel?

Epilogue
Photo Gallery
Index
---

---