BOOK DETAILS

Publisher: Crowbar Press

6x9 Perfect Bound

Pages: 286

Words: 167,377

Photos: 229 b&w

Cover: Full color

ISBN: 978-1-940391-22-9

Item #: cbp43-nb

Price: $22.95 $19.95
PRIORITY MAIL UPGRADE
ORDER BY MAIL
CLICK HERE
CREDIT CARDS
CLICK HERE

INTERNATIONAL ORDERS
For orders of
more than 3 books
please contact us at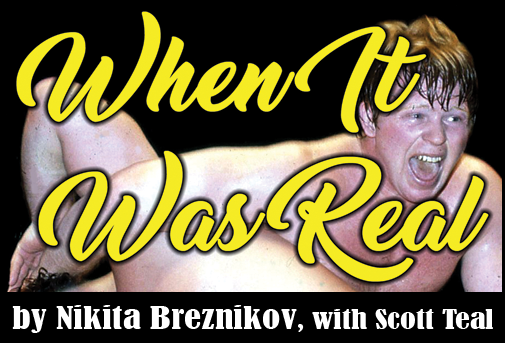 ---
---
"When It Was Real" is available exclusively from Crowbar Press.
All books will be shipped via Media Mail (U.S.), Priority Mail, or International Priority Mail (Canada/overseas).
---

If you want to take a trip back to your childhood, your younger, less-stressful days, then journey with us back into the magical world of professional wrestling during the years 1970 to 1979 … a time "when it was real" … a time before Hulkamania took the world by storm.

The intent of this book is not to degrade or compare the two eras of wrestling, but simply to celebrate the joy we experienced as we cheered for the good guys and razzed the heels … and we believed! It was a day in which we could see, touch, and even talk to, real-life superheroes; a day when loyal fans could attend a wrestling show in their hometown on a weekly or monthly basis; a time when pro wrestling touched our lives in a manner that cannot adequately be described.

For wrestling fans, there was no feeling like walking into Madison Square Garden, Philadelphia Spectrum, Baltimore Civic Center, Boston Garden, and countless smaller arenas in every town in the Northeast, and thousands of people set everything aside to watch wrestling on TV and cheer on their heroes like Bruno Sammartino & Bob Backlund.

Author Nikita Breznikov tells the story from two perspectives — that of a starry-eyed fan, and as the manager and tag team partner of the legendary Nikolai Volkoff. Nikita details the matches and feuds that took place during the '70s and gives his insightful, often-hilarious perspective of the events that took place.

Escape with Nikita as he transports you back to an era when wrestling was presented in an entertaining manner, but framed as legitimate competition. Escape once again as we did back in the day.


---

Excerpt from Chapter 2
Copyright © Nikita Breznikov & Scott Teal
On a personal note, I was working a private party in 1996 at which many of the legends were present and Lou [Albano] was the master of ceremonies. Lou had a phobia about germs and didn't like to shake hands. In fact, he carried a handkerchief with him to use as a barrier from direct contact. Nikolai [Volkoff], always the prankster, was ready for him that night. Nikolai put his hand under the kitchen faucet and covered his hand with water. As Lou walked past us, Nikolai sneezed and whipped his hand towards the back of Lou's neck. Lou was livid! He believed Nikolai had sneezed on him. Fortunately, there was children present, so Lou had to hold his tongue, but he gave Nikolai a look that could have killed. He ran over to the sink, put his entire head under the faucet, and washed off the back of his neck.

---
Excerpt from Chapter 3
Copyright © Nikita Breznikov & Scott Teal
The feud between Strongbow and Lou Albano began when the Chief was going to be presented with a trophy on TV as the "Wrestler of the Year." During the presentation, Albano, Graham & Tyler came to the ring under the pretense of offering their congratulations. I'm sure the fans knew something was afoot, and sure enough, Tyler & Graham grabbed Strongbow and held him while Albano smashed the trophy over Strongbow's skull, causing him to bleed profusely..

---
Excerpt from Chapter 4
Copyright © Nikita Breznikov & Scott Teal
I remember a story from a wrestling magazine about Strongbow battling King Curtis in Boston. There was a controversy over a plastic knife that had found its way into the ring. Both men denied having brought the weapon, which meant the guilty party must have been the referee. It was all balderdash made up by the magazine, but the introduction of a "foreign object" into a match made for great controversy and added to the excitement. We, as fans, always spotted the heel using his foreign object, but that poor, stupid, blind referee could never quite see or find it. The idea was as old as knock-knock jokes, but it always worked.

---
Excerpt from Chapter 5
Copyright © Nikita Breznikov & Scott Teal
Mrs. Krieger, who could always be found sitting at ringside, was a local celebrity in her own right. On this night, she got a lot of face-time on camera. At the time, guard rails were not in place around the ring, so fans had easy access to the ring apron. As Tanaka went through his pre-match ritual of throwing salt to three corners of the ring to drive away the evil spirits, Mrs. Krieger made it her business to follow Tanaka, on the floor, from corner to corner, and brush the salt from the mat with her hand. Of course, Tanaka sold it, and the crowd loved it. Vince put her over, as well.

---
Excerpt from Chapter 5
Copyright © Nikita Breznikov & Scott Teal
Near the end of the show, a strange thing occurred. An announcement was made that Bruno would be defending the WWWF title against Don Leo Jonathan on the Jan. 14, 1974 card. Morales was still champion at the time and it wasn't until 19 days later that he would drop the belt to Stan Stasiak, who, in turn, would lose it to Sammartino nine days later … in the Garden. What was up with that?

---
Excerpt from Chapter 6
Copyright © Nikita Breznikov & Scott Teal
I had the privilege of meeting [Killer] Kowalski, who I consider to have been a great philosopher and all-around humanitarian. Walter was a good example of the real man being the total opposite of the character he portrayed in the ring. Walter was the first man to ever give me a payday in this business … on a June 29, 1996, show at Waltham [MA], his home base. It was very early in my career and I felt fortunate to be managing Nikolai for a series of matches, especially on a show promoted by Killer Kowalski. When the matches were over on the final day, Walter called me over while I was getting dressed. He was sitting in a chair and giving the boys their payoffs. I walked over and he handed me some money. It was unexpected and something he did not have to do. Nikolai told me Walter had not made much on that show, but he still did what he thought was right. He knew I had paid for my own transportation to get there, and he appreciated my work that day and the night before. There are many stories like that of Walter helping people in the business. He was just that kind of a man.

---
Excerpt from Chapter 7
Copyright © Nikita Breznikov & Scott Teal
A blooper of sorts took place when referee Al Vass went over to Monsoon during the match and was overheard talking about the remaining time, not realizing that everything he said was being picked up by the TV microphones.

---
Excerpt from Chapter 8
Copyright © Nikita Breznikov & Scott Teal
After Bruno removed Hansen's elbow pad and battered him with it, he left through the cage door, leaving a bloody and frustrated Hansen behind. In a corner of the ring, Hansen climbed up onto the turnbuckle and put a foot on the top rope on each side of the turnbuckle. Glancing back at referee John Stanley, Stan said something out of the corner of his mouth, and then fell backwards and landed on his back. When he got to his feet, he went after referee John Stanley, and when he failed to catch him, banged his head into the cage. I've watched that clip many times and I can't tell what Stan was saying to Stanley. I thought he may have been telling Stanley to catch him, but Stanley was not a young man, and he wasn't an athlete by any stretch of the imagination. So, if Hansen, at almost 300 pounds, had told me to catch him, I probably would have let him fall, as well. Then again, it may have been worked to have that effect.

---
Excerpt from Chapter 9
Copyright © Nikita Breznikov & Scott Teal
When the bell rang, Lou Albano charged the ring, only to be knocked down by Garea. Albano was then interviewed by Vince and asked about the "Manager of the Year" contest. Albano could be heard yelling at Vince, "Don't push me. Don't put your hands on me." Vince asked Albano to control himself and tried to conduct the interview. There seemed to be legitimate heat between those two and this certainly seemed to be one of those times. When Albano went a little off the rails, Vince ended the interview with, "We hope to have an interview with Lou Albano in the future when he's a little more in control of his faculties."

---
Excerpt from Chapter 10
Copyright © Nikita Breznikov & Scott Teal
For history buffs, this was a historical moment because this was the taping on which George Steele's green tongue was first emphasized. When he saw Steele's tongue, Vince was in total disbelief, which may have been a legitimate reaction. I don't know if Steele came up with the idea on his own and just did it, or if it was Vince's idea. Either way, Vince did a remarkable job of putting it over. Steele used his foreign object and the ripped turnbuckles to destroy Steve King. King did manage to get in a little offense when he rubbed some of the turnbuckle pad stuffing in Steele's face, but that was the only thing he did before he fell victim to Steele's flying hammerlock. Just a bit of trivia … George colored his tongue by eating green Clorets breath mints.

---
Excerpt from Chapter 10
Copyright © Nikita Breznikov & Scott Teal
On April 2 of this year, again, while still on the Fed payroll, he [Ken Patera] was booked in Greensboro, and he was in Greensboro again just two days before the April 25 tapings in Philly. When the Hamburg tapings were taking place on the day after the tapings in Philly (the day on which he was supposed to have been injured), Patera was wrestling Andre the Giant in the main event in Rocky Mount, North Carolina. So, it's obvious that something was afoot. Research shows that after the Philly Championship Wrestling taping, Patera was wrestling full-time for the Charlotte office.

---
Acknowledgements
Introduction
1. The WWWF
2. 1970
3. 1971
4. 1972
5. 1973
6. 1974
7. 1975
8. 1976
9. 1977
10. 1978
11. 1979
Road Trip
Nikita's Photo Gallery
---

---